Exactly a week after Spain won their second World Cup, the footballer who scored the goal that secured their first spoke out. On Sunday morning, Andrés Iniesta added his voice to those that had accumulated ever more rapidly over the previous days and hours, starting with the 23 players who had become champions in Sydney and the 12 who had not, ultimately sacrificing the moment of their lives for their principles, the pursuit of improvement. "We can't tolerate the behaviour which has overshadowed this huge feat," Iniesta wrote. "I can't imagine how the players feel seeing that what is being talked about is not the great tournament they produced, or the fantastic football they showed us. It's over."
For Luis Rubiales, it is. Or so it seemed: the following morning his mother, Ángeles Béjar, locked herself in the parish church in Motril and announced she was going on a hunger strike, giving this whole saga another surreal twist. By then her son, president of the Spanish football federation (RFEF), had been suspended by Fifa for 90 days. He will not be back. The minister for culture and sport called these Rubiales's "final hours". It all started with a World Cup – the man who was less than a month into his presidency sacking Julen Lopetegui two days before Russia 2018, any hope in pieces – and it ended with one, too. Spain were champions this time, but Rubiales is in effect gone, almost as quickly as Lopetegui had been.
The circle closed. On some level, those moments, start and end, were not so different: the way both crises had unfolded, how he handled them, were a portrait. A narcissist, an assembly member calls him. A man – a Man – who doesn't listen to anyone, chest out, bundling through all bravado, seeing no fault of his own and enemies everywhere. In Javier Tebas, the president of the league, especially. "I can't guarantee you won't find a bag of cocaine in the boot of my car," is just the most striking of his paranoid delusions. A man with Por mis cojones as a management model: because I say so. Because I have the balls.
Just because he's paranoid didn't always mean they weren't out to get him, and there were successes. His mother declared him a man who would "not hurt anyone", the victim of a "bloodthirsty hunt". But Rubiales did this to himself and, most important, to others. Not just now but before this astonishing week. A week in which, ironically strengthened by the players who felt he did not believe in them, he could have been more secure in the presidency than ever before, projecting an image of vindication, however forced or false. He just needed, well, to not do anything – but instead it all unravelled, all came to the surface. A week in which his acts dominated absolutely everything, too, leading bulletins and front pages, above the competition the national team had just won and the league that was going on. Not just in Spain but – and this is key – everywhere else.
Because of the kiss, and everything else. Because of the dismissal of those who complained about his actions as "dickheads" and "stupid arses", signing off the radio interview in which he said that by laughing, sending the presenter a kiss, "a peck – no tongue". The apology that was not much of an apology; filmed alone, during the layover on the flight home and described as inadequate by Pedro Sánchez, the prime minister. The allegation that the statement from Jenni Hermoso wasn't actually from Jenni Hermoso. The attempts to press her into defending him. The statement accusing her of lying, of having been "got at" politically. The photos. With every step it was made worse, a crash course in how not to behave, how not to manage a crisis.
But that's Rubiales. So then came that extraordinary assembly for which it is hard even to find the words: it was all there, everything out in the open. Just watch it and weep, wincing with almost every word. He couldn't help himself. The speech spoke volumes, if not the way he had hoped, with its attacks on "false feminism" and dark warnings for the country, aligning himself in a culture war. With its claim that the kiss was consensual, that he was the victim of an "assassination", "hunted down". With all the shouting. He had been expected to resign – how could he not? Instead there was this hammed up Wolf of Wall Street: I'm not fucking leaving. Right down to him throwing money at Jorge Vilda: Here, have 500,000 euros. You won the World Cup. Ole, your balls!
Above all, perhaps, there was the applause, the theatre, the power on display, the whole sorry, pathetic scenario. By the end of it, it felt as if there was nothing left, nothing worth salvaging, and that was almost liberating. The phrase that expressed it, a hashtag rallying call launched initially by Alexia Putellas after the assembly, read: se acabó. It's over. Enough. This might, some said, become Spain's #MeToo.
Rubiales had said his relationship with the players was excellent, had declared that he and Hermoso were close. If he had genuinely expected them to defend him, he might ask himself whythey didn't, why the exact opposite happened; why he had never earned their trust. Hermoso's first brief, hurried interview as she boarded the RFEF plane home had played down the kiss a little, but she had reflected and this wasn't to be let go. This was bigger, this couldn't continue. Se acabó.
Nothing left was almost literal. All 23 players who won the World Cup agreed that they would not play for Spain until there was change. The 12 members of The Fifteen who had pulled out of the national team setup a year ago and didn't go joined them now and should be named: Mapi León, Patri Guijarro, Sandra Paños, Clàudia Pina, Ainhoa Moraza, Nerea Eizagirre, Amaiur Sarriegi, Lucía García, Leila Ouahabi, Laia Aleixandri, Andrea Pereira and Lola Gallardo paid for that but there was solidarity.
In total, 81 footballers joined in. Eleven members of the coaching staff have resigned. In just 10 days' time, Jorge Vilda has to name a squad for the Nations League: an Olympic place is in play and the world champions have no players and almost no staff.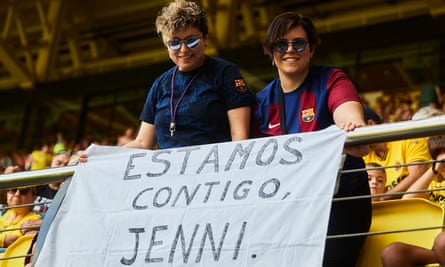 On Sunday even Vilda put out a statement, saying there was no tolerance for Rubiales's "improper behaviour" and lamenting that it had damaged Spain's success. So, too, did the men's head coach, Luis de la Fuente. Never mind they had both stood and clapped the day before, that they were his men. Neither resigned, but the momentum had become too great even for them to resist having to say something, and the president had in effect been removed. There had been voices, important ones, from the start: Irene Montero, Yolanda Díaz. From football, more and more came on board. Some came late, some halfheartedly. Some not at all, even now. But the momentum built, the moment came.
Some provincial federations had already decided to pull out in protest – Navarre and Gipuzcoa led, to their credit – knowing that the assembly could be for show. Seating plans and camera angles are not chance, pressure brought to bear on those who attended. What followed did not entirely surprise some from the inside – although the scale of it did – but it shocked many. Clubs started releasing statements. Isco, Héctor Bellerín and Borja Iglesias spoke out. "I don't feel represented by what we have seen today," Iglesias said. He also announced he would not return to the Spain team until things change and acts such as this are not left unpunished.
The next day, Cádiz carried a banner on to the pitch in support of Hermoso before their La Liga game with Almería. Fans there chanted for Rubiales to resign. Sevilla's players went on to the pitch in their game against Girona wearing shirts saying se acabó across the front. Olga Carmona, scorer of the winner in the final, had been invited to watch the game from the directors' box, where the club's vice-president described Rubiales's excuses as "taking the piss". Although Barcelona's initial statement had been weak, before their game at Villarreal the next day Joan Laporta, the president, called Rubiales's behaviour "shameful". And so it went on, with Iker Casillas, Spain's captain in 2010, calling it "embarrassing: we should have spent the last five days talking about the joy they gave us, how proud we are".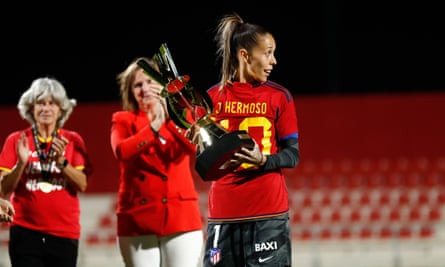 Iniesta's voice is not the most important – that will be theirs, always – but because he, like Carmona, scored a goal that won a World Cup, it carried symbolism with it. "It is a pity that a beautiful story built by so many players over so many years has been sullied," he wrote. Yet maybe another story was written in its place, something lasting, tangible too: a cause, vindication, change. Other, new voices joined them now, society and sport swept along with this movement, mobilised by this.
Football is never just football; maybe with time, victory in Sydney will be seen as a catalyst for something bigger. Hopelessly optimistic, perhaps, but something to hold on to. The goalkeeper Gallardo – one of those who had not been at the World Cup, paying the price for standing up – told El País: "This shows that we're not spoilt brats, not just capricious. You wonder what had to happen for that to be clear."
On Friday, the goalkeeper Misa Rodríguez joined her teammates in taking a collective stand. Se acabó, she tweeted. It's over. Below the message was a cartoon, in which a small girl with a ball under her feet talks to her grandmother. "Granny, tell me how you won a World Cup," she says. "We didn't just win a World Cup, little one," the lady replies. "We won much more."
La Liga talking points
Jude Bellingham is the milk. He is the consecrated bread, the body of Christ. He is, in other words, the business. And, yep, that's how they say it here. He is also inevitable. The 8, 10 and 4 for whom they invented the 22, wears 5 and, it turns out, is also a 9. The best in the whole of Spain, in fact. For the third week in a row, he scored for Real Madrid – and when they most needed it, too. It came late, from a corner, a flick-on by Joselu, and there he was diving ahead of Joseph Aidoo to score the only goal of the game against Celta. He was lifted up by Antonio Rüdiger, and David Alaba started punching him in the chest in delight. "It's madness, I don't know what to say: I'm out of words," Alaba said. Maybe he could have borrowed some from journalist Tomás Roncero, who called Bellingham "the plumber who fixes all the leaks … Good player!!!"
Yep, pretty good. "Bellingham can handle everything," ran the cover of Marca (above the splash on Rubiales and the "worldwide shame" Spain felt). "Bellingham is a cyclone", said AS (again, above Rubiales, on their cover every day for a week). Inside they insisted: "If all else fails, there's always Bellingham," which summed it up quite well. Madrid weren't all that good, but he had done it again: another week, another decisive contribution. "Goals are not his main virtue," Carlo Ancelotti insisted, but he now has four in three weeks – striker's goals too, all of them – and that has carried Madrid to the top of the table. "He has something, a star, everyone can see," said full-back Fran García. El País's headline said he "fixes everything" and Santi Segurola called him Mr Wolf, a solutions man. Which poses the question: who's on brain detail? And if a bit of advice from Harvey Keitel's character might not go amiss here, he has already scored more goals in three games than Eden Hazard did in his entire time at Madrid. "Looking forward to seeing my new home," he wrote; next week for the first time, Bellingham plays at the Bernabéu, where they love him already.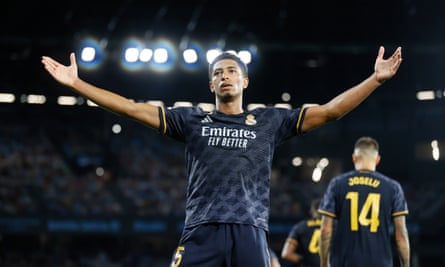 The man of the match at the Cerámica, where Barcelona beat Villarreal 4-3, wasn't a man at all. Lamine Yamal is 16 years and 45 days "old". He is also pretty special. It was a belting game: somehow 2-0 down despite dominating, Villarreal went 3-2 up, two of their goals really lovely moves, scored by Alexander Sørloth and Álex Baena. By the end, Barcelona could have scored more but it had been far from easy for a while. Ferran and Lewandowski got the goals that won it, but it was all about Yamal really, tearing it up from the wing, the youngest player ever to start a Primera División game. "This isn't the manager being indulgent. He plays because he makes the difference," Xavi said. "At 16, he almost always makes the right decision."
It was some weekend in Spain: a 4-3, a 3-2 (Granada's Bryan Zaragoza: woof!), and a 4-2 in which Betis were 2-0 up inside 10 minutes, Isco curling in a gorgeous second, but lost to Athletic, for whom the Williams brothers were wonderful. There was an outrageous goal from Ivan Rakitic ruled out in Sevilla's defeat to Girona – that's three losses in a row, their worst ever start to a season – wrapped up by a superb finish from Aleix García. There was also a delightful 95th-minute equaliser for Almería at Cádiz, scored by Kaiky, and a 95th-minute overhead kick winner for Osasuna at Valencia.