LUCKY SEVENS?
As WS Gilbert might have it, an Everton fan's lot is not a happy one. Give or take Paul Rideout's Wembley winner in 1995, and the teenage rampage of Wayne Rooney during David Moyes's flinty "People's Club" era, the gruel has been thinning since Howard Kendall decamped to Bilbao after winning his second league title in 1987. Everton's problem then, as now, was money. Though, with a new stadium halfway built, cash is currently a far, far bigger problem. Farhad Moshiri has been majority owner and benefactor since 2016, but since his associate, Alisher Usmanov, was sanctioned for close relations with Vladimir Putin, Everton have been looking for further investment – and fast. Sean Dyche, the seventh manager under Moshiri, rescued the club from relegation last season but an underpowered squad has started this season as if another relegation battle will surely ensue.
A plughole Everton have been circling for many seasons beckons more than ever but – at last – Moshiri has located new buyers with top-level football experience. Hurrah! All hail 777 Partners, what with their experience with Genoa, Sevilla, Vasco da Gama, Hertha Berlin, Standard Liège, Red Star in France and Melbourne Victory. Some big names there, sure, what with Sevilla lifting Big Vase on an annual basis, and one of calcio's oldest institutions. Sifting through that lengthy portfolio, Genoa are back in Serie A, but only after getting relegated for the first time in 15 years two seasons ago. Oh. What of Hertha? Big club. Er, especially in the 2.Bundesliga; they got relegated last season. Red Star, a classic name of French football, play in the third tier. And the Victory finished flamin' 11th from 12 in the most recent A-League season.
So then, Standard Liège, Belgian football powerhouses, seventh in their Pro League last season. No disaster but what's this? In early September their fans held demonstrations, calling out 777 with banners declaring "no money, no ambition". Uncomfortable. Vasco, then, who Football Daily best remembers for Edmundo making a right wally out of Gary Neville during World Tin Pot in 2000? Er, they're 18th in Brazil's Série A, with fans raging about a lack of investment. Worrying.
Which leaves Sevilla, who it turns out "Lucky Sevens" (as some Evertonians have taken to calling their potential new overlords) only own a minority stake in. So just who are these Miami-based guys? Their top football suit is Don Dransfield, former chief strategy officer for City Football Group, a similar multi-club setup. Co-founder Joshua Wander made his money in the world of structured settlements, where insurance payments are cashed as a lump sum rather than paid periodically to claimants wanting fast cash instead. Any Toffees celebrating a new owner, any new owner, might wish to see how far 777 Partners stretch the elasticity of the Premier League's fabled "fit and proper persons" test. Wander also carries a serious federal drug conviction, albeit from 20 years ago. Whatever, those Championship jaws look open.
QUOTE OF THE DAY
"Typically in the women's game, the players don't want to be spoken to. I don't have a lot of conversations on the field with women. Men want to chip in about everything" – World Cup final referee Tori Penso gets her chat on with Matthew Hall about a number of topics, including why men just can't stop flapping their gums wildly during matches.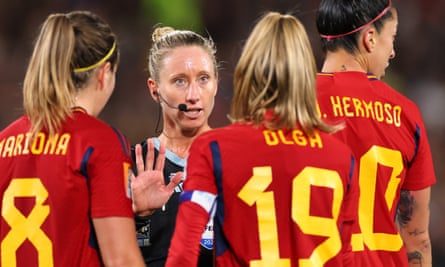 With both Luis Rubiales' and Harry Maguire's mums wading in to international political and sporting debate regarding the criticism and treatment of their sons, I believe we may have identified a gap in the market which ivory tower-dwellers may wish to monetise. I, for one, look forward to hearing more commentary and seeing more outlandish antics from other figures of public derision's mums. Perhaps we can arrange a tournament. Although I look forward less to Gianni Infantino's opening remarks of: 'I am your mum, I am everyone's mum' … probably" – Brian James.
Roy Keane's punditry may well be the only Irish representation at Euro 2024 (yesterday's Football Daily)? You mean Jack Grealish and Declan Rice won't be selected?" – Rodney Harrington.
In my too-quick reading of yesterday's Memory Lane (full email edition), I thought that the four men were part of a 'fool's panel', rather than the pools. That got me thinking about how large a panel might be needed, if that actually were the title for a group of pundits" – George Affeldt.
I think this may help to explain India's dominance on the world football stage" – John Goodman.
Send your letters to [email protected]. Today's winner of our prizeless letter o' the day is … John Goodman. Prizes return from next week, so get scribbling.