Indonesian police are facing increasing pressure over their management of crowds during the Kanjuruhan stadium disaster, where at least 125 people, including dozens of children, were killed in a crush of fleeing spectators.
Officers fired teargas in response to a pitch invasion by fans at the overcrowded stadium in Malang regency, East Java, on Saturday night, creating panic among supporters. Three witnesses told the Guardian teargas was fired not only at fans on the pitch but also at crowds who had remained in the stands, and that no warning was given.
Huge numbers scrambled to escape, prompting a deadly rush in which many were suffocated or crushed. A further 323 people were injured, some of whom are in critical condition. At least 32 children were among those killed. The youngest was aged three or four, according to an official.
"I held out in the stands even as the gas strangled my throat," said one fan who struggled to leave because the exit was packed with people. In my 20 years as an [Arema fan], I have never felt as terrified as I did that night."
Fifa stadium safety guidance states that "crowd control gas" should not be carried or used by stewards or police inside stadiums.
Indonesia's chief security minister, Mahfud MD, said on Monday an independent fact-finding team would be formed to investigate the disaster.
Separately, a national police spokesperson, Dedy Prasetyo, said 18 officers responsible for firing teargas, ranging from middle- to high-ranking, were being investigated along with "internal matters related to security management". Witnesses were being questioned and mobile phone and security camera footage examined, he added.
Rights experts have demanded that any inquiry be fully impartial.
Phil Robertson, the deputy Asia director for Human Rights Watch, called for the president, Joko Widodo, to establish an independent investigation, and publicly report the findings.
"All those responsible should be held accountable for this disaster, regardless of their status or position. It's not enough for the national police and the Football Association of Indonesia to conduct their own investigation because they may be tempted to downplay or undermine full accountability for officials involved," he said.
Fifa should also conduct an investigation and issue a public report of its findings, Robertson added.
Said Usman Hamid, the executive director of Amnesty International Indonesia, has also called for an inquiry, claiming "excessive force" had been used.
East Java's police chief, Nico Afinta, defended the force's response at a news conference on Sunday. He said other measures had been taken before teargas was used but that fans "began to attack the police, acting anarchically and burning vehicles".
A vigil was held outside the Kanjuruhan stadium on Sunday evening to remember the victims. Graffiti on the walls of the stadium revealed deep anger towards the authorities.
"My siblings were killed. Investigate thoroughly," read one message scrawled on the stadium's shutters, accompanied by a black ribbon and the date of the tragedy, according to the news company Agence France-Presse. "ACAB", an abbreviation for "all cops are bastards", was sprayed on another wall.
Funerals were also held for victims. "My family and I didn't think it would turn out like this," Endah Wahyuni told Reuters. Her two younger brothers, Ahmad Cahyo, 15, and Muhammad Farel, 14, were among those killed. "They loved soccer but never watched Arema live at Kanjuruhan stadium. This was their first time," she said.
Social media footage from inside the stadium showed chaotic scenes in which fans clambered to escape large amounts of teargas, some trying to carry other injured spectators to safety.
Only fans of Arema, the home side, were allowed to watch Saturday night's match. Fans of the opposing team, Persebaya Surabaya, who won, were banned as a precaution to prevent violence between the two sides.
Indonesia has a long-running problem with football violence, fuelled by intense rivalry between teams. However previous incidents have not been anywhere near as deadly as Saturday's tragedy, which is one of the worst sports stadium disasters ever.
The Fifa president, Gianni Infantino, called the events "a dark day for all involved in football and a tragedy beyond comprehension". Football teams around the world offered condolences, including Manchester United and Barcelona, while Real Madrid held a one-minute silence before their game on Sunday.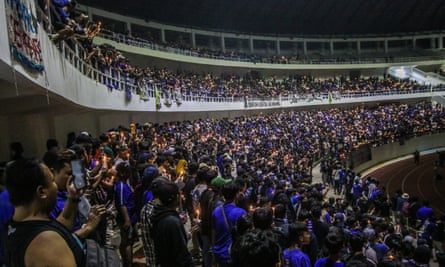 The Arema coach, Javier Roca, said on Sunday that fans had "died in the arms of players", after some of the team stayed on the pitch when the game ended.
"Returning from the press conference, I saw the tragedy," he said, adding that "the boys passed by with victims in their arms".
"I think the police overstepped their mark, even though I wasn't out there and didn't experience the outcome," the Chilean coach told the Spanish broadcaster Cadena Ser.
The Football Association of Indonesia (PSSI) secretary general, Yunus Yussi, said the body was in touch with Fifa about the crush and hoped to avoid sanctions.
Indonesia is due to host the 2023 Under-20 World Cup from 20 May to 11 June, with 24 participating teams. As the host, the country automatically qualifies.
Mahfud said the taskforce investigating the incident would include government officials, analysts, ministry representatives, football officials, academics and members of the media. It would aim to conclude its work within two to three weeks, he said.
Reuters, Agence France-Presse and Associated Press contributed to this report