13:19
Close: India's day as they reach 215-2
80th over: India 215-2 (Pujara 91, Kohli 45) Pujara cover-drives Root, handsomely, but only gets two as Craig Overton make a fine sliding stop. Root decides enough is enough and tries to take the new ball, so the umps call it a day. It's been very much India's day, with two quick wickets to complete England's collapse, followed by the opposite when they batted – two wickets that came slowly, with only KL Rahul missing out as the top order provided the stiff resistance that was missing on Wednesday. They had plenty of luck, but rode it with great skill and composure. Pujara has been immense and Kohli has returned to form, joining him in a partnership that has cruised to 99 already. For England Ollie Robinson was very exacting, Craig Overton very handy too, Jimmy Anderson uncharacteristically hot-and-cold. India trail by 139, and they have just a faint sniff of another Headingley miracle. Do join us tomorrow to see if they can pull it off.
Updated


13:12
79th over: India 212-2 (Pujara 89, Kohli 44) Pujara too plays a pull for four, off Moeen, who responds by beating the bat with an arm ball. England are now down to just one close catcher, which seems a bit defensive.

13:10
78th over: India 206-2 (Pujara 85, Kohli 44) Pujara is using his feet to both terse off-spinners, something that England could stop if they wanted to, by having a silly point and a forward short leg. They've got enough runs in the bank to do it, but Root doesn't seem to be keen. With his bowler's hat on, Root finally dishes up a part-timer's ball and Kohli helps himself to a pull for four.

13:06
77th over: India 200-2 (Pujara 84, Kohli 39) Another single brings up India's 200. They've reduced their overdraft to 154.

13:05
76th over: India 199-2 (Pujara 84, Kohli 38) Three singles off Root. The Hundred this is not.

13:02
75th over: India 196-2 (Pujara 83, Kohli 36) Moeen goes for a few singles. "Second new ball available in five overs," says a caption, but there won't be any point in taking it tonight as they'll be off for the light.

12:59
74th over: India 193-2 (Pujara 82, Kohli 34) Root suddenly gives Kohli some trouble, drawing a bottom edge that drops down into the crease, and then a play-and-miss with a beauty of a ball that ends up going over the stumps. Root has bowled three overs and gone for only three runs. In the bar tonight, he'll be telling Jimmy how to be economical.
Updated


12:56
73rd over: India 190-2 (Pujara 81, Kohli 33) Moeen gives Pujara something to cut. He loves that and strokes it for four, nice and late. David Lloyd, on commentary, makes a good point about Kohli: "in the field, he's so animated, but look at him now, he's really calm".

12:54
72nd over: India 185-2 (Pujara 77, Kohli 32) Root sees that maiden from Mo and thinks if he can do it, so can I.

12:53
71st over: India 185-2 (Pujara 77, Kohli 32) Moeen recovers from his milking and bowls a maiden to Kohli.
"We were at that Antigua Test in 1991," says Adam Roberts. "After two rather miserable trips in 1986 (our honeymoon) and 1990 supporting England, we were delighted we could go to the ARG [Recreation Ground] and support the Windies. It was a wonderful trip as my brother's hotel was very involved with the cricket, so we were at a dinner with the commentators. Richie Benaud introduced himself to me! Then we spent the evening with Tony Cozier. Two days later, a drinks do with the players when Allan Border stumbled into my wife trying to find a drink; we spent the evening with Jeffrey Dujon. The Windies of course lost."
Intriguing! Can you say a bit more about it…? "Benaud was charming. We chatted about Derbyshire (his wife is from there and we are from Notts/Leics). Cozier was excellent company, just really easy to talk to and really fun. Jeffrey Dujon seemed a lovely, gentle man. We actually saw him at the Oval later that summer and he remembered us (I ended up working in Cayman, where his uncle was the Senior Magistrate). The Windies team mingled well, the Aussies were very insular."

12:49
70th over: India 185-2 (Pujara 77, Kohli 32) Root gives himself a slip and a silly cover – funk at last. And he bowls a very respectable over, with just a single from it.

12:44
69th over: India 184-2 (Pujara 77, Kohli 31) Moeen is milked for the first time – five singles off the over. The light has got worse, Kohli is trying to march off, but the umpires seem to be saying they can stay on if it's spin from both ends, so here comes Joe Root.

12:41
68th over: India 179-2 (Pujara 75, Kohli 28) Anderson to Kohli: five dots and a tuck for a single.
Dinesh Karthik, who's been very sharp on commentary all summer, produces a good stat. In the first 30 overs of their first innings, India played 47 false shots and lost five wickets. In the first 30 overs of their second innings, they played 54 false shots and lost one wicket. There's so much luck in this funny old game of ours.

12:38
67th over: India 178-2 (Pujara 75, Kohli 27) Moeen beats Kohli with another excellent arm ball. Jos Buttler whips off the bails, but you can tell from the body language that nobody thinks it's out. Moeen has bowled five overs, across two spells, for ten runs, which is a very polite way of saying "Skip, you've under-used me."

12:34
66th over: India 176-2 (Pujara 74, Kohli 26) Anderson succeeds in keeping it tight again – until the last ball of the over, which is just full enough to be creamed through the covers by Kohli. Anderson has gone for more fours today than he has in years.
Updated


12:29
65th over: India 172-2 (Pujara 74, Kohli 22) It's another double change as Moeen Ali comes on for only his fourth over of the day. Root has been showing even less faith in him than in Curran. Moeen bowls a good over and secures a moral victory, drifting his arm ball past Pujara's attempted cut.
Updated


12:27
64th over: India 171-2 (Pujara 74, Kohli 21) Jimmy Anderson is back, nursing a niggle (possibly) and a grudge (almost certainly) after bowling a spell of 2-0-20-0. He is a man on a mission to bowl a maiden, and, with Pujara facing, he manages it.
"Just wondering," says Mark Slater, "if your allusion to 'Sweaty Betty' is for the magnificient brew Betty Stogs from the Skinners brewery, Truro, Cornwall. A pint of the amber ale is ordered by locals under this name. If it is, then my regard for you has increased from the very high point I already hold you in!" Mark, I'm honoured, but no, my allusion was to Sweaty Betty the sportswear brand. But thanks for adding to my rather sketchy knowledge of Cornish brewing.
Updated


12:21
63rd over: India 171-2 (Pujara 74, Kohli 21) Two more to Kohli, clipping Overton to leg, and that's drinks, with India still on top in this innings, and still under the pump in the match. They trail by 183.
Updated


12:16
62nd over: India 168-2 (Pujara 73, Kohli 19) Curran goes too full and Kohli clips him for four, imperiously, to bring up a fine fifty partnership. He can almost smell the hundred his team need from him.
Meanwhile Marcus Gregory (59th over) answers my doubts with a link to a Test in Antigua in 1991. Touché! Who knew that Viv's West Indies, on top of all their other attributes, were the alliteration champions of the world?
Updated


12:11
61st over: India 163-2 (Pujara 72, Kohli 15) This has been the International Day of the Leading Edge. Kohli gets another one as Overton finds some movement from leg to off. Like all the others, it proves harmless: come on Joe, give us a funky field.
Updated


12:07
60th over: India 162-2 (Pujara 71, Kohli 15) Kohli, facing Curran, is watchful until a bouncer comes along, whereupon he pivots and pulls and picks up a cheap four. Curran bites back with some extra bounce, rapping Kohli on the glove. He's a resourceful, resilient character, but it feels as if this could be Curran's last Test for a while. Chris Woakes is on the mend, thankfully, and is expected to play for Birmingham Bears (aka Warwickshire) in tonight's Blast quarter-final.
Updated


12:03
59th over: India 157-2 (Pujara 70, Kohli 11) A maiden from Overton to Kohli, who executes the sort of leave that either makes you go "Good leave!" or "Ooof!"
"Alliterative cricketers?" says Marcus Gregory. "Off the top of my head, I can think of West Indies fielding four in the same XI: Gordon Greenidge, Richie Richardson, Malcolm Marshall and Patrick Patterson." Classy. But are you sure Patto's all too short Test career overlapped with Richardson's long one?

11:58
58th over: India 157-2 (Pujara 70, Kohli 11) Another double change as Root turns to Curran, who bagged Kohli at Lord's. He goes full, looking for swing, and Kohli plays a dreamy cover drive but only gets a single, as Burns half-stops it at extra-cover. Ouch!

11:53
57th over: India 156-2 (Pujara 70, Kohli 10) Anderson is taken off after a spell of – wait for it – two overs, none for 20. Welcome to The Hundred, Jimmy.
Overton takes over and Pujara, who is in fine form now, shoves him through mid-off for four. This partnership has raced to 40 and India trail by a mere 198.

11:50
56th over: India 152-2 (Pujara 66, Kohli 10) Robinson bowls a no-ball to Kohli, his second of this spell. He's looking a bit leggy. He can still muster some accuracy, bowling Kohli a straight one that might have produced a catch at short leg, if there was one (which would also stop Kohli standing outside his crease). Then he persuades him to inside-edge a drive, but it's a thick one, quite safe. Robinson seems to be going off, possibly for a strong Espresso.
"Following on from David Hopkins (over 52)," says Louis Wood, "does that mean we can draft in Nick Knight?" Ha.

11:46
55th over: India 151-2 (Pujara 66, Kohli 10) Anderson recovers from that 12-run orgy of an over to bowl four dots, but then strays onto the pads, as he has done a few times today, and Pujara whips it for four. And then Anderson does it again, so Pujara glances for four more. "Jimmy's gone searching for wickets more than usual today," says Nasser Hussain. "He's missed Stuart Broad, in his ear at mid-off."
Updated


11:42
54th over: India 143-2 (Pujara 58, Kohli 10) Pujara joins in the fun, upper-cutting Robinson for four. That's the only blot on an otherwise good over; the lights are on and the ball is swinging, prodigiously at times.
"Proportionately far fewer alliterative names among England's female cricketers," reports Richard O'Hagan. "I can only find: Myrtle Maclagan, Helene Hegarty, Wendy Watson, Clare Connor, Kate Cross.
I've ignored Betty Belton and Betty Birch, because Elizabeth." Personally, I'm pro-Betty, as per Bill and Bob. Also, Betty's a great name and you don't come across it much these days, except after Sweaty.

11:37
53rd over: India 138-2 (Pujara 53, Kohli 10) Heeeeere's Jimmy. And that gets Kohli going – as Anderson's inswinger goes too leg-stumpish, he clips it away with the greatest of ease. Sky flash up Kohli's stats in England when the ball is "channel/off stump line": 2014, average 6.71; 2018, average 159; this summer, average 9.50. Lovely symmetry … but Kohli, as if smarting from this, pushes through the covers for four. Twelve off the over from Anderson! Sacrilege.

11:32
52nd over: India 126-2 (Pujara 50, Kohli 1) Yet another leave from Kohli, and this one brings an appeal as a nip-backer from Robinson brushes the back trouser leg. Richard Kettleborough shakes his head instantly, and he's right: too high. Facing his tenth delivery, Kohli finally gets off the mark – with a leading edge. he's out of form and under the cosh, but he's also a superstar, so this could go either way.
"At the risk of being perfectly pedantic about piffling practicalities," says David Hopkins, "I'd challenge whether all of Kim Thonger's list is strictly speaking alliterative? For my money, true alliteration requires the opening sound of each word to be the same, not just the letter. So while Hassem Hameed and Willie Watson qualify, I'm not sure Graham Gooch does." The gloves are off.
Updated


11:25
51st over: India 123-2 (Pujara 50, Kohli 0) After the pull, a bye brings Kohli to the business end. Facing Overton for the first time, he leaves the first ball, then dabs the second down to one of the four slips. No drama yet, but it's never far away with this man.

11:23
Fifty to Pujara!
A pull for four off Overton and Pujara is waving his bat for his fifty. For the first time in the series, he's been fluent.

11:22
50th over: India 118-2 (Pujara 46, Kohli 0) Robinson keeps Pujara quiet until the fifth ball of the over, which is tucked away for another single. Kohli has one ball to face and is able to leave it.
"Have some more alliterative Indians," says Deepak Nandhakumar. "Ajit Agarkar, Gautam Gambhir, Sandeep Sharma, S Sreesanth." Thank you!

11:17
49th over: India 117-2 (Pujara 45, Kohli 0) Kohli survived two balls at the end of Robinson's over and now he's a spectator as Pujara faces Overton. There's a single off the last ball, so Kohli will have to wait again. Jimmy Anderson, who was off the field, has mysteriously reappeared now that Kohli's out there. Maybe his niggle isn't too bad after all.

11:13
48th over: India 116-2 (Pujara 44, Kohli 0) Good move, Joe Root, And there was I thinking Robinson and Overton are too similar to bowl in tandem – in terms of pace and trajectory, they're more like twins than Overton and his actual twin, Jamie.
An email comes in from Charles Hart, taking us way back into cricket history. "I can't help comparing India in 1947, when as a 15-year-old I sat on the grass at Lord's – four shillings entry – and India today. Then she had no fast bowlers, wisdom decreed that Indians did not have the physical framework for such bowling and relied on spin. Edrich and Compton had a wonderful partnership; they were far more interesting to watch than today's outcrop, including Root, as they played sideways on. Need I say, India lost." Four shillings! That's great. But doesn't Root play sideways on too?

11:10
Wicket!! Rohit LBW b Robinson 59 (India 116-2)
Umpire's call! Brushing the leg stump. So Robinson strikes and Rohit's long wait for a hundred in England goes on – though, as so often this summer, he has given them a firm foundation. And now… it's Kohli time!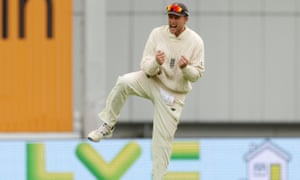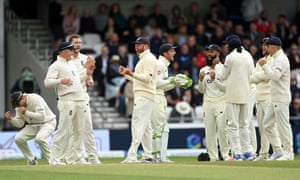 Updated


11:09
Wicket? Rohit given LBW b Robinson 59
For once, it's not too high. But is it going down…?

11:05
47th over: India 116-1 (Rohit 59, Pujara 44) Back comes Craig Overton, of window fame. He was excellent earlier, but now he gives Pujara a half-tracker and gets cut for four before settling into some dots.

11:02
More on the most urgent subject of the moment, alliterative cricketers. A few readers are saying that if Kim wasn't having Freddie Flintoff, he should have disallowed all diminutives that begin with a different letter (Bill, Bob etc). But those are part and parcel of the name William or Robert, whereas Fred is hardly built into Andrew.
Here's Andrew – possibly Fred – Cosgrove. "After Kim's sterling effort with alliterative English cricketers," he says, "I tried to come up with an Indian squad too, but only got as far as Bishen Bedi and Deep Dasgupta and then got stuck. Can anyone fill out this team?" Parthiv Patel, perhaps.

10:46
Tea: India win a session!
46th over: India 112-1 (Rohit 59, Pujara 40) Curran tries a bouncer at Rohit, which has been his downfall more than once, but this one doesn't get up above the waist, so he has no trouble swatting it for four. And that's tea, with India's batsmen winning a session for the first time in this Test.
They haven't lost a wicket since lunch, helped by Joe Root's blunder with a review that would have given him three reds if he'd asked for it in time. Anderson, Robinson and Overton have all been exacting, but Rohit and Pujara have passed the exam so far. India trail by 242.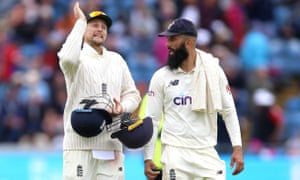 Updated


10:38
45th over: India 106-1 (Rohit 54, Pujara 39) Mo blots his copybook by dropping very slightly short, three balls in a row, and going for 2, 1, 1.

10:36
44th over: India 102-1 (Rohit 53, Pujara 36) Curran tries going round the wicket to Rohit, which keeps him honest, brings a leading edge, and yields a maiden. The crowd are getting restless: I feel a beer snake coming on, or possibly a blast of Sweet Caroline.

10:32
43rd over: India 102-1 (Rohit 53, Pujara 36) Moeen again, finding some drift and flight and conceding just the one run, a thick edge from Rohit.
Updated


10:29
42nd over: India 101-1 (Rohit 52, Pujara 36) A better over from Curran, but India still take three runs off it, so they've reached a hundred with only one wicket down. They could easily be 90-5, so this has been a good effort. Now they just need another 400 or so.
And here's Kim Thonger. "I noticed while idly wandering through Wikipedia in the lunch break that the most recent England cricketer with an alliterative name is Haseeb Hameed. In his honour I have made a list of previous alliterative cricketers from which a quite decent Historical Alliterative XI could be selected should anyone wish to do so. Yes I know, get a life.
"Anyway, I can report a 40-year gap between Frank Foster (1911) and Willie Watson (1951), and I wonder if there was a secret anti-alliteration selection policy in those decades because pre-1911 there were loads of the buggers, and then nowt for four decades.
Haseeb Hameed
Chris Cowdrey
Paul Parker
Graham Gooch
John Jameson
Pat Pocock
Brian Bolus
Peter Parfitt
Bob Barber
Colin Cowdrey
Willie Watson
Frank Foster
George Gunn
Frederick Fane
David Denton
Bernard Bosanquet
Bill Bradley
Alf Archer
Ted Tyler
Francis Ford
Charles Coventry
Billy Bates
Billy Barnes
"PS I have not included Fred Flintoff because of course his name is Andrew."
Updated


10:22
41st over: India 98-1 (Rohit 51, Pujara 34) Pujara, still on the dancefloor, gives Mo the charge first ball, before finding that he can only pad it away. A single to each h batter as Mo settles in nicely. Root gives him only two catchers, a slip and a short leg, which feels like what you'd do if you had a lead of 50-100, rather than 250.
Updated


10:19
40th over: India 96-1 (Rohit 50, Pujara 33) England have bowled a few too many deliveries on Pujara's pads, and Curran supplies two more now. The first is a freebie, clipped for two; the second is spicier, swinging in late, but Pujara moves like Jagger and gets enough of a flick on it to pick up four. And here comes Mo, not before time.
Updated


10:16
39th over: India 89-1 (Rohit 50, Pujara 26) One more from Anderson. He tries a bit of wobble seam and gets Rohit mis-timing a push to mid-off; otherwise, nothing doing.
A text comes in from my friend and colleague Emma John, who was round at mine for the morning session. "Think we may have just witnessed the moment when Curran got dropped for Saqib." We may well have done. The gods seem to have had a word with him: Sammy, you can have platinum hair if you like, but you can't have a golden arm as well.

10:10
Fifty to Rohit!
38th over: India 89-1 (Rohit 50, Pujara 26) Robinson is coming off, but it's not Mo, it's Sam Curran. He was brighter in the first innings but he's well down the pecking order now, as you can see from the fact that this is his second over of the innings, while the other seamers are all in double figures. Rohit's eyes light up and he helps himself to two drives for four, one straight, the other past cover, both effortless. He adds a comfy clip for a single to reach fifty, for only the second time in the series, although he's been in form. A colossus at home, Rohit has never made a Test century in England: cometh the hour, cometh the chance to put that right.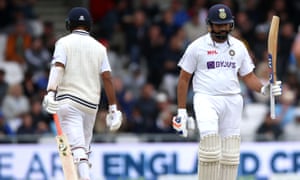 Updated


10:05
37th over: India 80-1 (Rohit 41, Pujara 26) Anderson still has enough in the tank to beat the outside edge of Rohit's bat as he wafts away from the body. Rohit pulls himself together and takes a quick single to midwicket, and India finally bring up the big eight-oh.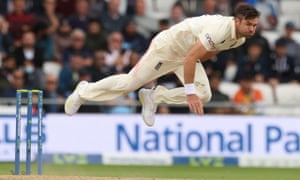 Updated


10:01
36th over: India 79-1 (Rohit 40, Pujara 26) Six more dots, this time from Robinson to Pujara. Time for a bit of Moeen, surely.

09:57
35th over: India 79-1 (Rohit 40, Pujara 26) Anderson is still on, so maybe he doesn't have a niggle after all – his grimaces may have been expressing the sheer agony of going for a few fours. He's back to form now, collecting another maiden.
Meanwhile there's an interesting tweet from Lawrence Booth, editor of Wisden and graduate of the University of the OBO. "I think – though can't be certain," he writes, "that 12th man Wood told Root about the three reds for the Rohit lbw during that drinks break. Root threw his head back, and Wood then gave him a consoling pat."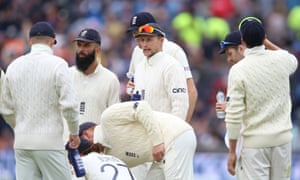 Updated