Ever since Jelena Ostapenko burst onto the biggest stages of professional tennis six years go with her breathless brand of all-risk, no fear shotmaking to spectacularly snatch the 2017 French Open title, she has stood as a threat in all tournaments. At any time, on any surface and in any country, Ostapenko can hit anyone off the court.
On Sunday night, she came for the best player in the world. Under the Arthur Ashe Stadium lights, Ostapenko toppled Iga Swiatek, the world No 1 and defending champion at the US Open, recovering from a one-set deficit to reach the quarter-finals with a 3-6, 6-3, 6-1 win.
With her defeat, Swiatek's first reign as No 1 ends at 75 weeks. After the US Open, Aryna Sabalenka, the Australian Open champion, will top the rankings for the first time in her career. Swiatek indicated afterwards that the prospect of losing top spot had weighed heavily on her.
"There are plenty of things that I know I should have done differently," she said. "Maybe I'm not mature enough yet to do that. I'm really working hard to not think about this stuff a lot. Sometimes when you force yourself not to think about stuff, the result is the opposite."
Ostapenko, meanwhile, said that she was able to play with such freedom precisely because she knew Swiatek must have been feeling the pressure of her status. "I knew she's a great player and she's very, very consistent, especially last few years," she said. "I also knew she would have all the pressure because she's No 1. I was just trying to make it hard for her and to play my game and to fight until the very last point."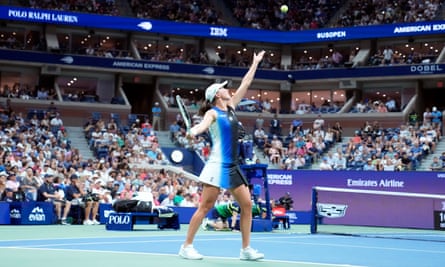 Match-ups mean everything in tennis. The way that different players' styles and preferences compare and contrast decides matches. Ostapenko began their fourth round with a 3-0 record against Swiatek and the knowledge that she had the mental edge in their encounters. Her winning record is a reflection of Swiatek's tendency to struggle with big-hitting players who can overpower her from the baseline and rush her groundstrokes. The last time they faced each other, last February in Dubai, was Swiatek's very last defeat before she embarked on her 37-match winning streak. The important question of the night was just how much Swiatek had improved those weaknesses.
"I think the main thing is that she doesn't really like to play against big hitters; the three girls [Sabalenka, Elena Rybakina, Barbora Krejčíková] and me," said Ostapenko. "She likes to have some time. When I play fast, aggressive and powerful, she's a little bit in trouble."
In the early stages, Swiatek seemed to be up for the task. While Ostapenko set the tone with her vicious, early and flat ball-striking, the first set rather proved to be a reflection of Swiatek's much improved defence as they exchanged blows in frantic, high-octane exchanges. Each time Ostapenko unloaded, Swiatek was right there, deflecting her power with pace and depth, forcing the Latvian to consistently hit through. Swiatek's excellent serving also protected her second serve as she took the opening set.
This tournament has already seen the very worst of Ostapenko. In her second round win against Elina Avanesyan, the No 66, Ostapenko struck 80 unforced errors in three sets before she somehow survived. Even as she conceded the first set here, Ostapenko knew she was not playing nearly as badly and the margins were minimal.
Her serving drastically improved at the beginning of the second set, offering her more free points and providing a greater platform for her aggression. As she also began to find a rhythm on her return of serve, eviscerating Swiatek's second serve, Ostapenko methodically took control of the baseline.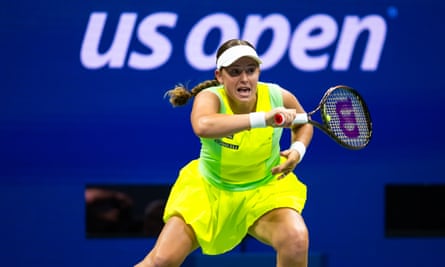 The second set was hard fought, but Swiatek was flailing by the end. The defensive groundstrokes that she had lasered to within inches of the baseline throughout the first set were suddenly flying long. Her second serve, which she had protected with a high first serve percentage, was exposed to Ostapenko's shotmaking genius.
"Usually I can feel what I'm doing wrong. This time, my mistakes were so huge and I had no idea why suddenly I couldn't return. I'm a good returner," she said.
By the final set, Ostapenko had taken full control of the match from inside the baseline, lasering groundstrokes off both wings. She ended by breaking Swiatek's serve to love with four destructive, point-ending forehands. Her opponent could only stand and stare.
It has taken a long time for Ostapenko to re-establish herself as a consistent threat after initially struggling with the pressure of her status following her French Open win at 20 years old. Although she finally returned to the top 20 last year, such a massive win at a grand slam tournament has eluded her for even longer.
"I was expecting that I can win a grand slam, but not at such an early age," she said. "Of course, iIt's really difficult to get used to all this attention, pressure. Everybody expects you to win every single match, every single tournament. This is not possible because you are human and you cannot win every single match."
On Tuesday, Ostapenko will face Coco Gauff, the sixth seed, for a spot in the semi-finals. Another enormous match awaits.