Even as the WTA tour had shifted on to the European red clay season this year, Coco Gauff's favourite surface and the period that brought her first grand slam final at the French Open in 2022, the 19-year-old was struggling. During the early days of spring, Gauff had taken a few early defeats, culminating in a bitter 6-3, 6-0 loss against Paula Badosa in Madrid.
A few days later Gauff, normally known for her toughness and fight, admitted she had allowed her frustration to consume her. "I mentally wasn't engaged in that second set," she said.
Things needed to change. As she travelled from tournament to tournament, the American spent much of her time interviewing prospective coaches, trying to find the right people to guide her through the next stage of her career. Still, the losses continued. She left Wimbledon deeply concerned with her direction after a first-round defeat against Sofia Kenin.
The most significant figure behind her success is her father, Corey. Off the court, alongside her mother, Candi, the Gauffs have nurtured an intelligent, kind and eloquent daughter, imbuing her with such strong inner self-belief that she has handled the difficulties of teenage fame incredibly well. Corey's work on the court as her primary coach has produced one of the best young talents of her generation.
There is no rule to parent-coaching relationships in tennis; some players enjoy success with their parents until the end. But for many others, there are critical moments when different, more qualified voices are necessary. With such strong emotional attachments involved, not everyone can come to the right decision to further their careers: now 25, six years older than Gauff, Stefanos Tsitsipas is still trying, and so far failing, to figure out if he should continue with his father as his coach after so long.
This year Corey Gauff made one of the most important decisions in his daughter's career. He knew exactly when it was time to take a step back and he helped her to find the right people with which to surround herself, hiring Pere Riba just before Wimbledon and Brad Gilbert afterwards.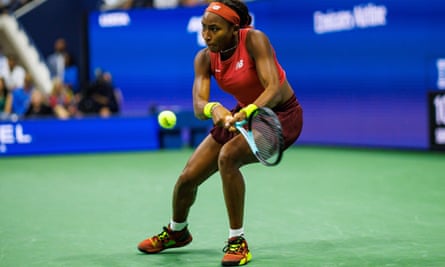 "My dad is captain," Coco Gauff said to ESPN on Saturday. "He's the one who pushed me to bring Brad and Pere in. He's the one who said: 'It's time for a new change, I can't do it any more. Let's bring people in.' I didn't know BG – he's another generation – but he's helped me so much. Pere has helped so much. Different generations have pushed me to do well in this one."
Gauff had no idea where her father – no longer needed in her player box – was situated on Arthur Ashe Stadium throughout her US Open run.
He opted to sit in different boxes around the stadium or, such are his crippling nerves while watching his daughter play, he would pace on the tournament grounds outside. As she entered the crowd to find her family, though, he was the first person she reached.
Rather than any significant technical change, Gilbert has particularly stressed the importance of Gauff enjoying her time on the tour and the life she leads. While she has always been extremely self-assured for her age, the shift in her attitude, outlook and confidence has been clear throughout this summer.
The sixth seed's elevated confidence was as evident as she served out her first grand slam title to love without hesitation, as in her first-round match when her opponent, Laura Siegemund, continually stalled while Gauff was serving, prompting her to calmly express her frustrations. In the past, she may not have stood up for herself. "I really don't like confrontation all that much," she said.
This win has come with one crucial revelation for the American. After her difficult spring, Gauff felt she needed to transform her game, playing more attacking tennis from inside the baseline in order to win her first major. But she actually played her cleanest, most offensive tennis of the summer in Washington, her least significant title since Wimbledon.
In New York, Gauff scrapped through four three-set matches, recovering from a set down on three occasions. She problem‑solved and each time, against players with completely different game styles, she found the right solutions. Faced with Aryna Sabalenka's heavy, relentless ball striking, Gauff had to rely on her incredible defensive skills, taking a step back and enraging the Belarusian by chasing down so many balls that no other player could reach.
Instead of transforming her game, Gauff learned that her existing strengths were sufficient. She is now a grand slam winner, the new world No 3 and she will also regain the No 1 ranking in doubles alongside her partner, Jessica Pegula. Yet, at just 19, she departs New York fully aware that she still has so much room to improve as she continues to develop her game and with the understanding that this is only the beginning.