In the buildup to this qualifier in Wroclaw there was a great deal of focus on the selection of Jordan Henderson. Most of it centred on Henderson's own self-advertised status as an advocate of the downtrodden, combined with his subsequent paid gig as a publicist for Saudi Arabia's propaganda machine.
Henderson was of course vilified, mocked and taken to task for his nonsensical attempts at self-justification. Not least the fantasist's pretence that he is some kind of righteous sleeper agent, out there changing people's minds by junking his principles at the first chink of the cash-bag. Yep. That'll do it.
Twenty minutes into this fraught, claustrophobic England performance in Wroclaw, all trapped energy and stifled zip, there was a clear reminder of the on-field aspects to Henderson's selection.
Mainly, and this is an entirely footballing question: how much longer is Southgate, master of caution, really going to carry on picking him? Not least when midfield really should be a strength in this England team, not an energetic compromise?
England never did have an outstanding midfield through all the good early years under Southgate. At first this was an issue of personnel. The tight games against good teams were lost on the back of an absence of control in that area. We remember Eric Dier entering the fray in Moscow to counter Luka Modric. And after that a litany of decent midfields that lurked and chased, high-class filler in between the power up front and in defence.
This has now changed. From a state of midfield compromise, England have two genuinely outstanding players in the centre. But they still don't have a good midfield.
Not yet anyway, not in relation to the basic, inarguable talent of Declan Rice and Jude Bellingham.
Is this something Southgate is going to be able to fix, to find a way to make these strengths pay as he enters his own endgame?
Here England started with a Rice-Bellingham-Henderson central trio. They were urgently static for tong periods. Not least in the minutes before they went behind late in the first half, before equalising through Kyle Walker, the only goals in an energetic, even game.
Henderson didn't play badly. He ran a lot. He crossed the ball a few times. He just tended to play as he does, in earnest straight lines, when England needed some guile, some angles, some creative use of the ball in tight spaces.
He moved deep, combined well with Bellingham once or twice and seemed at times to be injecting self-conscious zip into his passes. But this England group have far greater guile and skill and passing smarts to offer than this. Why is the balance toward earnest, unremarkable energy?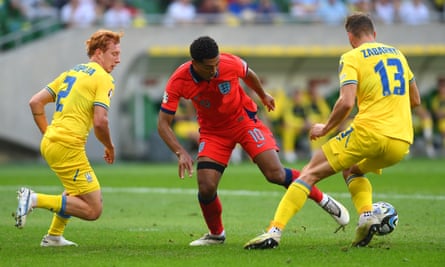 This really isn't about the hypocrisy. Although, on that, there has been something grim about watching Southgate clinging helplessly in the past week to the idea of Saudi-UK trade, as though selling bombs to kill Yemenis somehow speaks to and legitimises Henderson's bogus advocacy. How does that equation work exactly Gareth?
There was more fraternal vagueness from Joe Cole on Channel 4's coverage. Absurdly Cole also began by talking, with a knowing shrug, about Saudi trade before pivoting weirdly straight into "I'm not educated on geo-politics" (Why not Joe? You're on TV. And there's time). Jill Scott was much braver, restricting herself to a single incontestable point. Scott has always admired Henderson. But as a woman she's now not allowed to go and watch him play. Perhaps this is something we should simply respect.
But this isn't about all that. It's more a matter of the real reason Henderson is in Saudi, which is that he's not good enough any more to get in Liverpool's regular first team. He has been a really fine player for Liverpool. But Jürgen Klopp is a pretty good judge of where he is now.
Perhaps the worst part of Southgate's set-up was that it involved shifting Bellingham out to the left. He did OK out there, because he's a very good player. But this isn't the role that shows the best of him. And perhaps, who knows, Real Madrid's outstanding attacking midfielder deserves a little better than this, better than making do to accommodate a 33 year-old managerial favourite from the Saudi Pro League.
England pressed a little better in the second half but still lacked guile and angles in midfield. How is this possible? There is a fair case no England manager should pick a team these days without Phil Foden in it. Why do that? And how is it acceptable to struggle to break down a deep defence, to overdose on sterile possession, when you have Foden on the bench? There is a lot to be said for caution and solidity. But not really at this stage. England have an opportunity to go to the Euros with one of the best, most exciting midfields in the competition. Why not take that chance? Maybe it really is time to go for the headshot in one of these tournaments.
There is information to be decoded from this performance. Perhaps Scotland in Glasgow will see a little more enterprise, a little more in the way of playing to those central strengths. Loyalty and consistency are admirable qualities, but Southgate also has a duty to the talent in his care.