With a sudden burst of intent that belied his two-metre frame, Harry Souttar darted in front of Johan Vásquez to meet Martin Boyle's corner with a glancing header. Guillermo Ochoa was able to do little more than watch as the ball flew across his body and nestled itself into the bottom corner of the net. Sixteen minutes in at Cowboys Stadium in Texas and Australia led Mexico 1-0.
Flash forward to the 83rd minute, with the Socceroos looking to hold onto a 2-1 lead against an El Tri onslaught, and a long-ball forward sat up for Souttar on the edge of his penalty area. It appeared a simple clearance but, inexplicably, Souttar opted to duck. Whether it was miscommunication or an error in judgement is unclear but it seemed to be the action of a defender expecting his goalkeeper to storm forward and claim the ball. Instead, it was substitute Cesar Huerta who was lurking. As Mat Ryan stayed put, Huerta blasted it home to erase what had been a two-goal deficit and secure Mexico a 2-2 draw.
Souttar had gone into this international window under a cloud. He was seemingly not in the plans of Leicester City boss Enzo Maresca since the coach's arrival and the Foxes' relegation from the Premier League. Souttar hadn't featured in a competitive club fixture since May 22. Famously loyal to his core players, Australia coach Graham Arnold had given him a vote of confidence and called him up anyway, challenging Souttar to prove why he deserved to feature at the King Power Stadium.
The coach was rewarded for his faith with Souttar's opening goal, and for long periods of the game, a reassured defensive performance. But in one deferred clearance, the error of a player severely lacking in match minutes and sharpness, all that good work was undone. Whether Maresca was watching is unknown.
The sense of assuredness from that opening goal that had allowed the Australians to play to their counter-attacking strengths was gone too. Instead, they battened down the hatches under a fast-finishing Mexican storm.
With Latin music blaring from the stadium's speakers at every stop in play, Jackson Irvine was stretchered off with an injury, rolling his ankle at a horrific angle as he clashed with Roberto Alvarado. Arnold would say after the game that the early indications from Irvine indicated it wasn't good.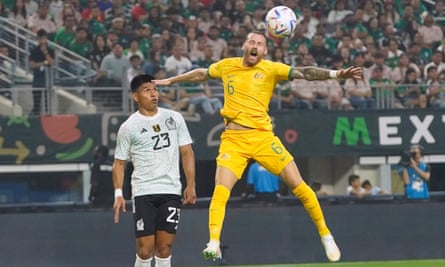 Of course, that Australia was able to hold on and secure a 2-2 draw is a positive. After back-to-back defeats against Ecuador and Argentina, Arnold's side entered a hostile stadium far from home and despite the disappointment of throwing away a 2-0 lead, were able to secure a draw against the reigning Gold Cup holders and the world's 12th-ranked side.
Australia had scarcely seen the ball before Souttar's opener, but once in possession of a lead and dealing from a position of reactive strength, they looked calmer. It would take until the 38th minute for Mexico to finally muster their first shot on goal through Orbelín Pineda, one comfortably saved by Ryan.
Indeed, as is becoming increasingly common in international football, the more highly ranked, more belligerent side was struggling to create despite monopolising possession against a perceived lesser, but better-organised foe. That suits the Socceroos under Arnold.
But Mexico raised the tempo in the second half in front of an expectant crowd. They had a penalty in the 53rd minute when Keanu Baccus handled in the penalty area, only for Giménez to blast into the post. Eight minutes later it was the Socceroos' turn from the spot when McGree was needlessly sandwiched by Julián Araujo and Luis Romo, only this time Boyle made no mistake as he blasted beyond Ochoa to mark his return from injury with a goal.
Mexico finally converted from the spot in the 69th minute when Cameron Burgess committed his needless error in nudging Uriel Antuna off the ball and Raúl Jiménez struck true before the catastrophic error at the back saw them bring the game back to the parity it finished at.
"I'm very proud of the boys, the way that we played. We did very well," coach Graham Arnold said. "A couple of mistakes again… when you play against top nations – and let's not forget we played against the No 12 in the world in Mexico – we make those mistakes and you learn from them."
The Socceroos next face England at Wembley on October 14 and Arnold is primed. "The week that we've had, it's probably been the best learning experience that you could have moving forward for the 2026 World Cup," said the coach.