It was twenty years ago today. Or close enough, at least, to make for a startling sense of circularity.
As Chelsea travel to Bournemouth on Sunday in search of their first away win since March (also, by coincidence, at Bournemouth) there might just be a spare moment in the day to celebrate an overlooked anniversary, two decades on from the most violently transformative summer in the modern history of English football.
O Captain! my Captain! Rise up and hear the bells! 13 September 2003 was the date modern Chelsea was effectively born, or at least presented to the world fully formed, as the first Chelsea team of the first Roman Abramovich transfer window took to the field at home to Tottenham Hotspur.
There is still a sense of double-take reading the Guardian's report of the takeover, completed without fanfare on 1 July. "In a surprise move last night Chelsea football club was sold to a 36-year-old Russian oil billionaire after intense and secret negotiations," the news pages noted. Abramovich was described as "an influential politician", with "deep pockets", and "a general sports fan but not a particular Chelsea supporter".
With the clarity of hindsight it has become a reflex to goggle at the naivety of the sports media coverage of that period. Abramovich, aged 36 and politically connected, had risen to become the major shareholder of what would soon be the world's third largest oil company. Why so few questions?
The reality is Vladimir Putin had come to power just three years previously. The idea of Londongrad-on-Thames, of the oligarchical court, had yet to reveal itself. Here was a handsome, stubbly billionaire with a yacht and a rock-and-roll approach to the transfer market. What could possibly go wrong?
The new-era spending had kicked off with Glen Johnson, signed for £6m from West Ham. £17m went on Damien Duff, £15m on Juan Sebastián Verón. Claude Makélélé's arrival on deadline day from Real Madrid for £16.6m made it 10 major signings.
And on the second weekend in September that newly assembled entity, Chelsea 2.0, gambolled to a freewheeling, juiced-up 4-2 victory, with two goals from new acquisition Adrian Mutu – one to watch there – in front of a Stamford Bridge crowd blinking in the clean, crisp autumn sunlight.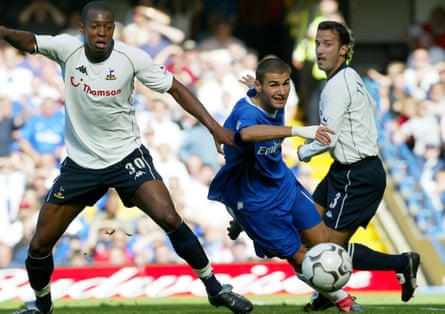 And so history repeats itself. Although right now we do seem to have jumped straight to the farce part. Post takeover, post massive transfer injection, here we go again. Happy Mutu day? Well, not exactly.
Sixteen months into the current twin-consortium model, the most remarkable part of this picture is the trail of wreckage. Chelsea began the weekend one place below Manchester United in the Premier League table. An exciting place to be in 2003; but now 12th after four games.
Close to £1bn has been spent just on transfer fees, a randomly compiled swamp of talent that has so far made the team worse not better. Four different managers have been in charge. Pretty much every player the club has invested in has decreased rather than increased in value. Judged on the current, undisrupted version of reality, it is hard to think of a more striking year of financial mismanagement at any elite level football club ever.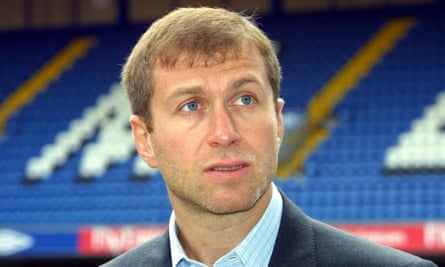 Frankly, there just has to be a bigger picture we're all missing here, some post-matrix reality of supercharged revenues visible only to hyper-commodification gurus. Because if not Chelsea really are making an enemy of their own future.
As ever a few wins could change the weather dramatically. Sunday's trip to the Vitality is followed by Aston Villa at home, then Fulham and Burnley away. With a squad so violently overloaded with talent there is surely a formula, within reach if Mauricio Pochettino can just find the right buttons to press, that can transform this Raft of the Medusa into a functioning team.
Before then there are still so many obstacles, not to mention problems that have simply not existed in football before, driven by a recruitment plan based on an idea (apparently) of talent-hoarding.
Somehow a billion pounds has been spent without signing an orthodox central attacker, even just by accident. Nicolas Jackson is a very good footballer but plonking him into the middle of this flux feels like an excellent way of confusing a promising young player. That lunging sitter against Nottingham Forest just before the break needs to be buried as soon as possible.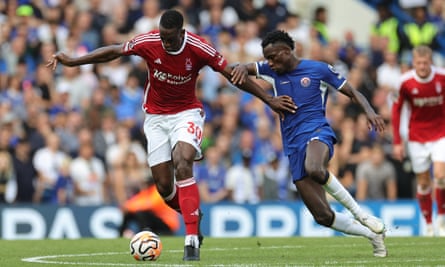 There is at least good news with the imminent return of Armando Broja, but Chelsea also have a minor flood of injuries. Eight first-team players are either out or just coming back. The news this week of Roméo Lavia's twisted ankle will have come as both a great disappointment and also a handy reminder that Roméo Lavia is actually a Chelsea player.
More generally the club has set a trap for itself by asking so many young players to settle simultaneously. How do you address the demands of a newly arrived £100m deep midfielder in a team that already has a newly arrived £100m deep midfielder?
Or as a manager blot out the noise around all that chop and change, the constant background chatter between club executives and a fleet of representatives? Mykhailo Mudryk, for example, is hardly an insoluble problem. All he needs is a stable base, a coherent existing structure and time to learn. Good luck with that one.
But then, so much here is impossible to map, even at a club where acts of financial incontinence are part of the culture. How much money has been sluiced through this club since takeover No 1, the pre-sanction years? Six billion? Eight billion? And yet somehow between then and now the team has got worse rather than better.
When Abramovich arrived Chelsea were in the Champions League, with a strong squad, strong academy connection and strong club culture. Now they're out of Europe and hoping to stay above Bournemouth on Sunday. Stamford Bridge is largely unchanged. Even John Terry is selling autographs for a hundred quid a pop on his one-man tour.
For the club's supporters those extraordinary memories will remain, from Mutu in the sunshine, through two Champions Leagues and five league titles, to away fans camped around the Carrow Road riviera a month after war in Ukraine had broken out singing "Chelsea get sanctioned everywhere we go"; to the low comedy of the current madman-genius hyper-capitalist experiment.
Happy Chelsea anniversary day. And if it all goes wrong, if the numbers don't work and the revolution is stalled, history suggests there will at least be another one at the door before long.