The chorus of boos that ushered Germany's team from the field at full time after Saturday's humbling at home to Japan might have taken supporters of a certain vintage back 26 years, to Le Tournoi. It wasn't only about Roberto Carlos's banana free-kick and the emergence of Paul Scholes, but about French supporters venting their frustrations with their national coach, Aimé Jacquet. When France lost to a late Alan Shearer goal in their second game of the tournament in June 1997, cries of 'Jacquet démission' ('Jacquet resign') tumbled from the stands of the Mosson in Montpellier.
If Hansi Flick had hoped this nadir would be the first step on a similar path to glorious redemption, it quickly became clearly that there was to be no reprise of that scenario. The Deutscher Fußball-Bund (DFB) announced his sacking on Sunday afternoon while Germany's basketball team were midway through a magnificent victory in the World Cup final with Serbia – underlining, on one hand, the clumsiness and the dysfunctional workings of the body at board level, and on the other communicating the sense of panic that led them to this point.
On Wednesday there will be exactly nine months to the start of Euro 2024, which Germany will kick off with the opening match in the Allianz Arena in Munich, the setting for some of Flick's greatest career triumphs. For host nations to worry that they are going to show themselves up in front of the world ahead of putting on a major tournament is nothing new. Yet with Germany, one of Europe's and the world's most decorated football nations, the feeling that they were heading for a damp squib of a performance on the pitch next summer was, and is, entirely justifiable.
Their recent record has been startlingly poor. Following the group stage exit at the Qatar World Cup, Germany won their first match of 2023, a friendly with Peru in Mainz. Since then, they are winless in five. The loss to Japan was their third in a row, the team's worst run since 1985. Even if it can be a struggle to muster the right intensity in preparation friendly matches instead of qualifiers ahead of hosting a tournament, this was something else. Germany's results have been disappointing. The performances have been even worse.
If you wanted a concise case study of where Germany have been at in recent times, then Saturday's defeat in Wolfsburg was perfect. They were dreadful in defence, collectively disorganised and further undermined by individual errors, with protection from only Emre Can in front. Further forward, only young Florian Wirtz emerged blameless, with Kai Havertz again labouring at centre-forward, where the injured Niclas Füllkrug, the 30-year-old who made his full debut last year, was badly missed.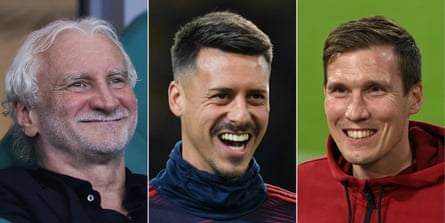 There is talent but little leadership. One almost wondered if the Japan game had been set in the Autostadt, which is home to the modestly-sized Volkswagen Arena, to minimise the opprobrium this fragile team would receive. By German standards, Wolfsburg is hardly Galatasaray away.
Flick certainly deserves to shoulder his share of the blame. He took Bayern to the treble in 2020 in thrilling fashion, with football that was as reckless as it was gripping. A year later, after taking over a squad that had been slumping for some time under Jogi Löw, perhaps a little more detail was required to turn things around. He had been fortunate to have big personalities with wounded pride to rely on in the dressing room at Bayern. That his fly-by-the-seat-of-pants style might have had a shelf life was underlined by the amount of defensive gremlins that were left for his successor, Julian Nagelsmann, to deal with.
Events outside his control worked against him too. The row with Fifa over the wearing (or not) of the One Love armband by captain Manuel Neuer and the team's subsequent photo protest overshadowed the start of the World Cup, a tournament which Germany's football public really struggled to muster enthusiasm for. In the aftermath, Neuer's serious leg injury in a skiing accident took away one of Flick's senior players and called into question the professional standards of his squad, even if Neuer was at pains to point out that he had been trekking rather than downhill skiing.
It felt as if Amazon's latest All Or Nothing series, which was released in Germany on Friday and centred around the campaign in Qatar, was terribly timed for their coach, too. The already-infamous sequence of Flick showing his squad footage of a flock of geese and telling them what they could learn from them would have been an amusing footnote after a good campaign. After an early exit, it made him appear to be at the David Brent end of motivational speaking.
Now Flick has gone, Germany need a convincing solution, and quickly. Nagelsmann is the early favourite, having passed on the possibility of a clutch of top jobs since he went back on the market in spring. Yet he is still under contract to Bayern, who would welcome not paying his wages any more but have made clear to suitors in recent months that they require compensation to release him. It is unlikely to be a straightforward negotiation.
Jürgen Klopp would be a hugely galvanising choice, with his warmth shining through again at the weekend on a trip back to Mainz to mark the closing of the club's south stand before it was demolished. Whether he or Liverpool are open to a job share, with the Premier League club in the midst of a rebuild, has to be doubtful. Roger Schmidt signed a lucrative contract extension at Benfica earlier this year.
Yet the pressure is immense, and the task huge. It is notable that according to a report in Bild, only one member of the DFB board was not in favour of firing Flick in the short gap between matches. Rudi Völler, appointed as general director earlier this year is now pressed into the caretaker role for Tuesday night's game with France in Dortmund, where he will face his former Marseille teammate Didier Deschamps on the touchline. The 63-year-old last coached at Leverkusen in 2005.
This pair of friendlies against two of the leading lights of the World Cup would have tested teams in far better current fettle than Germany. One was enough to spell the end for Flick. To make Germany competitive next summer his successor will need to be strong, forward thinking and have the personality to close the gulf between team and fans.