By the time Coco Gauff arrived at the French Open this year to defend the points she had compiled as a finalist the year before, all eyes, from opponents to pundits, were on one shot in her game.
There was never any doubt about her first serve, which she fires down at a vicious pace with growing precision, nor her excellent backhand, athleticism, variety and her court sense. But her forehand was one of the most glaring weaknesses in the top 10.
The difficulties she had with it were undeniable. While the shot held up in regular, medium-pace rallies and it was better on slower surfaces like clay, that offered the motion a little more time to unwind, with her extreme western grip and elaborate swing, the stroke would so often crumble when rushed or when the ball was out of her strike zone.
As she developed from a newcomer to an established player on tour, the rest of the field began to collectively target the forehand and her issues with it came to the forefront of her own mind. "It's not a secret. Everybody is trying to play the forehand. Like, I'm not going to sit here and act like it's some secret," said Gauff this summer.
But tennis is such a complicated game. Technique or tactics are only part of the path to success. Since the time Gauff was dismantled 6-3, 6-0 by Paula Badosa in April in Madrid and now, little has changed technically, and yet she is in her first US Open final having blitzed the summer. Since hiring Brad Gilbert as coach alongside Pere Riba, who she brought on board just before Wimbledon, Gauff has won titles in Washington and Cincinnati alongside a 17-1 win-loss record.
The sixth seed in New York has worked hard with her new coaches on footwork around the stroke. They have focused on ensuring that her steps around the ball are more precise and that, as she strives to become a more offensive player, she moves forward sufficiently when on the offensive. But there have been no fundamental changes to the technique and there will probably be none until she has sufficient time between tournaments to train. The transformation of Gauff's results is rather a reflection of the importance of mentality.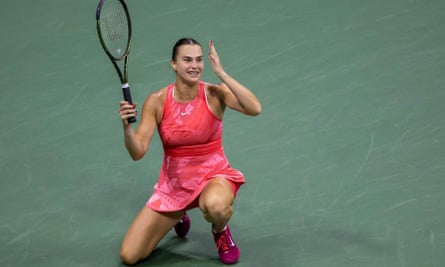 "I thought to play and win you have to be ultra-serious and ultra-focused, which is true, but also you still have to enjoy it," she says. "I think what's been the change is that I'm having more fun."
Gauff says that during one of the first conversations she had with Gilbert, to her surprise, his most prescient advice wasn't about her game. He told her that she needed to smile more and enjoy what she is doing. That initially surprised the 19-year-old, but she has spent this summer prioritising positivity and the enjoyment of her sport. She has also found greater perspective.
"At first I used to think negative things, like, 'Why is there so much pressure? Why is this so hard? Blah, blah, blah,'" she said. "I realise in a way it's pressure but it's not. I mean, there are people struggling to feed their families, people who don't know where their next meal is going to come from, people who have to pay their bills. That's real pressure, that's real hardship, that's real life. In a very privileged position, I'm getting paid to do what I love and getting support to do what I love. That's something that I don't take for granted."
That perspective and greater acceptance of her circumstances was evident as she led by a set in one of the biggest matches of her career to date, her semi-final against Karolina Muchova, before it was delayed for nearly an hour due to climate change protesters disrupting the match. Gauff, like many of her generation, asserted that she believes in climate change and she described this time of protests as "history-defining moments."
"I always speak about preaching about what you feel and what you believe in. It was done in a peaceful way, so I can't get too mad at it. Obviously I don't want it to happen when I'm winning 6-4, 1-0, and I wanted the momentum to keep going. But hey, if that's what they felt they needed to do to get their voices heard, I can't really get upset at it," she said.
On Saturday, the teenager from Georgia will bring her new-found perspective to her biggest match on home soil. It will be brutally difficult. Not only is Aryna Sabalenka the toughest player in the world right now, the new No 1, but it feels like she may have exorcised her biggest demons during this tournament.
Not only had the No 1 ranking chase seemed to weigh heavily on the Belarusian as she came so close to catching Swiatek on multiple occasions this year, but those nerves so often revealed themselves in grand slam semi-finals. She was 1-5 in her career and had lost so many comprehensive leads until Thursday night's incredible comeback win from 0-6, 3-5, 0-15 down against Madison Keys. For Gauff, who will be the underdog, the only thing there is to do is enjoy the challenge ahead.