Key events
40 min For the first 20 minutes, Poland looked like they were in the departure lounge, but since then they have been terrific.
38 min: HOW ARE POLAND NOT IN FRONT! They had three chances in the space of five seconds. A cutback from the left deflected invitingly towards the onrushing Zielinski, who smashed a shot straight at Lloris from about 10 yards. Zielinski's follow-up was blocked by a defender, and then the second follow-up was cleared off the line, I think by Varane.
Zielinski's was the big chance, and he should have scored. He sweet-spotted it, sure, but it was straight at Lloris.
38 min "Greetings from Cali, Rob!" says Irra Core. "I've always wondered, when players and the referee are yelling at each other, are they all using a common language?"
<Cheese>The language of football</cheese>. I'm not sure, to be honest. I have a vague memory of a player calling the referee all sorts in his native language, not realising that the referee spoke it as well, and being sent off. Off you pop! But I may have imagined that.
35 min: Good save from Szczesny. Mbappe makes Cash look silly, twisting him inside out on the left side of the area. Then he blasts a left-footed shot towards the near post that is pushed into the side netting by Szczesny.
34 min Cash's speculative cross-shot flies right across the penalty area and behind for a goalkick.
34 min Bereszynski's cross leads to a bit of desperate defending from France. They're in a game here. In fact, Poland have had more of the ball in this first half.
34 min "For the last 20 years at least, at every World Cup, I hear how England have a chance of making the final," says Jeff Sachs. "This is so unrealistic!!! Is this an example of wishful thinking?"
Trust me, Jeff, nobody was suggesting the teams of 2010, 2014 and 2018 had a chance of making the final. As for this team, I think they'll lose to the first elite team they face, but I won't be shocked if they reach the final. Mortified, sure, but not shocked.
33 min It's a poor free-kick, straight into the wall.
32 min The free-kick is 25 yards out, a fair way to the left of centre, and Robert Lewandowski is over it…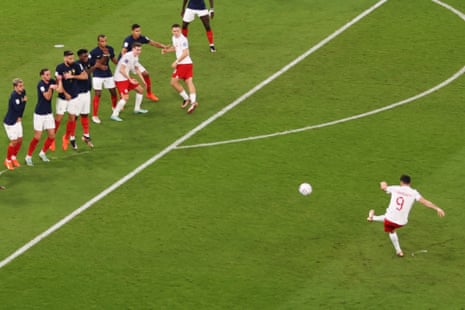 31 min Tchouameni is booked for a crunching block tackle on Frankowski. His studs were showing a bit, though it still feels slightly harsh.
29 min: Giroud misses an open goal! Frankowski stretched to keep the ball in play, and in doing so gave it to Griezmann. He played in the overlapping Dembele, whose fierce low cross was turned wide of the far post from four yards by the sliding Giroud. He should have scored, although maybe there was too much pace on the cross as well.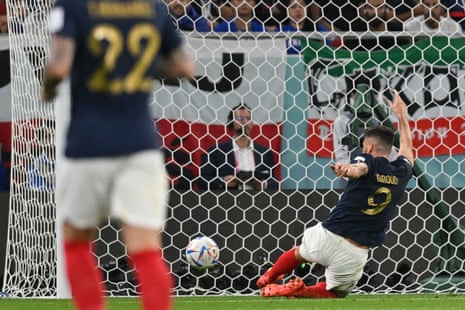 28 min So far, so good for Poland. Szczesny has only had one fairly difficult save to make.
27 min "Greece at Euro 2004 should have been a likeable underdog story, but I understand it wasn't because of their style of play," writes PK Adithya. "At least they scored in all of their games (I think) and didn't need even one penalty shootout in the knockout stages.
"A better example of a footballing atrocity might have been Paraguay at the 2011 Copa America, who made it to the final after three draws in the group stage and two wins on penalties in the quarterfinal and semifinal (after 0-0 draws of course). Thankfully Uruguay stuffed them 3-0 in the final with Suarez scoring the opener."
The good will out.
26 min Poland are dominating possession at the moment, but that heightens the Mbappe risk. He scorches past Frankowski, who tries to pull him back and fails, before being dispossessed by the covering defender. Mbappe wanted a foul and/or a yellow card; the referee ignored him.
25 min This is a really good spell for Poland. Lewandowski receives a cutback in the area, back to goal, and lays it off to Frankowski (I think). His shot is blocked.
23 min A deflected cross from the left falls nicely for Lewandowski on the edge of the area. He controls it, realises the shot isn't on with bodies in front of him and instead tries to play in Kaminski to his right. It's a poor pass, far too heavy.
20 min Tchouameni's cross from the left ricochets around the six-yard box before being punched away by Szczesny. Poland break and Lewandowski belts an excellent left-footed shot just wide from 25 yards. Lloris had it covered but it was sweetly struck.
19 min If Poland are to pull off a shock, they need to get Zielinski into the game, never mind Lewandowski.
18 min "That's it," says Justin Kavanagh. "I'm sending Lewandowski a nice new football for Christmas this year. God knows, the poor man won't have seen one for six weeks."
16 min It feels like a matter of time before France score. Dembele wins the ball high up the field, uses Giroud by not using him but then drives too close to Szczesny from the edge of the D.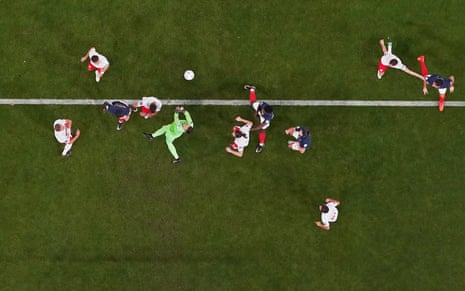 15 min Griezmann's through ball is just too heavy for Giroud.
15 min "Do you think," says Anis Aslaam, "that Poland can do a Greece 2004 and go all the way to lift the cup?"
How to put this politely?
13 min Tchouameni whistles a low drive from 25 yards that is well saved by Szczesny, diving low to his right to push it away. It's all France.
12 min "Crowd looking more 'early rounds of the Carabao' than World Cup R-16," says Ben Kybatt. "The variation in atmospheres at this tournament has been extraordinary, with some countries packing the stands with extremely vocal fans (e.g Argentina, Saudi) and others struggling to attracts crowd (the hosts and most of the European teams). All very odd."
Indeed. Argentina v Mexico was a stinker of a game with an atmosphere for the ages.
11 min Mbappe beats Cash with a terrifying change of pace and crosses towards Dembele beyond the far post. He collects, shifts onto his right foot and hits a shot that ricochets off a defender for a corner.
9 min Hernandez beats Cash on the left and clips a dangerous cross that is headed behind by the stooping Bereszynski (I think). This time Griezmann's corner is punched away by Szczesny.
9 min Griezmann stabs a pass down the side of the defence towards Giroud. Cash (I think) reads it well and clears.
7 min "Rob, greetings from soggy Cali," says Mary Waltz. "The discussion on what formation the Poles have deployed is somewhat pointless. France will spend 70% of the match in Poland's half of the field. Poland's only hope is a nil-nil full time followed by a shootout."
5 min Varane plays the ball back to Lloris, whose gives Upamecano a stinker of a pass with a Poland player up his derriere. Upamecano just about manages to squeeze the ball out to Hernandez on the left.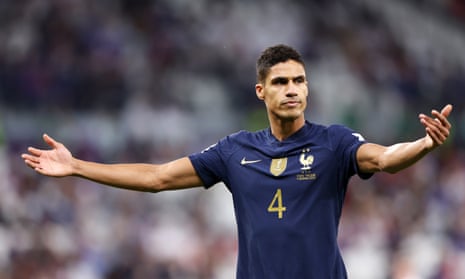 4 min Griezmann's inswinging corner is headed well wide by Varane, five yards out. He was under a fair bit of pressure, so it wasn't an easy chance. But it was a chance.
3 min Dembele's cross deflects behind for the first corner of the game. Feels like the pattern of the game has already been established: attack and defence, invasion and repulsion.
2 min Griezmann is fouled 30 yards from goal, roughly in line with the right edge of the penalty area. He overhits an inswinging free-kick and it drifts behind for a goalkick.
1 min It looks like a 4-1-4-1 for Poland rather than a back five.
1 min Peep peep! France kick off from left to right, in front of a capacity crowd.
"Wonderful, that clip from the 1986 game – thank you," says Charles Antaki. "It also makes one think about Pele (not involved in 1986 of course), and how the Brazilian camp will react to the sadness of his situation. It oughtn't take more than a brief reflection on the lachrymose hysteria of 2014 to make them think that a bit of dignity and discretion will go a long way here. But if he passes away during the competition…"
And if they play Argentina in the final… but happily, the latest news is a bit more encouraging.
The players line up for the anthems. Here's our verdict on Poland's.
It is called Dabrowski's Mazurka, which means "Poland is not yet lost". The lyrics were written by Jozef Wybicki in 1797 but the composer of the music remains unknown. The anthem is filled with patriotism and faith in regaining independence after it was lost in the Third Partition of Poland by Russia, Prussia and Austria. It expresses the idea that despite no longer being an independent state, the nation would live on as long as the people were fighting in its name.
"If it's anything like the last game, Poland's formation should be 9-0-1 surely?" says Kevin Ryan. "TDA."
Well, yeah. A 5-2-2-1 formation is not without euphemistic potential.
Ten minutes to kick off
Let's have a reminder of the teams.
France (4-2-3-1) Lloris; Kounde, Varane, Upamecano, T Hernandez; Tchouameni, Rabiot; Dembele, Griezmann, Mbappe; Giroud.
Substitutes: Mandanda, Areola, Pavard, Disasi, Guendouzi, Kolo Muani, Fofana, Veretout, Saliba, Coman, Konate, Camavinga, Thuram.
Poland (possible 5-2-2-1) Szczesny; Cash, Bereszynski, Kiwior, Glik, Frankowski; S Szymanski, Krychowiak; Zielinski, Kaminski; Lewandowski.
Substitutes: Skorupski, Grabara, Jedrzejczyk, Wieteska, Bednarek, Bielik, Milik, D Szymanski, Grosicki, Swiderski, Zurkowski, Zalewski, Piatek, Gumny, Skoras.
Referee Jesus Valenzuela Saez (Venezuela)
Olivier Giroud could make history today. He has 51 goals for France, the same as Thierry Henry, and needs one to become France's all-time leading goalscorer. Not bad for a player who has been lightly patronised throughout his career.
The BBC have Poland's formation as 4-1-4-1, as below, rather than 5-2-2-1. Time will tell at this point.
Poland Szczesny; Cash, Kiwior, Glik, Bereszynski; Krychowiak; Kaminski, Zielinski, S Szymanski, Frankowski; Lewandowski.
"That Brazil v Poland throwback video – we need a broadcaster to 'reboot' spinning screens and the large flashing yellow R that denotes a replay," says Pat. "So 80s. So great. See it in full glory at 5:30 in the video."
Give it to Messi
"France," says Jeff Sachs, "are the only serious challenger to Brazil."
They could meet in the final as well. I still think Spain, England, Portugal or Argentina could win it, in that order, though France and Brazil look the likeliest.
This is Poland's first knockout match at the World Cup since 1986, when they gave Brazil a scare before eventually losing 4-0. Their spirit was broken early in the second half when Josimar scored another monstrous goal to make it 2-0.
All the best shocks occur when you (think you) know the result beforehand
Whimper versus bang latest
Team news: nine changes for France
Didier Deschamps makes nine changes from the Tunisia game, returning to the XI that beat Denmark eight days ago. Raphael Varane and Aurelien Tchouameni are the only men who started on Wednesday.
The Poland coach Czeslaw Michniewicz makes two changes from the team that lost to Argentina. Sebastian Szymanski and Jakub Kaminski replace Krystian Bielik and Karol Swiderski, which could mean a switch to a back five.
France (4-2-3-1) Lloris; Kounde, Varane, Upamecano, T Hernandez; Tchouameni, Rabiot; Dembele, Griezmann, Mbappe; Giroud.
Substitutes: Mandanda, Areola, Pavard, Disasi, Guendouzi, Kolo Muani, Fofana, Veretout, Saliba, Coman, Konate, Camavinga, Thuram.
Poland (possible 5-2-2-1) Szczesny; Cash, Bereszynski, Kiwior, Glik, Frankowski; S Szymanski, Krychowiak; Zielinski, Kaminski; Lewandowski.
Substitutes: Skorupski, Grabara, Jedrzejczyk, Wieteska, Bednarek, Bielik, Milik, D Szymanski, Grosicki, Swiderski, Zurkowski, Zalewski, Piatek, Gumny, Skoras.
Referee Jesus Valenzuela Saez (Venezuela)
I see Amélie Poulain's been up to mischief again
The best way to achieve greatness is to retain something. Okay, not anything. Nobody put Modena in the pantheon when they won the Anglo-Italian Cup in 1981 and 1982. But the World Cup, now that's the ultimate. It has been retained only twice, by Italy in 1938 and Brazil in 1962, and no team has even come close since the turn of the century.
To win the World Cup twice in a row brooks not a solitary sane argument, and that's what France are hoping to achieve over the next fortnight. Qualifying for the knockout rounds is a big start. Incredibly, and for once I'm not misusing that word, four of the previous five holders went out in the group stage, including France in 2002. Don't bother trying to understand; just file it under F,BH.
Even without half a dozen of their best players, France, and particularly Kylian Mbappe, looked ominous in beating Australia and Denmark. Their reserve side lost to Tunisia on Wednesday, though there's a comforting precedent for that. At Euro 2000, France's B team lost the third group game to the Netherlands; the A team won the tournament.
France's path to glory in Qatar was made harder by Spain's defeat to Japan in the week. They may now have to beat England, Spain and either Argentina or Brazil to win the trophy. But first, Des, they have to take care of Poland. That part feels straighforward, though we said the same before they lost to Switzerland at the same stage of Euro 2020.
Still, Poland look ripe for evisceration after qualifying for the last 16 with their tail between their legs. It feels like they lost today's game on Wednesday night. They were heavily criticised for their passive, pragmatic defeat to Argentina, and things like that can devastate morale. Who knew good behaviour could be so lamentable?
Kick off 3pm GMT, 6pm in Al Thumama, 4pm in Paris and Warsaw. The winners will play England or Senegal in the last quarter-final on Saturday evening.