Olivier Giroud's injury against the Republic of Ireland provided an opportunity for Marcus Thuram and Randal Kolo Muani to audition for the soon-to-be available No 9 jersey. Thuram was more convincing, but Kolo Muani is perhaps a more enticing long-term option.
As France's record goalscorer Giroud sat grimacing, clutching his ankle on the Parc des Princes turf, Thuram and Kolo Muani could smell the scent of opportunity. Despite "reassuring" medical tests, the Milan striker nonetheless returned to Italy early, eager not to aggravate an ankle injury, identical to the one he suffered in the Champions League last season. "I will perhaps have to strap it to strengthen it, but it hasn't been bad these past weeks," said Giroud. Giroud will be 37 later this month, so the time to formulate a succession plan is finally upon us.
Few players in the France setup have been as trusted as Giroud in recent years. Didier Deschamps is loyal to the players who make up the backbone of this team and the striker has been a mainstay, despite the many options at the manager's disposal. Even the ephemeral return of Ballon d'Or winner Karim Benzema did little to change that.
It is a Ballon d'Or nominee, and a surprising one at that, who auditioned to replace him in Dortmund on Tuesday night. Kolo Muani announced himself on the international scene at the World Cup last year, his introduction in the final against Argentina changing the course of the match, and almost the result. But for Emiliano Martínez's left leg, the former Nantes forward would have already written himself into French folklore. He will be given more chances, even if his audition in the 2-1 defeat against Germany constitutes a rare failure in an otherwise near-perfect 12 months.
Kolo Muani left Nantes last year to join Eintracht Frankfurt on a free transfer. Earlier this month, he returned to Ligue 1 as a €95m player. Before he even kicked a ball for his new team, Kolo Muani was back on a flight to Germany, a country he had been so desperate to leave just days before. The Frenchman boycotted Eintracht Frankfurt training and travelled to Paris to force through his transfer to PSG. It was a questionable tactic but it proved successful and the move will boost his chances of featuring more regularly for France.
At PSG, Kolo Muani will form part of an all-French forward line. Kylian Mbappé and Ousmane Dembélé are already established starters in Deschamps' side, so featuring alongside them regularly at club level will help Kolo Muani. "Playing in training will allow them to improve their relationship, to have more reference points, more automatisms," said Deschamps. With international managers given so little time to work with players, it is a huge advantage to have clubmates who have spent countless hours together forging an automatic understanding of how they should relate together on the pitch.
While Kolo Muani did not further his case in the defeat to Germany – far from it – there were mitigating factors. A rare tactical switch from Deschamps saw France deploy an unfamiliar 4-4-2. The lack of familiarity showed and the six changes from Thursday's victory over Republic of Ireland were also evident in what was a lacklustre collective display. Kolo Muani was not operating at full strength either. His Frankfurt boycott, followed by an ankle sprain, meant he had not been in action for nearly three weeks. Antonio Rüdiger sniffed weakness and capitalised on it, dominating their duels before Kolo Muani was hooked just after the hour mark.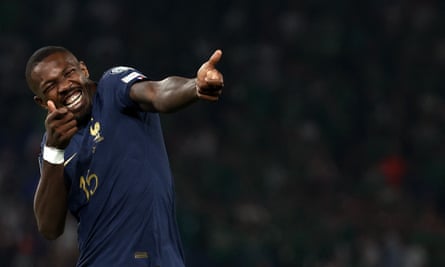 He was replaced by Thuram, another forward auditioning for Giroud's spot. Inter's new No 9 is brimming with confidence after scoring his first goal for France in last week's Euro 2024 qualifier against Ireland. If Kolo Muani represents a divergence from what Giroud has offered over the years, Thuram represents continuity. Paradoxically, France have not necessarily relied on their all-time record scorer for goals – his link-up play, ability to act as a focal point and connection with Mbappé, who will inevitably surpass Giroud's record in the not-so-distant future, have been more vital than his 54 goals. Thuram is similar in profile and would allow France to operate in much the same way in the post-Giroud era.
Kolo Muani, a mesmerising dribbler and an adept presser who can play interchangeably across the forward line, is the more enticing option. Perhaps that is simply because the idea of change is more seductive than continuing with a familiar formula, however successful it may be. A lot depends on Kolo Muani's integration at PSG – Deschamps admitted as much. "He has had a phenomenal rise and lived up to expectations both before and since the World Cup. At PSG, he will be more exposed, but he knows that. Coming to PSG, people will have big expectations of him," said the France manager.
PSG may have laid down the blueprint for France's attack for years to come. Mbappé missed the Germany game with injury, so Deschamps was not able to pick his trio of PSG forwards but he may only have to wait until Friday, when the Ligue 1 champions face Nice, to see them in action. PSG are hoping Kolo Muani, Mbappé and Dembélé are an improved version of their underwhelming MNM forwardline – Mbappé, Neymar, Lionel Messi. They could be the key to PSG's future success – and France's.
Talking points
Right-back remains an issue for France. Neither Benjamin Pavard nor Jules Koundé has convinced in the position and neither looks keen to play there. They are centre-backs at their clubs but Deschamps is adamant that they have to adapt. "When I call them up for France, it is first and foremost as right-backs. If that changed, I would have to think, because there are lots of players [at centre-back]," he said. Jonathan Clauss, who plays at right-back for Marseille, does not seem to have the manager's confidence. "I'm not going to anticipate, but it's not impossible that he comes back," said Deschamps. Not impossible but, judging by his lack of enthusiasm for the idea, perhaps not likely either.
Thierry Henry has begun his tenure as France U21s manager with a pair of wins, beating Denmark 4-1 in a friendly and Slovenia 4-0 in the team's first qualifier for the U21s Euros in 2025. After unsuccessful spells as manager of Monaco and Montreal, the former Arsenal striker has returned to management, saying he has "evolved" since those experiences. He now has the job of developing another golden generation of French talent, which includes PSG prodigy Warren Zaïre-Emery, who became the youngest captain of the U21s side in 30 years in the 4-1 victory over Denmark. Rayan Cherki also stood out, scoring in both games.
Amine Gouiri and Yasser Larouci, who played for France in the Euro U21s this summer, have switched allegiances to Algeria, according to the country's manager. Djamel Belmadi says that Gouiri, who scored 12 goals in 31 appearances for France's U21s, and Larouci, the Sheffield United left-back, are likely to feature in his squad in the next international break in November.