When Brazil were beaten by Morocco and Senegal in friendlies earlier this year, after going out of the World Cup to Croatia at the quarter-final stage, there was national panic. The Brazilian football federation, the CBF, was roundly criticised for assuming that the coach of the country's Under-20s team, Ramon Menezes, could bridge the gap between Tite, who stepped down after World Cup, and the highly anticipated arrival of Carlo Ancelotti next year once his Real Madrid contract expires.
With fans and pundits worried that the five-times World Cup winners would begin their qualifying campaign for 2026 in a similar vein, the CBF reacted and hired Fernando Diniz for the next 12 months. The plan is for Diniz to guide Brazil through their qualifiers, while doing his day job at Fluminense, before Ancelotti steps in for the Copa América next summer. Ancelotti has neither been unveiled officially nor spoken on the matter publicly, perhaps out of fear of being on the wrong end of Florentino Pérez's temper, but he is expected to be in charge for the tournament in the US.
Diniz's interim appointment has the added benefit of appeasing the section of Brazilian society – including key members of the team that won the World Cup in 2002 – who would prefer to see a homegrown manager rather than a foreigner in the role. His primary responsibility is to get Brazil back on track and maintain their run of not losing a qualifier since 2015 – a Conmebol record – and never losing one at home.
So far, so good. Brazil started their qualifying campaign with two wins, 5-1 against Bolivia and 1-0 against Peru, putting the Seleção top of the South America group on goal difference above reigning world champions and eternal rivals Argentina. Beyond the results, Diniz is on a personal mission to return Brazil to its essence and move away from European styles of play – a subject of great debate in the country. He wants to bring joy back to the Brazilian people, so they relish watching their country again.
His team came roaring out of the blocks in the thrashing of Bolivia, but their struggles against Peru suggest he will have problems to solve during his tenure – which will take in four more qualifiers and at least one friendly in Europe next March. Diniz was filmed delivering a passionate rant to his players in the changing room, telling them they are "heroes of many people", to circulate the ball with "thirst and hunger" so that the overwhelmed opposition player would say "fuck, that's how Brazil are". He will need more than words to revive his new team.
At times the whole thing seemed a tad surreal. For anyone who has followed Fluminense's impressive performances under Diniz over the last 12 months, the sight of Brazil's elite players trying to get their heads around their new leader's idiosyncratic style was as fascinating as it was infuriating.
Diniz is seen by many as the man who holds the key to the revival of the fabled jogo bonito – the distinctly "Brazilian" style that wowed the world as Garrincha, Pelé and Zico breezed nonchalantly through hapless defences. The Brazilian pundit Paulo Vinicius Coelho went as far to suggest that Diniz wants to 'play like 1982 and win like 1970".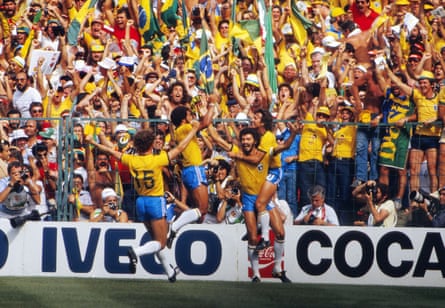 Diniz is a known admirer of the 1982 team, who did not progress past the World Cup's second group stage but did leave an indelible mark on fans. "Life is more art than science," he says. "Football has the power to move people and change lives. It has been able to make things happen, like the '82 team did. Although they didn't win, they captivated many hearts and I was one of them."
The experience of watching that team formed Diniz. "I had just lost my father. We are a family of seven brothers and I am almost the youngest. We painted the streets, drew the players on the walls. I had a lot of excitement. The team awakened almost a certainty that they would win the title, so there was a lot of crying when they lost."
But how will these ideas translate to 2023 with superstars such as Neymar taking centre stage? How smoothly could the Premier League-based Casemiro, Bruno Guimarães, Richarlison and Gabriel reacquaint themselves with a more classically Brazilian tempo? The blood and thunder, breakneck speed of Saturday afternoon at St James' Park is a far cry from the strange, hypnotic rhythms of what Fluminense fans have dubbed "Dinizismo" in the Maracanã.
In the modern age, Diniz's tactics are radically unorthodox and his self-proclaimed "apositional" play was on show in the second half against Bolivia. Wingers Rodrygo and Raphinha abandoned their touchline-hugging positions and moved across the field to get closer to the action. Raphinha, who picked up a goal and assist, earned praise back in Barcelona, but will no doubt have to return to Xavi's more rigid juego de posición-based model at the weekend against Betis.
Diniz likes his players to play near to one another around the ball, allowing them to progress through quick one-twos and delicately-constructed combinations. His Fluminense side often gather in close proximity on one side of the pitch, which can create the feeling of an after-school kickabout rather than a top-level professional contest. The idea is for the players to innovate in the moment, to relate spontaneously and rely less on the top-down directives of the more prescriptive positional play implemented by European coaches such as Pep Guardiola and Mikel Arteta.
Diniz wants his players to express themselves authentically, by embracing their own creative impulses and the rich cultural heritage that informs them. Matheus Cunha, the Brazil and Wolves striker, says his style is unique. "It's impossible to have seen a team play like Diniz's, especially in Europe, where we have such a positional culture," he said before the Peru match. "It's been exciting for everyone who is taking part. Everyone wants to learn. When someone comes with something so new and innovative, it arouses the curiosity of wanting to take it in."
Diniz's approach worked well against Bolivia for the most part, but this was as much down to the opposition's shortcomings as any masterclass from Brazil. Neymar cruised past Pelé's all-time scoring record with a well-taken double, and there were plenty of mesmerising pass-and-move patterns.
But there were also issues. Richarlison had difficulties on the ball – he was seen in tears after being substituted and later vowed to see a psychologist when he lands in England – while the midfield base of Casemiro and Guimarães looked a little uncertain as to the nature of their new roles.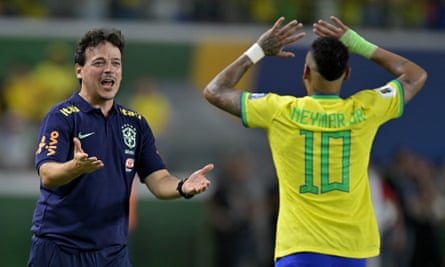 These teething problems became more apparent in Lima. Peru were organised and aggressive in defence, pressing when they could and maintaining a compact shape that was difficult to penetrate. Brazil's flow was not helped by the numerous fouls and stoppages which interrupted a decidedly bitty opening period.
They were, though, the better team, and had the ball in the net twice in the first half only to be ruled offside, once through Raphinha (after a seven-minute VAR debacle) and again via a Richarlison header. Neymar got on the end of a trademark Dinizismo overload on the right to test Pedro Gallese but much of the play lacked the fluency of the Bolivia match.
Before the game, Peruvian shamans cast a spell on Neymar and he cut an increasingly exasperated figure, missing numerous passes as he dropped deep to initiate the play. Richarlison again seemed detached from the game and Casemiro looked like a stranger to what is supposed to be a more authentically Brazilian style, hitting long, hard passes when shorter, softer options were available. Diniz was spotted holding his hands to his face as Brazil seemed to be meandering towards a goalless draw.
Too often the ball was switched unnecessarily away from the side where the Brazilian players had gathered. Diniz could be seen directing Marquinhos to play back into the overloaded zone, a feature of his style that is particularly counterintuitive to established coaching norms. By the mid-point of the second half it seemed clear that one of Diniz's star performers at Fluminense, the midfielder and reported Liverpool target André, should replace the out-of-sorts Casemiro. André's flexibility, excellent ball skills and acute knowledge of Diniz's tactical system would surely have loosened up what was becoming an increasingly wooden Brazilian midfield.
Yet Diniz chose to stick with his captain. Having already replaced Richarlison with Gabriel Jesus, Diniz introduced the trio of Joelinton, Vanderson and Gabriel Martinelli for Guimarães, Danilo and Raphinha in the 85th minute to inject some energy into proceedings. Martinelli made a quick impact off the bench, winning a corner that was taken by Neymar and headed into the net expertly by Marquinhos. Brazil had won the game with a goal in the last minute but it was emblematic of the team's problems that the decisive moment came from a set piece – a reminder of the Tite era.
The good news is that Diniz has started with two wins, six points and plenty of reasons to be optimistic. The prospect of Brazil's dazzling array of attacking talent being freed from the confines of Tite's more rigid positional structure is tantalising, as is the opportunity for the Seleção to recapture the imagination of the Brazilian public after a series of high-profile disappointments.
The next test for Diniz comes in the form of a double header with Venezuela and Uruguay next month. A home game against Venezuela should be as comfortable as qualifiers get, but the trip to Montevideo will pose a far stiffer examination of his credentials, not least because Uruguay are now led by Marcelo Bielsa.
Diniz's chaotic soup of relationism and human chemistry going toe-to-toe with Bielsa's fiercely-ordered brand of high-intensity vertical possession should make for an intriguing encounter between two of football's most radically alternative and enigmatic practitioners.
To overcome such a test, what was previously a finely tuned orchestra under Tite must become comfortable playing a different kind of music. Diniz's ambition to rekindle the dying embers of jogo bonito and bring an updated version to the world is laudable. But there is a long way to go.