Luton Town have no points. Four games. Four defeats. There is no shame in that. A question then: would there be a tipping point for Luton fans (not the rest of us), where getting nought points all season would be some kind of badge of honour? A season to remember like no other?
Before Hatters supporters accuse me of patronising them or being a jealous Cambridge fan, and Rob Edwards sticks this column to the dressing-room wall, nothing (well, not many things) would give me more pleasure this season than his side confounding everyone and staying up.
Wolves at home this Saturday is a winnable game and Edwards is right to point out that they've improved in every match and had the better chances at Fulham last weekend. It is really way too early to be considering this.
Much as we like to pore over the jeopardy of the Premier League and the EFL, teams generally finish where their wage bill suggests they should. Luton's last season was reportedly one of the lowest in the Championship. To get into, and win, the playoffs represents something extraordinary – a club run so perfectly from top to bottom.
It is an inspirational lesson of hope for all lower-league fans. One day it could be us. So I guess I am a jealous Cambridge fan. But any team managing to defeat the odds is something to celebrate in the nation-state-venture-capitalist-opaque-gambling-sleeve-sponsored-leveraged-debt-super-agent footballing world.
No one needs to be told about the disparity in the Premier League. There are speculative reports putting Luton's annual wage bill as low as £3.6m – that would be less than the Manchester clubs spend in a week. It would match what Issa Diop reportedly gets paid. How many points would Diop get if he were to embark on a Premier League season all by himself? A bit of an issue when he gets his fifth booking or a knock in training; doubtful: Diop (hamstring).
Although it's hard to find an exact figure it's likely to be considerably more than that. But with a squad that cost about £20m, on that metric alone Luton should go into every game as underdogs. Statistically speaking each fixture should end in a defeat. Clearly football doesn't work like that and there are good examples of well-run clubs punching above their weight – as always the good examples tend to be Brighton and Brentford.
It's naturally hard to retain perspective as a season progresses, and the defeats pile up. Sunderland lost 15 in a row 2003 – but they already had points on the board. There is a purity to nought points. I wouldn't want that in League One, but I wouldn't mind being the team that did that in the Premier League – the whole thing would be one big free hit.
Of course it does depend on the size of club you support and what you really think the point of football is. Success happens so rarely, it can't be what most of us are in this for. You have to find a way of revelling in all of it – not just the highs, but the pain of relegation, or the monotony of mid-table mediocrity.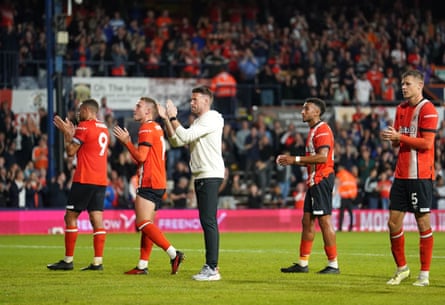 The love for your club isn't directly proportional to success; it isn't division specific. And there is a sense of pride in continuing to support your team in the tough times – something competitive about how bad your team can be. You think you've had it tough, etc. I was gutted when Derby County stole Cambridge's record of 31 games without a win during their 2007-08 11-point season.
In Fever Pitch, Nick Hornby's chapter on Cambridge United is all about that run of defeats and draws in the 1983-84 season – until finally Newcastle United arrived at the Abbey with Keegan, Beardsley and Waddle an we won 1-0.
"In the last five minutes, with Cambridge thumping the ball as far into the allotments as possible, you would have thought they were about to win the European Cup. At the final whistle the players (most of whom, bought or pulled out of the reserves to stop the rot, had never played in a winning team) embraced each other and waved happily to the ecstatic home fans; and for the first time since October the club DJ was able to play 'I've Got a Lovely Bunch of Coconuts'."
There is a key point about the ownership of misery. We are allowed to laugh at how shit we are, but no one else is. My favourite Cambridge game is a goalless draw with Cardiff City when they finished with 8 (eight) men and we still couldn't score. Luton fans are well within their rights to find a way of enjoying the pain if this season progresses as many expect, but balk at the idea of anyone else talking, writing or laughing about it.
Cheltenham sit at the bottom of League One. Played eight, scored nought. Not even a goal – although they do have a point. It must be crushing for the fans who go home and away – but what about a season where you didn't even score? It would go down in folklore. And the day when finally your big No 9 bundles one in from close range, it would be incredible.
When I brought the nought points idea up on the Guardian Football Weekly, a listener, Aaron, responded that "the most objectively funny total is not 0, but 3. Still terrible, feel absolutely awful by the end, but imagine any time you play that one team you beat from now until the end of time!"
And maybe that's right. Despite everything being against them, Luton will win a game this season, probably more – but the longer it goes, the more important to be there for that moment and that victory. Let's hope it's one of the big boys, under the lights at Kenilworth Road. Let's hope they do the seemingly impossible and survive. But if does end up LLLLLLLLLLLLLLLLLLLLLLLLLLLLLLLLLLLLLL in a weird way – maybe sometime in the future – it will be something to savour.