Farhad Moshiri sat on stage at Liverpool's Philharmonic Hall and, in a rare unscripted and direct communication with Evertonians in 2017, declared he did not buy Everton to turn it into a museum. The last six years have invited criticism the club's erratic owner has created a mausoleum instead. And yet, despite the decay, the debts and the descent of the nine‑time champions of England, there is more trepidation than jubilation among the fanbase at confirmation of Moshiri's planned exit. 777 Partners, Everton's prospective new owner, must allay not only the concerns of the Premier League and the Financial Conduct Authority (FCA) in its attempt to secure the club's future.
Bar the notable exception of a construction site at Bramley‑Moore dock, home to Everton's planned and hugely impressive 52,888-capacity new stadium, Moshiri has been almost ruinous for the club. The generosity of the British-Iranian billionaire cannot be faulted given he has invested more than £750m in Everton since acquiring an initial 49.9% stake in 2016. But recruitment on his watch has been woeful – on players, managers and directors alike – and an impatient, impressionable owner has paid a substantial price.
"The perfect partner to take the club forward," was Bill Kenwright's description of Moshiri when the initial investment was announced. Moshiri was the perfect partner for Kenwright, not Everton, allowing the chairman to remain in the role to this day when his first act should have been to clear out the underperforming board he inherited. Everton's decline predates Moshiri. It just accelerated under him.
Moshiri and Everton have always denied that Alisher Usmanov was a major financial influence behind the scenes. Since Usmanov had sanctions imposed by the UK government after Russia's invasion of Ukraine, however, his ex-business partner has been actively looking to sell Everton, despite claims to the contrary. The lavish transfer funds that heralded the start of the Moshiri era have long since run dry and, after two narrow escapes from relegation in succession, the club made a profit on player trading this summer while drastically reducing the head count of the squad. Sean Dyche, Everton's eighth permanent manager under Moshiri, faces an onerous task to stop the club facing a hat-trick of relegation scraps.
The last set of accounts disclosed Everton's ability to continue as a going concern would have been in serious doubt had Dyche not kept them in the Premier League last season. Combined losses for the past three financial years stand at £305.5m and a staggering £417.3m over the past four. Premier League rules permit club losses of £105m over a three-year period. Everton, who blame the Covid pandemic for some of the losses, face an independent commission in October over an alleged breach of Premier League financial rules. Everton have said they "strongly contest" allegations of non-compliance and are "prepared to robustly defend" the club's position to the commission.
"The club strongly contests the allegation of non-compliance and together with its independent team of experts is entirely confident that it remains compliant with all financial rules and regulations. Everton is prepared to robustly defend its position to the commission. The club has, over several years, provided information to the Premier League in an open and transparent manner and has consciously chosen to act with the utmost good faith at all times."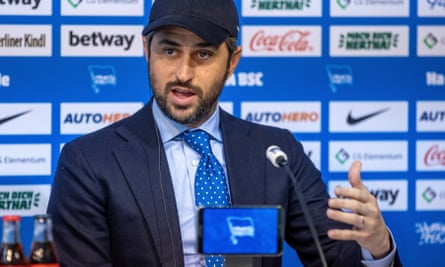 Despite Moshiri's now stated intention to depart, Everton are reliant on the support of the majority shareholder to function as a Premier League club and to attract the funds required to complete the building of their new stadium.
And into this mess walks 777 Partners, they hope. The Miami-based investment company will have to convince the Premier League, the Football Association and the FCA that it has the funds to buy Moshiri's entire 94.1% stake in Everton. The current owner is believed to be seeking about £500m for his loss-making project. A further £200m could be needed, approximately, to finish a stadium that has been Everton's one great hope for so long, although Moshiri claims "we have secured the complete financing for our new stadium" in his statement announcing the 777 agreement.
The club's stadium-development holding company has recently taken out a £100m loan with MSP Sports Capital to help with continuing construction costs. Everton also have a £200m loan facility with the Cheshire-based Rights and Media Funding, whose objections to the sale of 25% equity in Everton to MSP prompted the American company to walk away from that particular deal and sent Moshiri back into the arms of 777 Partners. As creditors, both Rights and Media Funding and MSP Sports Capital could object to 777 Partners' proposed takeover or insist on being repaid in the event of a change of control.
Does 777 have the resources to complete what would be its biggest football acquisition to date? A source close to the company insists it would not have made it this far in negotiations with Moshiri if it did not. The source also argues that criticism of 777's performance as a majority owner or an investor in seven football clubs – Genoa, Sevilla, Vasco da Gama, Hertha Berlin, Standard Liège, Red Star in France and Melbourne Victory – is unfair as most had long-term financial problems, have all been acquired only in the past two years and need time to turn around. Patience appears to have expired among Standard supporters, however, who unfurled banners that read, "Multiple properties or multiple mediocrities," and "No money, no ambition," at their recent home game against RWD Molenbeek.
This week, 777 announced plans to raise £4m for a new training centre for Genoa via a fans' bond. The move reflects the desire of 777's founder and managing partner, Josh Wander, to capitalise on the "new wave of commercialisation coming to football", as he told the Financial Times in August. Wander, who also claimed that fans' engagement with their clubs meant "they want to be monetised", added: "The vision for this football group is that one day we're not selling hot dogs and beers to our customers; [it's] that we're selling insurance or financial services or whatever." Good luck with that at Goodison.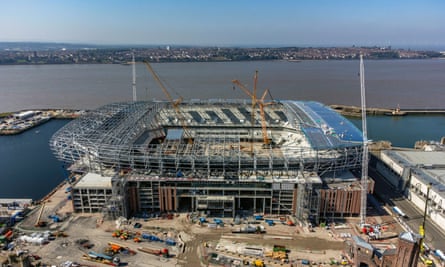 On a more serious note, 777 has faced allegations of fraud and unpaid debts – which the company denies – and is the subject of active legal proceedings in the United States.
Those proceedings, and a 2003 drugs charge against Wander, will be of interest to the Premier League – and quite possibly the UK government – having introduced more stringent criteria for its owners' and directors' test this year. (Wander pleaded no contest to the drugs charge and told the FT it was "a stupid college thing" and "somewhat meaningless".) 777's business practices were also the subject of a damning investigation by the Norwegian journalism website Josimar.
Moshiri claims to have considered "some strong potential opportunities" for much-needed investment in Everton and called 777 "the best partners" he could find. The owner's public utterances, though few in number, demonstrate why Everton have always been anxious to keep him away from the media.