Declan Rice described Arsenal's dramatic 3-1 victory against Manchester United as a "must-win" for their title hopes, even at this early point in the season, as they battle to keep pace with an imperious Manchester City.
Arsenal pulled clear of their visitors in added time, Rice scoring their crucial second goal in the 96th minute and Gabriel Jesus settling the issue with the last significant action. It brought wild celebrations around the Emirates Stadium and a dark mood for Erik ten Hag, who said United had been robbed by a string of decisions that swung the match against them.
Rice was jubilant after a deflected strike broke his Arsenal duck and beat André Onana to effectively win a game that had threatened to swing in either direction. "I think if we are being honest, Man City have won four out of four," he said.
"If we didn't win today, we would have been five points behind. To win that today was a must-win. To start with [three] wins and a draw is good."
It was probably just reward for Arsenal, whose performance was assertive if often imprecise, but Ten Hag reeled off a list of calls that aggrieved him. He felt Kai Havertz should have been booked for diving after a penalty to Arsenal was reversed via the VAR early in the second half, and thought United should have had a spot-kick of their own after Gabriel Magalhães tussled with the substitute Rasmus Højlund.
United's manager also said the VAR had made the wrong call when an apparent winner from Alejandro Garnacho, shortly before Rice's clincher, was ruled out for offside; to complete the litany he said Gabriel had obstructed Jonny Evans as the ball was sent over for Rice to convert.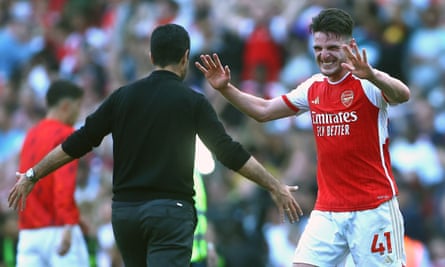 "Let's start at the penalty given but rejected, everyone can see it's a simulation but he did not get booked for it," he said. "Then the foul on Højlund in the penalty area and I don't think it was even noticed by the VAR. Then the disallowed goal from Garnacho. I think they looked from the wrong angle and it's onside. Then the final goal. How can they allow that? It's a clear and obvious foul on Jonny Evans otherwise he would have blocked the shot from Declan Rice. So it's a lot."
Ten Hag described United's performance as "right" and their attitude as "what we need" but they have now lost two of their four games and, critically, been defeated in nine of their past 11 away trips to teams in the top 10. He had named a substitutes' bench light on attacking threat and said Jadon Sancho, conspicuous by his absence, had been fit to play.
"Jadon, on his performances in training we did not select him," he said. "You have to reach a level every day at Manchester United and we can make choices in the front line. So for this game he was not selected."
Mikel Arteta said Arsenal's late heroics was a moment that is "going to stick with us". The only negative note he struck was news that Thomas Partey, who missed the game, will be "out for weeks" with a groin injury.