Key events
WICKET! Tucker c Dunkley b Brunt 8 (South Africa 96-6)
A weary waft to cover
17th over: South Africa 95-5 ( Wolvaardt 49, Tucker 8) Under floodlights, these new England tops are almost glowing. Wong, dangly earing in her left ear, rapid approach. Wolvaardt finds the boundary but it is a little more forced that it was in the last match. Not quite the exquisite timing.
"So great to follow womens' cricket almost in real time – and in far-away Finland too!" taps Robin King. "Got really enthusiastic with womens' cricket last summer with the Hundreds. The women are so much more human than the men: support each other even though on the other side – "sledging" is far away from their game. If only we could get cricket on tv (or nowadays on the net) again, as it was in my boyhood days (1950's). But anyway, thank you, and good on you, as they say elsewhere."
Thanks Robin! I think there is a bit of sledging from time to time, but certainly much less. So glad you enjoy the coverage – I remember a group of women wrote in from Finland during the first Hundred game – they were having a party to celebrate.
16th over: South Africa 85-5 ( Wolvaardt 41, Tucker 7) You're 80-5 in the 16th, who do you least want to see? Ah, Sophie Ecclestone. But actually she generously lays on a wide first ball, but only two come off the bat.
15th over: South Africa 80-5 ( Wolvaardt 39, Tucker 6) Sciver fires up a short one and Tucker attempts a scoop which just dribbles behind Amy Jones. A second attempt also brings no cigar.
14th over: South Africa 77-5 ( Wolvaardt 38, Tucker 5) While Brunt waits to come back on the field, Wong gets the nod. She fizzes in a short un with some testing length balls. How big a load can Wolvaardt carry tonight?
13th over: South Africa 74-5 ( Wolvaardt 38, Tucker 3) That Ecclestone, she know what she's doing.
David Keech writes, all the way from the US "I second your joy at the rapid growth of women's sports. I also really enjoy listening to the women who are now routinely included in the TMS commentary team. They fulfill their role as either ball by ball commentator or expert analyst as equals without a hint of inferiority. The different vocal range breaks up the monotone of the men's voices over a long day." I think so too – much more interesting to have a mix of voices.
WICKET! Tryon lbw Ecclestone 9 (South Africa 69-5)
I don't think Tryon really believed in that review, after sweeping at Ecclestone and being hit on her green-trousered front leg. Sure enough – ball tracking sends her on her way.
12th over: South Africa 69-4 ( Wolvaardt 36, Tryon 9) Tryon wangs Smith for four over mid-off, a powerful heave.
"Hello Tanya." Andrew Benton, lovely to hear from you.
"I think it was the final men's test against New Zealand just recently that there were no women presenters on the BBC daily roundup show – that felt really weird, three blokes standing on the pitch talking to each other, like we we'd gone back 25 years. And, was there women's skiing on Ski Sunday back in the good old days (I saw it in the '80s) or am I 'mis-remembering'?"
Oooh I don't know – you might well be right?
11th over: South Africa 61-4 ( Wolvaardt 35, Tryon 3) A gorgeous back foot cut by Wolvaardt off Glenn to raise spirits in the camp. And at the half way stage, South Africa need to get motoring.
10th over: South Africa 54-4 ( Wolvaardt 29, Tryon 0) Wong makes up for a fielding cock-up that gifts Wolvaardt a four.
WICKET! du Preez c Wong b Sciver 4 (South Africa 52-4)
Wong holds on with both hands as du Preez plays a rather desperate heave and dobs the ball to the covers.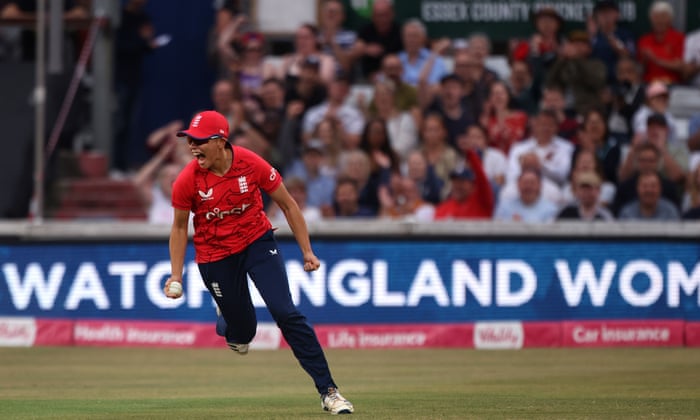 9th over: South Africa 41-3 ( Wolvaardt 24, du Preez 0) Glenn strikes in her second over and it is already looking a bit messy for South Africa. How rusty is du Preez? Can she hang around while Wolvaardt attacks?
WICKET! Bosch b Glenn 18 (South Africa 41-3)
The third bowled of the innings! Bosch tries to cut unadvisedly and it is stumps akimbo.

8th over: South Africa 41-2 (Bosch 18, Wolvaardt 22) Just one over for Ecclestone as Bryony Smith enters the attack. And just the four from it. Dibble-dobble.
7th over: South Africa 37-2 (Bosch 16, Wolvaardt 20) Sarah Glenn, long ash-blond pony, trademark action with left arm horizonally scattering the grass seed. This is her first run-out in an England shirt this summer. South Africa push and run.
6th over: South Africa 31-2 (Bosch 11, Wolvaardt 14) Double change from Knight, as she summons Ecclestone. Wolvaardt isn't nervous of taking on the world's No. 1 spinner, takes a huge front stride and wellies her over long off for four.
5th over: South Africa 26-2 (Bosch 11, Wolvaardt 14) Wolvaardt on the charge again, picking eight off Sciver's first over with a boundary and a couple of energetic prods. She's been in such top form over the last few weeks.
4th over: South Africa 18-2 (Bosch 11, Wolvaardt 6) Wolvaardt manages to find the boundary even when she doesn't time it, scruffing Wong to the midwicket rope.
3rd over: South Africa 13-2 (Bosch 11, Wolvaardt 1)A pretty disastrous start here for South Africa, whose tour is in danger of slipping into a sloppy mess.
To make things worse, Marizanne Kapp is not available for selection, after flying homve for "family reasons."
WICKET! Luus b Brunt 0 (South Africa 7-2)
Brunt's hundredth T20 wicket seams in, avoids Luus's random wave of the bat, and clips the top of ' off stump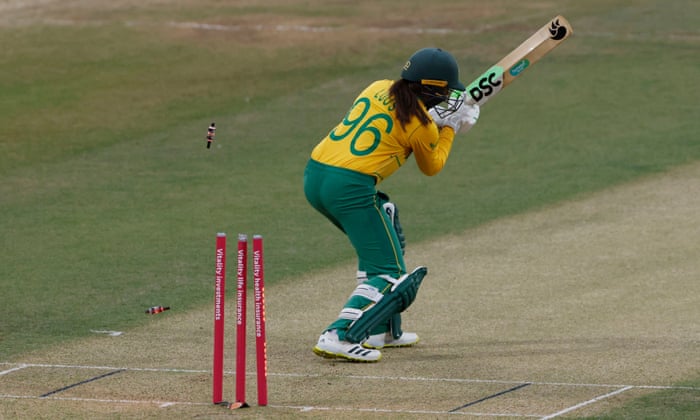 2nd over: South Africa 2-1 (Bosch 2, Luus 0) An excellent opening over from Wong, who looks anything but overawed! Hitting the mid-70s and hitting the lengths!
1st over: South Africa 1-1 (Bosch 1, Luus 0) Fantastic start for Katherine Brunt who follows up the wicket that never was, with an indisputable seam-up castling.
WICKET! Goodall b Brunt 0 (South Africa 1-1)
The very next ball Goodall has a dirty swipe and is bowled!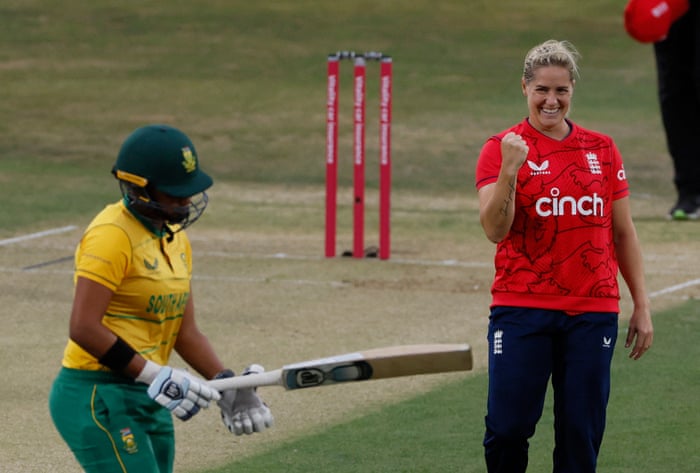 Air between bat and ball
REVIEW! Goodall c Jones b Brunt 0 (South Africa 1-1)
The players aren't very interested but it is given out on the field..
The players and support staff take the knee, England in red trousers and blue trews, South Africa in banana custard tops and bright green trousers.
Can I just add what a joy it is to this old girl that three women are on TV talking with passion and knowledge – and without apology – about professional women cricketers. I know there's a long way to go but it is such a massive change from when I was a little girl when the only women's sport on telly was tennis – which was accompanied by knicker shots in the papers – and athletics. But enough, South Africa are helmeted up and we will soon have PLAY!
Lydia Greenway spoke to Sophia Dunkley about what she'd do IF she was bumped up the order. "I'll play my natural game," she says. "I want to make my impact in England T20s, I don't think I've done that."
Could be a good night!
Another debut for Issy Wong, this time in T20 cricket, and Sophia Dunkley moves up the order to open. For South Africa, Mignon du Preez is back, via a holiday in Greece.
England: Danni Wyatt, Sophia Dunkley, Nat Sciver, Heather Knight, Amy Jones, Maia Bouchier, Bryony Smith, Katherine Brunt, Sophie Ecclestone, Issy Wong, Sarah Glenn
South Africa: Anneke Bosch, Lara Goodall, Sune Luus, Laura Wolvaardt, Mignon du Preez, Chloe Tryon, Delmi Tucker, Sinalo Jafta (wk), Shabnim Ismail, Masabata Klaas, Ayabonga Khaka
England win the toss and will bowl
"Feels like Chelmsford under lights is easier to chase," says Knight. "This will be really good preparation for the Commonwealths."
While we wait for the toss, I was just reading about the random gifts Rishi Sunak gave Lobby journalists.
I think I can beat that. Today the FFP2 masks I ordered for our holiday arrived, along with the free gifts of a mini packet of love hearts and a pen that doubles up as a torch.
What is your most peculiar freebie?
Hello! Here we are again, bang in the middle of a dizzying round of women's cricket, still in white ball clothing, but this time the shortest format.
The recent T20 head-to-heat stats are close – with England just pipping it with three wins to South Africa's two. Today, we're at Chelmsford – where Simon Harmer took 13 wickets last week to spin Essex to victory. Different pitch tonight, and relief from the boiling heat of the third ODI, where South Africa rather shrivelled.
England can't lose after winning the ODI series and drawing the Test, but lots for South Africa to fight for.
This is Women's T20 international number 1168 – how many can you remember?