Key events
Half-time: England 2-1 Scotland
It's been a great half of action, real quality attacking play, less so the defence. Scotland have played their full part and England have needed to score two great goals to lead. More of the same, it is hoped.
Goal! England 2-1 Scotland (Hanson, 45+2)
Greenwood loses the ball, and Scotland surge on, and score with the very last kick of the half, and it's Hanson who gets it.
Goal! England 2-0 Scotland (Hemp, 45)
Oh, that's even better. Rachel Daly presses the ball out, and then drips and swerves a cross and Lauren Hemp dives to head home. The crossed ball is England's prime weapon.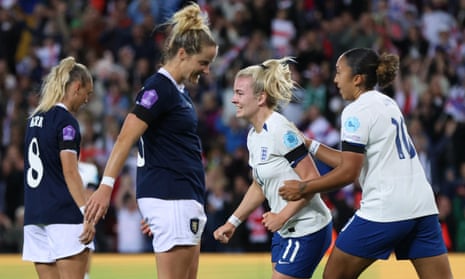 44 min: England continue to push for more, the Scots rocking back on their heels.
42 min: England will be relieved to be ahead but Lucy Bronze, a player who got some criticism for her part in Spain's goal in the World Cup final, leaving space, has always been more about attack than defence.
Goal! England 1-0 Scotland (Bronze, 40)
Oh that's a beauty, Zelem's ball a pearler and Bronze's diving header after ghosting round the back.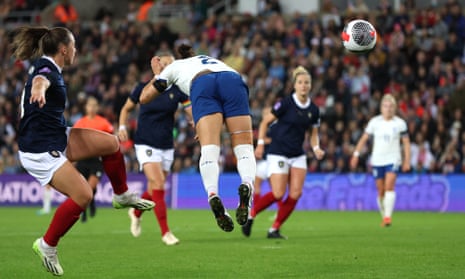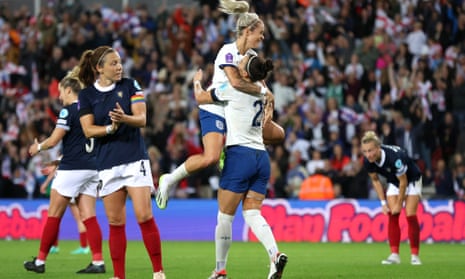 37 min: Scotland still hammering at it. They've really played very well. England could not have asked for a tougher assignment. Millie Bright poleaxes Scotland's Weir and had VAR been around – why not? – that could well have been a penalty.
35 min: Alexander takes a while over a free-kick, and that gives everyone a breather.
33 min: Rachel Daly whips one wide, having come infield. It's end to end stuff.
32 min: Scotland corner, back out to Thomas who fools Lauren Hemp, and then whips in a shot.
29 min: This has been a more open game than Sarina Wiegman would like. Scotland look in rare form having ridden out that early storm
27 min: England piling forward is leaving space at the end. Great run by Hanson down the left and Thomas cannot get there. Another good chance for the Scots.
No VAR but Rachel Daly's header from a corner sees Chloe Kelly ruled to have interfered with the keeper.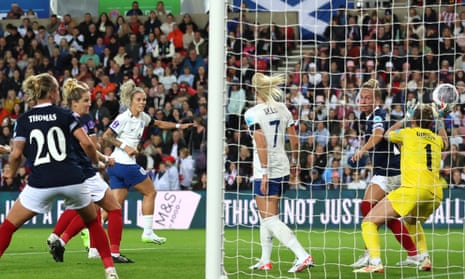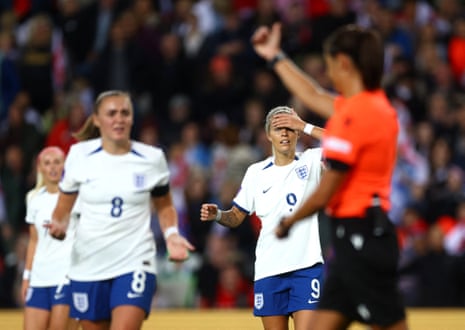 23 min: England come straight back at Scotland…
21 min: The closest we have come yet – and it's Scotland – with Caroline Weir blasting the ball and Mary Earps forced to make a big save.
17 min: Georgia Stanway – she scores bangers – but this time her volley is straight at Alexander.
15 min: Oof, the goal gaped. Lucy Bronze skips through and lays it inside. Rachel Daly tries to control when she really needed to shoot on goal.
13 min: Alexander, the Scottish goalie, takes her time over the ball. The Scots look in need of a moment of rest.
12 min: Better from Scotland. Grimshaw bursts away, down the right but her cross goes right at Earps.
10 min: Rachel Daly surges on down the left and Lauren James has a shot saved….
9 min: Scotland's manager, Pedro Martinez Losa is wearing a fetching blazer and tie, such that he resembles a British Caledonian air steward. He is wearing the expression of imminent turbulence.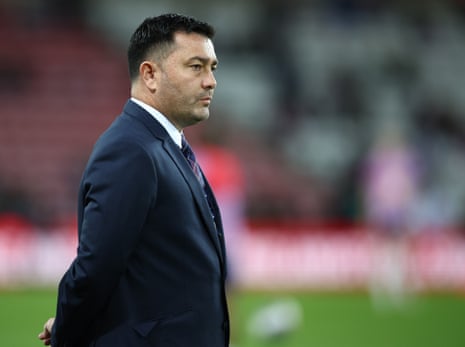 7 min: Scotland going through something of an ordeal in defence. The corners are mounting. Zelem taking from the right. Stanway gets to the ball but heads down and wide.
4 min: A Greenwood corner finds Zelem, and it's aimed back in. Katie Zelem is seeing much of the ball in standing in for Keira Walsh.
3 min: It's all England from the start with Lauren Hemp and Lucy Bronze prominent on the right flank.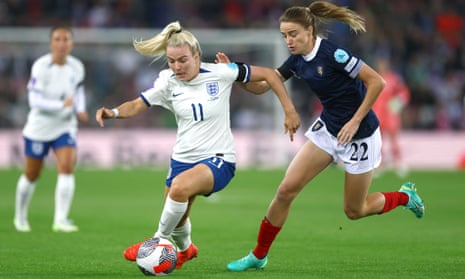 1 min: And away we go in Sunderland and in the Nations League.
A minute's silence for Maddy Cusack is held.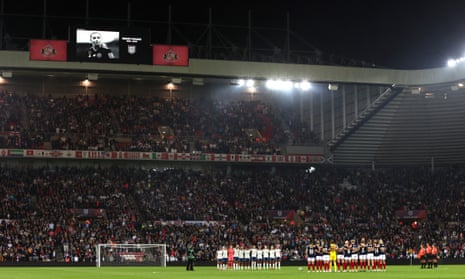 The players join together in solidarity for the Spain players, echoing the images from Gothenburg before.
Big noise ahead of the national anthems, and well sung by both teams. Big smiles on the Scottish team during Flower of Scotland. Millie Bright the loudest on the England team during God Save The Queen King.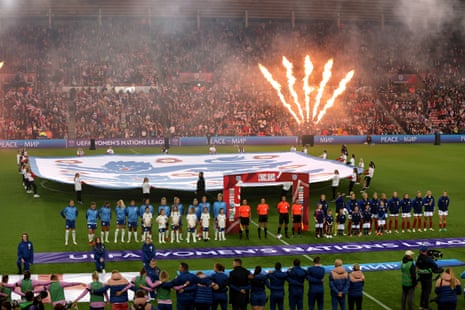 Millie Bright is in the tunnel to lead out the team as captain, and Sarina Wiegman is in the dugout. Normal service resumed? Let's see.
From last week, but these concerns have to remain.
Important news ahead of this match.
When last we met, back at the 2019 World Cup. Watched this game in the Pride of Spitalfields pub on a Sunday. I remember it being closer than this match report suggests.
Three changes from the World Cup final for England as Zelem, James and Kelly replace Walsh, Toone and Russo.
Caroline Weir – a possibility for Team GB – starts for Scotland, Thomas comes back into the forward line.
An added variable, Sarina Wiegman will be running the rule over some of the Scotland players.
Here's how it works in the Nations League.
It doesn't seem very long since the World Cup, does it? That's because it isn't, and the story of what went on after the final has never gone away. England's Lionesses, the losing finalists, have been rather in the shadows as the Spain saga plays out. But they're back in action and with a local grudge match to play. The north-east, a hotbed of women's football just as much as men, is the venue, the Stadium of Light. There's no Alessia Russo, but it will be a familiar lineup from England. Scotland missed the party Down Under but here's a chance for a famous win,