Key events
49 min Miyazawa runs menacingly at a backpedalling England defence, but her through pass to Hasegawa is poor and Morgan intercepts.
47 min Russo is limping slightly after an accidental collision with Hasegawa. I think she'll be okay though.
46 min Peep peep! Japan begin the second half; neither side has many any half-time changes.
Half time: England 1-0 Japan
Peep peep! England lead through an opportunistic finish from the right-back Rachel Daly. They've been the more dangerous team in a decent game between two obviously accomplished sides. See you in 15 minutes for the second half.
45 min Earps backpedals desperately to palm the corner away, an effective bit of goalkeeping.
44 min Iwabuchi's free-kick hits the wall and deflects behind for a corner.
44 min Bright is a bit too aggressive while jostling Iwabuchi, and Japan have a free-kick 25 yards from goal. It's slightly to the left of centre…
42 min Toone runs beyond the Japan defence and is dubiously flagged offside. I'm not sure how played the pass, but the replay suggested that Minami (I think) was playing Toone onside.
41 min There isn't a huge amount between the teams, but England look a bit more dynamic in the final third. They've certainly had the better chances so far.
GOAL! England 1-0 Japan (Daly 38)
England are ahead. Kelly put in another sensational cross from the left that just evaded Mead and Russo in the middle. Sugita collected the ball in her own area, dithered and was tackled by the indefatigable Mead. The ball deflected to Daly, who took a touch and slid a low left-footed shot past Yamashita at the near post. That's a confident finish from a player who is increasingly comfortable in front of goal.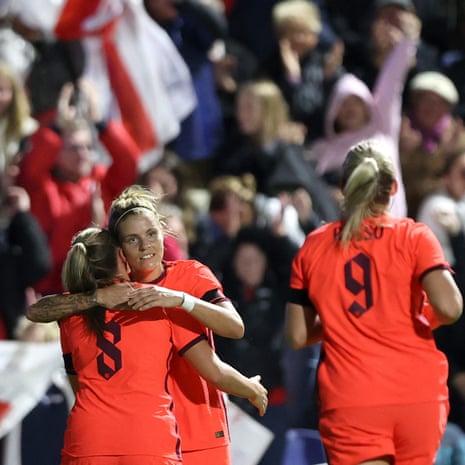 36 min Kumagai's blind backpass almost beats the keeper Yamashita, who was starting to move to her left to make an angle for an alternative pass. In the end she had plenty of time to scurry back and spare everyone's blushes.
34 min A booming long-range strike from Miyazawa goes a few yards over the bar. Earps had it covered.
32 min The corner is half cleared to Toone, whose left-footed snapshot from 15 yards drifts wide of the far post.
31 min: Fine save from Yamashita! Once again, England win possession in the final third. Mead forces Minami into a mistake, with Toone collecting the ball 25 yards from goal. She slides it back towards Mead, whose low first-time shot is half stopped by the diving Yamashita and dribbles just wide of the far post. That's a really good stop, although her dodgy positioning made it a harder save that it needed to be.
29 min England win the ball high up the field again – both teams have pressed superbly – and Russo shoots over from distance.
26 min: Russo hits the post! England should be ahead. Kelly, who looks full of confidence, uses the overlapping Charles by not using her and then curls a wicked inswinging cross towards Russo on the six-yard line. She stoops to flick a header that hits the outside of the post and goes behind. For somebody as good in the air as Russo, that was a great chance.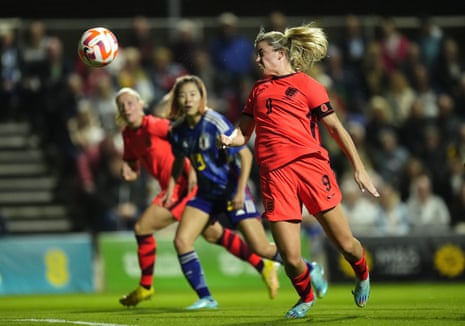 25 min Stanway slips Minami neatly on the edge of the area and hits a shot that is well blocked.
24 min Endo wins another corner for Japan on the left. Hasegawa takes another short one but then slightly overhits her cross to Sugita, who was unmarked beyond the far post.
22 min Kelly cuts inside from the left and curls a lovely cross that just evades Russo in the middle.
19 min Japan are having a good spell, passing the ball around with purpose and rhythm. Hasegawa beats Kelly to a loose ball on the edge of the area and cracks a good left-footed shot towards the near post. Earps gets down to her left to make a comfortable save.
18 min Karen Carney, commentating on ITV, points out that the pitch isn't the best – slow and a little uneven. I realise that makes it sound like a day four pitch in Ahmedabad.
17 min Earps comes for Hasegawa's corner, doesn't get there and is relieved to see an England player head the ball to safety.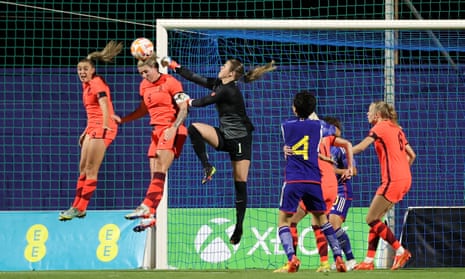 17 min Hasegawa takes a corner short, gets it back and drives a cross beyond the far post. Mead gets in front of Minami and heads it behind for another corner.
16 min Hasegawa plays a very dangerous ball inside Charles towards Shimizu, but Charles recovers well to concede a corner with a lunging tackle.
13 min So much for Japan dominating possession: England have had 75 per cent so far.
11 min Charles finds Kelly in space on the left. Her early cross is only half cleared by Kuwagai, and Toone bobbles a snapshot wide of the far post. Half a chance.
10 min Walsh loses the ball to Sugita in a dangerous area. Endo collects and lofts a cross towards Iwabuchi, but Morgan gets in front of her to head clear.
8 min Daly's speculative long-range shot is blocked; then Walsh, imaginative as ever, tries an eye-of-a-needle pass to Mead that is cut out. Mead was offside anyway.
7 min Bright is robbed by Iwabuchi, who moves down the left and drags a low cross towards Sugita (I think). Bright gets back to intercept.
4 min Mead charges infield and plays a through ball towards Kelly that is well cut out by Miyake. England have started well.
2 min Russo lays the ball back to Toone, 25 yards out. She takes a touch and curls a good effort towards the top-right corner. Yamashita moves quickly across her line to make a comfortable save.
1 min Peep peep! England, in their stylish bright crimson (sic) change strip, will kick off from right to left as we watch. Japan are in blue.
There's a false start when Ella Toone takes the kick off and then remembers the players are supposed to take the knee. Let's try that one again.
Today is Remembrance Day, so the players on both sides gather round the centre circle to pay tribute to those who have lost their lives in conflict.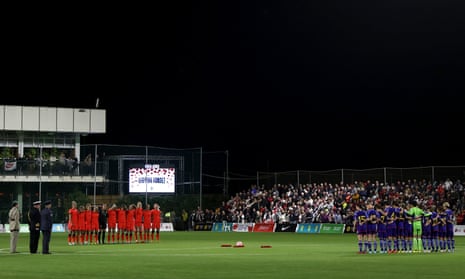 Ten minutes to kick off. England will be pleased that it's a relatively cool, blustery night in Murcia, because the general expectation is that Japan will have plenty of the ball.
Pre-match reading
Esme Morgan and Niamh Charles will their first full caps in defence for England, who are without Leah Williamson, Lucy Bronze and Alex Greenwood.
Beth Mead wins her 50th cap, and her Arsenal squadmate Mana Iwabuchi starts for Japan.
England (possible 4-1-4-1) Earps; Daly, Bright, Morgan, Charles; Walsh; Mead, Stanway, Toone, Kelly; Russo.
Substitutes: James, Roebuck, Zelem, Wubben-Moy, Le Tissier, Parris, Park, Salmon, Robinson, MacIver, George.
Japan (possible 3-4-3) Yamashita; Miyake, Kumagai, Minami; Shimizu, Sugita, Nagano, Endo; Hasegawa, Iwabuchi, Miyazawa.
Substitutes: Naomoto, Momoko Tanaka, Norimatiu, Seike, Hayashi, Ueki, Kitamura, Takarada, Mina Tanaka, Ohba, Fujino
Referee Zuzana Valentova (Slovakia).
Hello and welcome to live coverage of the international friendly between England and Japan in Murcia. This and the game against Norway on Tuesday are the last of a year that will may never be bettered. Their record in 2022 is beyond spectacular: 18 games, 15 wins, no defeats, 67 goals and one 60cm trophy.
England's glorious win at the European Championship is a thing of the past for Sarina Wiegman, who wants to add a World Cup to her already formidable CV. England have not taken the easy option in their preparations – they beat the world champions USA last month before drawing with the Czech Republic, and now they face one of Asia's finest. Japan are 11th in the world rankings to England's fourth. With a number of key players missing, it's another chance for Wiegman to assess England's depth.
These two have played each other in the last four World Cups, although the draw for next year's tournament means they can only meet again in the final. England won in the group stages in 2011 and 2019, there was a manic draw in 2007 – and an unforgettable semi-final in 2015, when Laura Bassett's injury-time own goal put Japan into the final.
The stakes are a lot lower this evening, but there are many worse ways to spend a Friday night.
Kick off 7pm GMT, 8pm CET, 4am JST