08:06
118th over: India 329-6 (Pant 16, Thakur 11) There are batsmen who play for lunch, and then there is Shardal Thakur. Even though there's a silly mid-off waiting for the miscue, he drives Overton straight back for four. Root replies by adding a silly mid-on as well, so Overton has the field he would have had when he was ten. That's good captaincy, but Thakur survives and this partnership, though it has only added 17, has begun to exude some menace.
And so to lunch. England have won the session, thanks to the enduring excellence of their all-rounders, Chris Woakes and Moeen – but India are still bossing the match. It's been enthralling: Test cricket is giving us yet another top-class boxed set. See you in half an hour or so for the next instalment.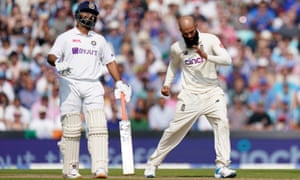 Updated


07:59
117th over: India 324-6 (Pant 15, Thakur 7) Pant, who averages 57 against spin and 32 against pace, is itching to tuck into Moeen. he goes down the track twice in this over, but collects only a single, driven out to the cover sweeper. Thakur does play an expansive shot, a classy cover drive, and gets four for it – but then Mo drops shorter and Thakur plays and misses, going for the cut. One more over before lunch.
Updated


07:55
116th over: India 318-6 (Pant 14, Thakur 2) Pant is not in one-day mode, or even his usual Test mode, but England are treating him as if he is and dishing up the odd slower ball. When Overton tries one, Pant is equal to it, playing the shot that is in danger of becoming his new signature: the nudge to leg. He's bringing sexless back.

07:51
115th over: India 315-6 (Pant 13, Thakur 2) Moeen continues as a caption informs us that he now has 194 Test wickets, one more than Jim Laker. Go Mo! He then bowls a ball that Laker would be proud of, a big off-break to Thakur, and it pops up off the pad to Haseeb Hameed at short leg. The appeal gets a crisp shake of the head from the umpire, but England review, hoping it's either LBW or caught. No joy – it's missing the leg stump as well as the inside edge. Buttler might have saved them from that one.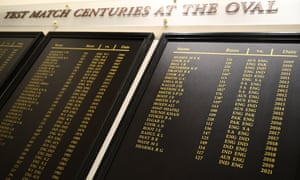 Updated


07:47
114th over: India 314-6 (Pant 13, Thakur 1) Woakes would love to have a go at Thakur, who marmalised him on Thursday, but he's due a rest, so Overton returns with a change of ends. His extra bounce elicits two things from Pant: a pull, played straight to square leg; and a nick that drops short of Moeen at third slip. That has happened a lot this morning.

07:44
113th over: India 314-6 (Pant 13, Thakur 1) Root's bowling changes could hardly have gone better this morning, but without Jos Buttler at his side he's still struggling with the field placings. Thakur, like Pant, is offered a single for a defensive prod (off Moeen), so he helps himself from the buffet.

07:41
112th over: India 312-6 (Pant 12, Thakur 0) Woakes continues, still trying to tempt Pant outside off, and that's another maiden. "The pitch is still a beauty for batting on," says Mark Butcher, who knows what he's talking about after growing up at The Oval.

07:37
111th over: India 312-6 (Pant 12, Thakur 0) That bowling change was probably aimed at Pant: to test his new-found resolve, Root thought he would open up the cocktail cabinet and bring on Moeen. Pant did give him the charge, but only to play a nudge into the on side – and he got handsomely rewarded for it. Kohli saw that there was a second to be stolen, and Ollie Pope was panicked into hurling the throw in and giving away four overthrows. So Pant has a six to his name, and he still hasn't played a shot in anger. But Mo has the scalp from the Most Wanted poster, and England are down to the tail.

07:35
Wicket!!! KOHLI c Overton b Ali 44 (India 312-6)
The big one! The ball from Moeen turns a touch, but not as sharply as Kohli was expecting, and a classic nick goes safely into the big bucket hands of Craig Overton.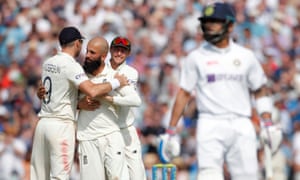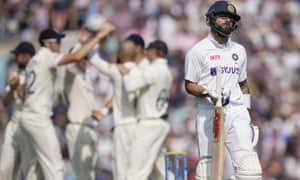 Updated


07:30
110th over: India 305-5 (Kohli 44, Pant 5) More dots from Woakes and another quick single for Pant, who has clearly gone to a meeting of Agricultural Hitters Anonymous.
"Having strange thoughts about Rahane's dismissal for a nought," says Farhan. "He seems to be a better captain than Kohli is. He's played a decent, very underrated knock at Lord's. But he's failed enough times for him to be shown the door. Surely, another failure would mean some time off India's Test team for him."
Updated


07:26
109th over: India 304-5 (Kohli 44, Pant 4) Another watchful stroke from Pant, who has renounced the big shots in favour of singles that bring up milestones: this one, off Overton, gives India 300. Kohli celebrates with a crunching cover-drive for four, struck on the up – his first scoring shot for 40 minutes.

07:23
108th over: India 299-5 (Kohli 40, Pant 3) That single was the only run off the over from Woakes, whose spell this morning has been a gem: 4-2-3-2.
Meanwhile Simon Burnton has written up the story of Ravi Shastri's positive Covid test.
Updated


07:20
India lead by 200
Pant plays a defensive push, takes a cheap single to mid-off, and lifts India's lead to 200. England are on top right now, but India are the firmish favourites to win the match on WinViz, by 59pc to 25.

07:17
107th over: India 298-5 (Kohli 40, Pant 2) Overton too is rising to the opportunity. He draws an edge from Kohli, which drops just short of Root at first slip. The next ball is the nip-backer, not far from the off bail as Kohli lets it go. Overton has another maiden and England's back-up seamers are doing the business here. "This is the game," Warne says, "the next hour."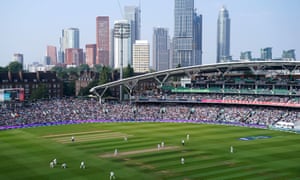 Updated


07:14
106th over: India 298-5 (Kohli 40, Pant 2) Pant, facing Woakes again, keeps it demure, and that's another maiden. Since Woakes came on, five overs ago, India have made 2 for 2. Flow, meet ebb.

07:10
105th over: India 298-5 (Kohli 40, Pant 2) Root would love to keep Robinson on, but he's bowled 27 overs in this innings while his brother by another mother, Craig Overton, has had only ten. So here is Overton, emulating his bro by finding plenty of bounce from not much pace. He keeps Kohli quiet, and keeps the pressure on, with his first maiden of the innings.
"We miss your witty commentary DK," says a sign in the crowd. "No offence Warney!" Too shay. Warne ignores it at first, then laughs along.
Updated


07:05
104th over: India 298-5 (Kohli 40, Pant 2) So, Rishabh, what's it to be today: master blaster or walking wicket? Woakes gives him a tempter outside off and he takes the bait, but safely, guiding it down third man for two. You wonder if it will cramp his style having the boss out there with him. My guess is not.
Updated


07:01
Wicket!! Rahane LBW b Woakes 0 (India 296-5)
Got him now! Woakes goes fuller, angles it in, beats the inside edge of an uncertain poke, and it's goodnight Rahane, who doesn't bother to review this time. And that's drinks with India winning the first half-hour and England the second, thanks to the wonder of Woakes. What a series this is – what a sport.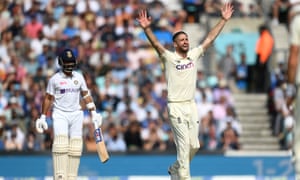 Updated


06:58
103rd over: India 296-4 (Kohli 40, Rahane 0) Kohli, after engaging top gear just now, goes down into third again and plays out a maiden from Robinson. Even alpha cricketers have to play the situation.

06:53
102nd over: India 296-4 (Kohli 40, Rahane 0) A wicket-maiden from Woakes, and it's the second-best over out of 102 in this innings.

06:52
Rahane escapes!
Yes, too high. Alex Wharf, who did so well with the first decision, got this one wrong. But so did Rahane, who would have played a shot if he had known it was the nip-backer.

06:51
Wicket? Rahane given LBW b Woakes 0 (India 296-5, maybe)
Another one! No stroke. But this is a bit high….

06:49
Wicket! Jadeja LBW b Woakes (India 296-4)
Now Root changes the bowling and it works! Chris Woakes brings his second ball back into the left-handed Jadeja. He reviews, hoping he got some bat on it before pad, but it's pad first, three reds, hitting the off bail, and that's goodnight Ravi, still not at home at No 5.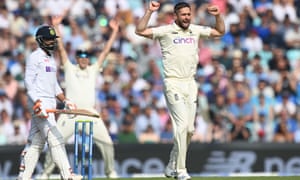 Updated


06:46
101st over: India 296-3 (Kohli 40, Jadeja 17) Root changes the field at last, moving third slip to leg slip for Robinson to Jadeja, who retorts, cannily, by opening the face and taking a single past second slip. Robinson draws a nick from Kohli, but it drops short of Burns at second slip, and next ball Kohli asserts himself by straight-driving for four, adding plenty of bottom hand, like a finger jabbing his point home. "I always love it," says Rob Key, "when you see a great player take charge of a situation."
All the wickets that are refusing to fall here are now tumbling at Chelmsford.
Updated


06:40
100th over: India 291-3 (Kohli 36, Jadeja 16) After a few twos and threes, Kohli is overdue a four and he gets one in style, with a rasping cover drive off Anderson. In the past five minutes, a determined performance has turned into an ominous one. Coming soon: dominant.

06:36
99th over: India 287-3 (Kohli 32, Jadeja 16) Robinson, who has removed Kohli three times, very nearly does so again with a textbook away-swinger that comes bearing bounce as well as movement. Next ball, Kohli retorts with a dab for three, and Jadeja, like a good second fiddle, takes the hint by glancing for four. And that's the fifty partnership, out of nowhere, off 18 overs. England badly need a wicket.

06:31
98th over: India 280-3 (Kohli 29, Jadeja 12) Anderson is bowling 82-83mph, still getting some lift, and he gives Jadeja a bruise on the arm, just above the elbow. Michael Holding reckons he was quicker than usual yesterday, 85-86mph, though it brought him no wickets. In the crowd, the cameras find a girl of about eight holding up a sign. "Jimmy Jimmy Jimmy," it says, "win me win me win me my first Test match." If that doesn't spur the old boy on, I don't know what will.
Updated


06:27
97th over: India 280-3 (Kohli 29, Jadeja 12) Robinson doesn't bowl many bad balls, and often gets away with them as they tend to sail past the batsman's left hip, but this one is full and Kohli helps himself to two past square leg. It's puzzling that Root hardly ever has a short leg for him.

06:22
96th over: India 278-3 (Kohli 27, Jadeja 12) Kohli takes a single off Anderson, who isn't happy with the foot holes, so out comes a man in shorts with a bucket and spade. Beach cricket!
"They used to mix cement with soil when repairing footholds," says Mike Selvey on Twitter. "Do they still do that @Karl_McDermott?" Karl, as you know, is the groundsman at Lord's, and Selve, once the cricket correspondent of The Guardian, is the president of Middlesex.
Here's Bob Wilson, our man in Paris. "There are 2 and only 2 guaranteed natural hangover cures," he declares. "C18th light opera and a hard to call Test Sunday late on in an even series. Happy to say it's working already." I'll have to take your word for it on the opera.
Updated


06:16
95th over: India 277-3 (Kohli 26, Jadeja 12) Jadeja, still shaky outside off, thick-edges Robinson for two and then plays and misses again, at one that jags away nicely. Nasser Hussain is studying England's three slips with less than wholehearted approval. "They're too close together – Overton [at third] has moved closer to Burns [in the doghouse] when that [Burns's left] is his strong side."

06:12
94th over: India 275-3 (Kohli 26, Jadeja 10) Jimmy Anderson's first ball zips through outside Kohli's off stump, to be taken by Jonny Bairstow next to the sponsor's logo on his chest. The second is on target but tame and full enough to be clipped through midwicket for three. Joe Root has started warily with his fields, giving both bowlers five men saving one, three on the off side, two on the leg. Five men in the ring, tra-la-la-la.
Ravi Jadeja wafts at one outside off before taking a single. He has just collected his reward for being the world's most effective No.7, which is to become the world's most flattered No.5.
Updated


06:05
93rd over: India 271-3 (Kohli 23, Jadeja 9) The first over is bowled by Ollie Robinson, the only England player who had fun yesterday. He makes Kohli play the first ball of the day, landing it on off stump and drawing an edgy poke to square leg. A few balls later, Kohli plays the same shot with far more conviction and takes a single.
An email from my colleague Simon Burnton, who is at the ground. "On the Covid news," he reports, "England say they have kept entirely separate from the India team and coaches except for their interactions on the field of play." There's something to be said for keeping your distance. "So the series should hopefully be played to a conclusion unless there are positive tests among the Indian players."
Updated


05:55
And there are rumours of Covid at Edgbaston too. For all today's championship news, do join Tanya Aldred as she takes off her Test hat and puts on her county one.

05:47
Newsflash: Shastri tests positive
India's coach, Ravi Shastri, has tested positive for Covid. He will go into isolation, Lawrence Booth of the Mail and Wisden reports on Twitter, as will three other members of the backroom staff "as a precaution". The Indian players have all tested negative after taking two lateral-flow tests. All the best to Shastri for a speedy recovery.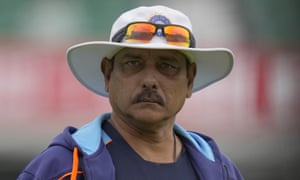 Updated


05:23
Preamble: crunch time (again)
Morning everyone and welcome to the fourth day of the Oval Test, which is now looking even more crucial than the third. India are already 171 runs ahead, with seven wickets left. If Virat Kohli and one or two others go big, they can bat England out of the series. But if the bowlers strike back, we could be in for the sort of finish that demands the presence of Ben Stokes and Jack Leach.
England did have a spell yesterday when they were right on top: the trouble was, it only lasted for one over. Ollie Robinson's double breakthrough with the new ball was the sole burst of sunshine on a long day's journey into bad light. Rohit Sharma was just too good, finally making his first overseas Test hundred at a time when his team really needed it. Cometh the hour, cometh the ton.
Play starts at 11am local time, light permitting, so do join us then to see whether Kohli's will can prevail over Anderson and Robinson's skill.
Updated