09:02
Colin Graves has offered a staunch defence of the £2.1m payment set to be shared by senior executives at the England and Wales Cricket Board next year, saying the sport would have "died" but for their hard work last summer.
Ali Martin reports:
Updated


08:30
Time for me to sign off. It's been even more of a pleasure than usual: thanks for your company, correspondence, kind words and theories about The Hundred. Ali Martin's report will be along shortly.

08:27
England are now the bookies' favourites to win the series, on 17/10, with India slightly further out on 9/4, according to Oddschecker. The draw is 7/2, which looks like a good bet to me. India are the still the stronger team in general, but they keep leaving out one of their best players (Ashwin), and England now have the momentum as well as home advantage.
Updated


08:23
This is England's first Test win since the triumph in Chennai, eight long Tests ago. It's also Joe Root's 27th win as captain, which takes him clear of Michael Vaughan in the league table of aggregate victories. Unassuming as ever, he puts this down to "the players I've had".
Updated


08:17
The player of the match is … Ollie Robinson. He didn't just take seven wickets in the match: he secured his first victory for England, bounced back from a tough time earlier in the summer, and also returned in triumph to the county where he struggled at the start of his career. He was a hot-headed teenager then; now he's a level-headed husband and father, a very accomplished seam bowler, and an instant senior player.
Updated


08:11
And here's Joe Root. "Fantastic clinical performance from our bowlers," he says, "to set the tone from the outset. And when the chances came we were ruthless and took them." He's too modest to mention that he took the big one himself, catching Kohli. It would have been easy to "lose our rag" after a frustrating day yesterday, he adds, but "we hung in there and got our rewards". Asked about Jimmy Anderson, he says: "It's just what he does, isn't it? He's the GOAT of Test cricket."
Updated


08:06
It's time for the highlights montage, set to There Goes The Fear by Doves (thank you Shazam). And also time for the presentations. Mike Atherton asks Virat Kohli how he explains the fact that India batted well yesterday, under cloud cover with the lights on, and not so well today, in bright sunshine. "Scoreboard pressure," Kohli replies, but he acknowledges that the bowling today was "outstanding". Any regrets over the toss? "No, not at all," he says with a chuckle. "You saw how well the pitch played when England batted. The result is because of the way the two teams played – we were just not on the money and England were."
Updated


08:00
"Jeepers England," says Emma John on Twitter. "You're the flaming worst, then you're the absolute best. How's a girl supposed to cope? #bloodylovecricket"

07:59
India lost eight wickets today, for 63, so it was very much back to day one. Mind you, England collapsed too, losing their last seven for 82 after cruising to 350 for three. It's been a tale of three collapses, and two passages of excellent batting – England's was just bigger, and longer, than India's. Congratulations to the groundsman, for preparing a very sporting pitch, and to the weather gods, for laying on some swing.

07:56
An email comes in from Jeremy Boyce. "Should the umpires be checking Joss Buttler's gloves for some kind of Duke magnets? How many has he taken in the match now?" Ha, I make it eight – the first five, and three more at the end. Ring composition.

07:53
The credit is widely shared
Jimmy makes the point that a lot of players did well in this Test – Rory Burns and Haseeb Hameed added a hundred for the first wicket, and "Ollie Robinson was brilliant… we bowled really well as a partnership". He also mentions Dawid Malan, who made 70 on his return from the wilderness, and Craig Overton, who ended up with six for 61 in the match. Joe Root's excellence is almost taken for granted at the moment: what made the difference here was that most of his team-mates stood up to be counted. It's been a fantastic team performance.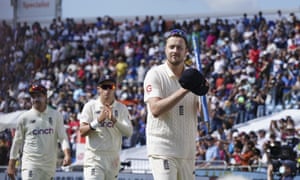 Updated


07:48
India 278 all out (Siraj c Bairstow b Overton 0, Bumrah 1 no)
England have pulled it back to one-all, the scoreline that every good Test series produces. So much more fun than 2-0.

07:46
England win by an innings and 76!
Siraj edges Overton to Bairstow in the slips, and that is that. A fabulous morning, and a famous victory.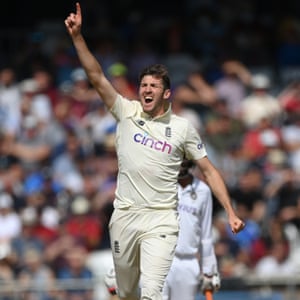 Updated


07:44
Wicket! Jadeja c Buttler b Overton 30 (India 278-9)
Another one! Jadeja's flurry of defiance is over as Overton finds some steep lift in the channel, and England's dreamy morning continues.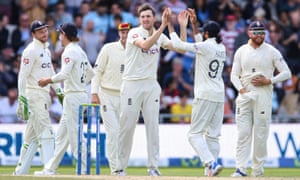 Updated


07:41
99th over: India 278-8 (Jadeja 30, Bumrah 1) Those fours were all part of England's masterplan to get a whole over at Jasprit Bumrah, but he rather ruins it by chipping Moeen for a single, first ball. And then Jadeja has enough faith in him to take a single himself. India trail by 76.

07:37
98th over: India 276-8 (Jadeja 29, Bumrah 0) Now that his five-for is in the bag, Robinson finally gets a rest. His spell lasted 90 minutes and included four wickets. "Quite brilliant," says Nasser Hussain. Robinson is replaced by his brother from another mother, Craig Overton. Jadeja pushes him for four, uppish but effective, and then cuts for four more. And four more! He's raced to 29 off 22 balls. Is this a nice little show of defiance, or the start of a homage to Botham 1981?
Updated


07:32
97th over: India 264-8 (Jadeja 17, Bumrah 0) What would you do if you were Ravi Jadeja, the old pro stood on the burning deck? Hit a six, that's what. He gives Mo the charge and sends the ball sailing over Jimmy Anderson at long-on.

07:29
96th over: India 257-8 (Jadeja 10, Bumrah 0) It's all over bar the trumpeting.

07:28
Wicket! Ishant c Buttler b Robinson 2 (India 256-8)
Robinson gets his fifth after all! He bowls the ball that England forgot to bowl at the Indian tail at Lord's – in the channel, nipping away – and Ishant obliges with a thin edge. Robinson has five for 65 in this innings, and 23 wickets in his four-Test career. He holds the ball up in the air, to the acclaim of a crowd who know all about classic seam bowling. What a find he has been.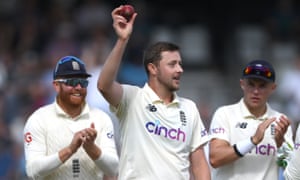 Updated


07:23
95th over: India 256-7 (Jadeja 9, Ishant 2) Ishant Sharma manages to push into the covers for a couple, so the deficit comes down into double figures. India, though, are still staring into the abyss marked "innings defeat". They've lost five for 41 this morning. It's lucky England are unable to field their first-choice attack.
Updated


07:20
Wicket! Shami b Moeen 6 (India 254-7)
A surprise bowling change, and it works second ball! Moeen, probably brought on to bowl at the left-handed Jadeja, decides to dish up a beauty to the right-handed Shami, drifting away, turning back in and bowling him through the gate. England are in dreamland again: it's back to day one.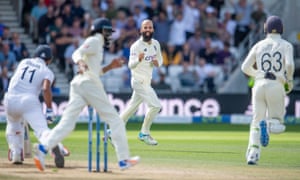 Updated


07:17
94th over: India 253-6 (Jadeja 8, Shami 6) The finger goes up again! Only to be overturned on review. Robinson thinks he's got another five-for as Shami plays all round a full nip-backer, but HawkEye reckons it was doing too much and would have missed the leg bail. Shami, who somehow turned into a decent tailender at Lord's, cashes in with a tuck for two and a glance for four. India trail by 101.

07:12
93rd over: India 247-6 (Jadeja 8, Shami 0) Jadeja pushes Anderson crisply down the ground for four, just to remind everyone that there's one decent batter left. Then he too edges, at catchable height, and he would be out if there was a gully. Even when his opponents are reeling at minus 100 for six, Joe Root shies away from all-out attack.

07:08
92nd over: India 239-6 (Jadeja 0, Shami 0) So England have got down to the Indian tail already. The game needs it to wag, even more than it did at Lord's, but the momentum says that's unlikely.

07:05
Wicket!! Pant c Overton b Robinson 1 (India 239-6)
Pant goes too! A regulation edge to third slip, where Overton demonstrates his no-fuss all-round skills. What a morning for England: scrap those pessimistic calculations, they are storming to 1-1 here.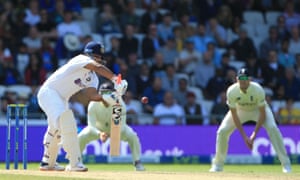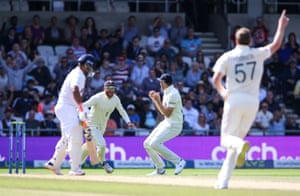 Updated


07:04
91st over: India 239-5 (Pant 1, Jadeja 0) India are in a deep hole now: all their glue has gone, with the possible exception of Jadeja. Pant can produce the pyrotechnics, and knock off the 115-run deficit, but who's going to stick around to give them the extra 130-odd on top of that that they need to have a faint chance of a win?

07:01
That, by the way, was Jimmy Anderson's 400th Test wicket at home. Before him, no English seamer had got 400 all over the world.

06:58
Wicket! Rahane c Buttler b Anderson 10 (India 239-5)
One brings three! It's a classic Anderson delivery, of the kind that the batsmen have been missing this morning – but now Rahane gets a nibble, and Jos Buttler does the rest. That's drinks, with England all over India, as Shane Warne once said, like a cheap soup.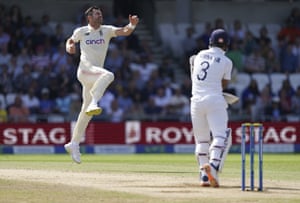 Updated


06:55
90th over: India 237-4 (Rahane 9, Pant 0) So both the well-set batters are back in the dressing-room. And now we have the most explosive player in the Indian line-up – the guy who likes to dance down the track to the fast bowlers. Stay tuned!

06:51
Wicket!!! KOHLI c Root b Robinson 55 (India 237-4)
Got him now! And it's not Anderson, it's Ollie Robinson again, jagging one away off a good length to give Joe Root a reasonably straightforward catch to his left at first slip. That's not the big one – it's the absolutely huge one.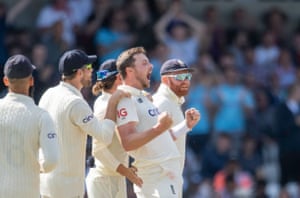 Updated


06:48
Fifty to Kohli!!
Up at Robinson's end for once, Kohli clips for four to reach fifty off 120 balls, his first chance to wave a bat this series. He's been immensely determined, and disciplined. Now his team just need another hundred from him.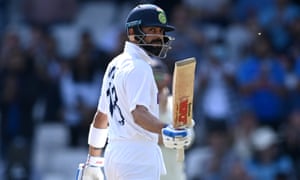 Updated


06:46
89th over: India 229-3 (Kohli 47, Rahane 9) Kohli has been either leaving, defending or missing against Anderson, but now he finally finds a single, pushing into the covers off the first ball of the over. And it's Rahane's turn to play and miss. If his bat was an inch wider, he'd be gone.

06:42
88th over: India 228-3 (Kohli 46, Rahane 9) Robinson v Rahane is now just a sideshow, fine cricketers though they are. This over is five dots and another drive for four, through the covers this time.

06:39
87th over: India 224-3 (Kohli 46, Rahane 5) This is a fabulous over, a cracking little episode of The Anderson-Kohli Show. First, a caption tells us that Kohli has left 45 per cent of the deliveries he's received in this innings, compared to 28pc earlier in the series. Then Anderson beats him again – with an even better outswinger, because it was closer to off stump, no chance of leaving that. And then, finally, Jimmy produces the inswinger, beats the inside edge, and goes up for LBW! But it's a touch high. They don't review, and HawkEye says they were right not to – going over middle. Then comes the big appeal for caught behind, and Kohli is almost on his way, until Rahane says you've got to review that. So a great over bears no fruit. Anderson is so good, and so old, that he may be about to be offered a contract by Manchester United.

06:37
NOT OUT! Kohli survives
The bat clipped the pad! "Clear daylight," as the TV umpire says.

06:36
Wicket? KOHLI given c Buttler b Anderson 46
The big one! But he's reviewing…

06:31
86th over: India 224-3 (Kohli 46, Rahane 5) And now we get the first four of the morning – an off drive from Rahane off Robinson, not thumped, just eased, the shot of a player in better form than he was before that long vigil at Lord's.

06:28
85th over: India 219-3 (Kohli 45, Rahane 1) Rahane gets off the mark with a push into the covers, the first scoring stroke of the morning in the fifth over. Anderson finally gets the line of his outswinger right – fourth stump, not fifth – and has Kohli playing at thin air, the first dent in the imperial armour.
A thoughtful email comes in from Tom van der Gucht. "Watching the Blast last night, I briefly became confused as to why Jake Lintott was bowling for rather than against Birmingham." I watched it too – wasn't he great? "It struck me how invested I'd become in individual players rather than teams, or rather, franchises. During the final I'd been pumped up for the battle between Livingstone / Ali and Mills / Jordan / Garton / Lintott but couldn't really care less about which team won.
"Even in the Blast, I was more interested in how Woakes, or Bresnan got on than Birmingham and the same went for willing Crawley on. If I was the ECB, I would focus on marketing this gladiatorial and mercenary aspect of the game as a means of getting more youngsters engaged. There's been a significant amount of coverage questioning whether people would support made-up teams rather than their counties as they'll be less likely to form such bonds. Perhaps this is a actually a strength of the format – a strengh that could lead to more international support too.
"By developing a free app that's similar to the Telegraph's Fantasy cricket, where people can create their own super teams, they'll be encouraged to follow more games as their players would be spread across the league rather than just their team – especially if the app updated their points in real-time as you'd want to keep up-to-date with events. The top performers are more likely to gain international recognition which in turn would encourage youngsters to follow their new heroes into other forms of the game too."
Updated


06:23
84th over: India 217-3 (Kohli 45, Rahane 0) Well done Mr Robinson, who has 20 wickets in his Test career at an average of just 19. He is now, officially, the best thing since Toby Roland-Jones.
Updated


06:18
Wicket!! Pujara LBW b Robinson 91 (India 215-3)
The breakthrough! And a good review by England! That was the killer inswinger, hitting off stump 3/4 of the way up, and the only surprise was that umpire Kettleborough didn't fancy it. The new ball does the trick and Pujara misses out on what would have been a hard-earned hundred.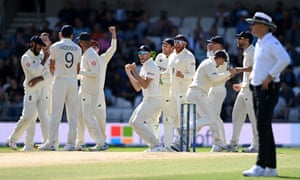 Updated


06:16
Review! Pujara not given LBW Robinson
It's full, there's no stroke…

06:14
83rd over: India 215-2 (Pujara 91, Kohli 45) Anderson is still bowling at fifth stump, as the pros say, and Kohli is still busy leaving the ball well alone. Again, only the sixth ball of the over requires a shot to be played. Is Jimmy up to something? Let's hope this is the old 13-card trick, with a killer inswinger on its way shortly.

06:10
82nd over: India 215-2 (Pujara 91, Kohli 45) At the other end it's Ollie Robinson, who's made such an assured start to his Test career but seemed to be running low on fuel last night. He's still a bit leggy and medium-priced, but his bounce and accuracy mean that no liberties can be taken. Pujara is watchful as ever, but he leaves one that's too close to the off bail for comfort. In the stand, the trumpeter plays Mrs Robinson in Ollie's honour, or his mum's.
Updated


06:05
81st over: India 215-2 (Pujara 91, Kohli 45) Anderson looks fit, which is a big plus for England, and he's finding swing with the new ball as you'd expect. But the swing is all outwards and he's starting wide of off, so Kohli can easily let the ball go until the last delivery, which pitches on middle-and-off. and demands a defensive prod. That's a maiden, which will warm Jimmy's stony old heart, still reeling from that spell yesterday of 2-0-20-0.
Updated


06:01
It's going to be Jimmy, so here comes another instalment of The Anderson-Kohli Show, season six.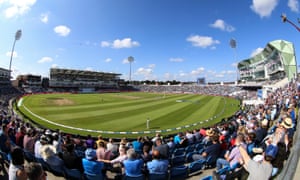 Updated


05:50
Preamble: proper creekit
Morning everyone and welcome to the fourth day of an absorbing contest. The first two days of this match were action-packed. India collapsed in a heap – when in England, do as the English do – and England, just to be perverse, didn't, or not until they had piled up a massive lead. Yesterday, though, the age-old rhythms of Test cricket reasserted themselves. Slow, slow, slow-slow, slow.
Finding themselves in a tight corner, where many teams would have flopped again, India lost only two wickets. Cheteshwar Pujara, their most stolid batter, set out his stall and even returned to fluency. Virat Kohli calmed down and carried on. India's chances of a win, which had been rated at precisely 0 per cent by WinViz, shot up to 5.
England's chances are still far higher, at 81, but they need to use the new ball well this morning. They were not flattered by their figures yesterday, but then the flattery had been laid on thick on Wednesday. That's why they call it Test creekit: it's a stern examination. Today will ask plenty of questions of this largely makeshift attack. Is Jimmy Anderson fit? Is Sam Curran now more of a white-ball cricketer? Can Moeen grab the game by the scruff? Are Robinson and Overton, admirable as they are, a little too alike? We will find out from 11am, UK time.
Updated