Sean Dyche has admitted his limited transfer budget would not have increased had MSP Sports Capital bought a minority stake in Everton.
Everton's search for much-needed investment has suffered a serious setback with the collapse of a deal for MSP to acquire approximately 25% of the club. However, the American investment group's plan to loan Everton £100m towards the construction of their new stadium at Bramley Moore dock remains on course.
MSP withdrew from the equity side of the deal amid opposition from an existing Everton lender, Rights and Media Funding Limited. Everton have a loan facility with the obscure Cheshire-based company that has increased to £200m this season. The debt is secured against club assets and a negative pledge clause allows Rights and Media Funding Limited to demand repayment before Everton take on any extra borrowing. The existing lender's main objection was that MSP were not investing enough money for a 25% stake.
Everton's owner, Farhad Moshiri, is now seeking alternative funding and has reopened talks with the Miami-based investment firm 777 Partners. According to a statement released by Everton's fan advisory board, the club has confirmed that: "It continues to make good progress on securing complete stadium financing, and as part of this progress, it has secured a loan to support the development costs for our new stadium. It was also confirmed to us that the majority shareholder has stated that he will continue to explore discussions on new investment, provided it is right for the future development of the football club."
Moshiri needs to raise approximately £350m to complete the stadium plus find working capital for the day-to-day running of the club. MSP's equity deal would have provided the latter but would not have significantly improved Everton's position in the transfer market.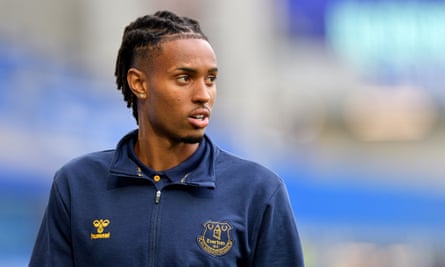 Everton, bottom of the league after two defeats and no goals in their first two matches of the season, have made four signings this summer but only one, 19-year-old striker Youssef Chermiti, cost a transfer fee. Dyche admits the transfer restrictions that he and director of football Kevin Thelwell are working under would not have lifted had the MSP deal gone through.
"It doesn't really impact regarding the parameters and what the reality is in terms of signing players and working in the market," said the Everton manager. "They've been there anyway. We know we've got to work hard in the market, we know we've got to find ways of creating deals and making them happen because we haven't just got pots of gold to make them happen. We knew that from the start, when I got the job, and we've been working diligently with Kev and the scouts and various contacts I've got in the game to try and find the right players who can fit in with what we want and make us stronger.
"The guidelines were laid down a while ago. I made it clear at the end of last season that there is a lot of work to be done and there still is. And that's not just in the market, it's getting the club on the right base level. That's an ongoing challenge here."
Everton have yet to make a breakthrough in negotiations with Southampton for Ché Adams and Dyche is uncertain whether there will be further incomings before next Friday's transfer deadline.
"No, I'm just confident that we are trying to work on ways of getting deals to be done," he replied when asked if he expected any new arrivals. "That's the only thing I'm confident on, our work. I'm not commenting on whether we are definitely going to get anything."
As for how much money is available at Everton for new signings, Dyche said: "I've been told there are certain things we can do and there's lots of things we can't."