Daniil Medvedev stepped inside Arthur Ashe Stadium on Friday night fully conscious of both the singular, stratospheric level required of him to merely have a shot of toppling Carlos Alcaraz and that not many people gave him a chance of doing so.
But one consistent theme in Medvedev's increasingly brilliant career is that he lives for these challenges, a quality that has distinguished him from his contemporaries and marked him as a champion.
Faced with the challenge of the prodigious No 1 and a completely unfavourable match-up, Medvedev, the third seed, rose to the occasion in a match of the highest quality, ending the reign of Carlos Alcaraz in New York with an incredible 7-6, 6-1, 3-6, 6-3 victory.
"I said I needed to play 11 out of 10," said Medvedev. "I played 12 out of 10,"
Instead of a meeting between the top two, Medvedev will rekindle his fascinating rivalry with Novak Djokovic in his third US Open final over the past five years.
Two years ago, Medvedev not only conquered the US Open by blitzing Djokovic in straight sets, but he scuppered what would have been one of the most significant tennis achievements of the Open Era by ending Djokovic's grand slam attempt at the final hurdle.
This performance served as a reminder of all that Medvedev is capable of, something easily forgotten considering how he struggled following his stellar 2021. Earlier this season, a year on from rising to No 1, Medvedev fell out of the top 10 and he has had to claw his way back towards the top.
In his two previous meetings with Alcaraz, on the hard courts of Indian Wells and the semi-finals of Wimbledon in July, the 27-year-old had been eviscerated. But the faster hard courts at the US Open, the site of his greatest success, have always allowed him to produce his best tennis.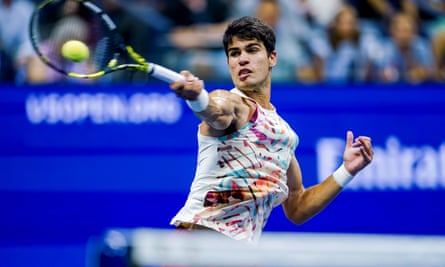 "[At the] US Open, and I don't really know the reason, I tend to play aggressive, fast. I serve well. Probably the speed of the court helps me. Like, Indian Wells, I mean, that I did the final was amazing, because I basically can't hit the ball there," said Medvedev.
Before the match, Medvedev had stressed the importance of serving incredibly well, and after a flurry of double faults early on, his first serve began to flow. Still, Alcaraz was the better player for much of the crucial first set. He served well, found great success by constantly approaching the net and struck 16 winners to just nine unforced errors. Alcaraz had played well enough to win it, but he was undone by two crucial unforced errors late in the tiebreak.
Medvedev's level, meanwhile, set the tone. Throughout the match, he defended remarkably well, making it so difficult for Alcaraz, with all of his weapons, to hit the ball past him. Medvedev's forehand was also much improved from the previous meetings, its greater pace allowing him to force Alcaraz back.
"There were some points I lost, but after the point I was, 'Wow, I have caught some balls that were really tough,'" Medvedev said of his defence. "I was, 'Okay, that's good. That means that next point I can do the same. Maybe either he's going to miss or I could make a better shot.' I was in the zone."
While Alcaraz had successfully exploited Medvedev's return position with drop shots and net rushes in their previous, here Medvedev returned incredibly well. In a match that saw 42 serve and volley attempts from Alcaraz, he constantly found sharp angles and low, dipping returns to make life difficult for him.
"When I do serve and volley, he always find the passing shot from, you know, from his house," said Alcaraz, laughing. "In some ways amazing."
Having secured the first set, Medvedev ran with the momentum and he played freely as Alcaraz seethed, quickly establishing a two sets lead. After clearing his mind with a toilet break, Alcaraz called on the crowd and he was re-energised in the fourth set. He re-established his range on his forehand and dropshots, continually drawing Medvedev forward to the net and unloading on brilliant passing shots. Alcaraz fought his way to a 4-1 lead and held on to force a fourth set.
As the match hung in the balance at the beginning of the fourth set, both players felt the pressure and it was a tale of two service games. Medvedev bravely saved three break points in his opening service game, including one 126 miles-per-hour second serve. Then, in an exhausting game at 2-3 with seven deuces, Alcaraz also faced two break points. Medvedev took the decisive break of serve with a sweet, dipping return passing shot to thwart another Alcaraz serve and volley attempt.
The tension peaked as Medvedev desperately tried to serve out the win. After reaching match point, he double faulted twice in a row to fall down a break point. But Medvedev dug himself out of one final hole and despite Alcaraz's steadfast resilience, he served out one of the biggest wins of his career.
"It was a great win, it's great for the confidence," said Medvedev. "I have hopefully long years of career ahead. And to know I'm capable of doing it on the big stage, every time you do it one more time, brings more confidence. You know you can do it again. You want to do it again. You want to feel this. And at the same time, what is the most important is to kind of use it but forget about it and go for the next one."
For Alcaraz, a solid title defence ended with a crushing defeat against a stellar opponent. But after his incredible success, standards are high and his frustration was palpable. "I thought that right now I am better player to find solutions when the match is not going in the right direction for [me]," he said. "But, after this match, I gonna change my mind. I'm not mature enough to handle these kinds of matches. So I have to learn about it."