The journalist in the seat next to mine at Portugal's 6-1 win over Switzerland at the World Cup – French, late 20s – had been shooting some video content outside and arrived just after half-time. Portugal were already 3-0 up and, with Gonçalo Ramos replacing Cristiano Ronaldo in the starting lineup, playing by far their best football of the tournament. The reporter was devastated. He wanted to see Ronaldo.
That Portugal had improved without their star player was of no concern to him. When Ronaldo came on after 74 minutes, he couldn't have been more excited if he had been a teenager watching The Beatles at the Cavern Club in 1963. He gasped, he howled, he trembled with a frankly disturbing intensity. Ronaldo did almost nothing, but when he put the ball in the net from an offside position and indulged the crowd with a slightly half-hearted "Siiiiuuuu!" celebration, the French journalist seemed on the brink of tears.
In the past, I'd have ignored it. Odd behaviour is not exactly unknown in press boxes and even in Britain, where cynical neutrality used to be standard, displays of partisanship are becoming worryingly common. But I was aware at that game a significant proportion of the crowd seemed to be behaving similarly.
There were obvious Portugal fans behind one goal, whose main concern was that their side were cruising to the quarter-final. There were Swiss fans looking miserable. And there were swathes of neutrals who made clear their priority by chanting for Ronaldo throughout the second half.
Lionel Messi has made a startling impact at Inter Miami, off the pitch as well as on it. The MLS franchise has gone from one million followers on Instagram to 13 million, with revenues expected to double over the next year. The guest list for last Sunday's 3-1 win at Los Angeles FC included Leonardo Di Caprio, Ed Norton, Selena Gomez and Prince Harry. This wasn't happening when they had the 29-year-old Mexican journeyman Rodolfo Pizarro pulling the strings.
Famous players have always attracted crowds. When Stoke City or Blackpool played away with Stanley Matthews in their side, attendances rose. When Match of the Day began in 1964 and made it slightly easier to support a team other than your local one, George Best was a major reason many flocked around Manchester United. But the globalisation of the game, its mass television audience, has accentuated the tendency.
The old-fashioned understanding of support was that most fans followed their local team, partly for ease and partly because clubs became representative of their region. Some were guided by familial ties, some saw a team as chiming with their personality, some randomly selected a team in childhood and stuck with it. But most had a local affiliation.
That's no longer the case. The vast majority who watch the Premier League now do so from outside the UK. Many develop passionate attachments to clubs – too passionate, in some cases: an Arsenal fan was stabbed to death by a Manchester United fan in Uganda after last Sunday's game. But there is no necessary reason for that: why not support an individual rather than a team if that player stirs something no club can?
Many clearly do. And what began in New York or Nairobi is becoming increasingly common in England. If your local team have no chance of challenging for trophies, if there is an apparently unbridgeable gulf between them and the elite, then why not follow a star instead of – or as well as – that side?
Video games perhaps feed into that; if there's a player you always sign or always play as, it's understandable if that engenders a sense of identification. Social media, similarly, offers access, or at least the perception of access, to a player without the need for a club as an intermediary.
Certain players, too, clearly think in individual terms. When Paul Pogba joined Manchester United in 2016 and was asked in his introductory interview what his ambition was at the club, he didn't speak of success in Europe or winning the Premier League, but of winning the Ballon d'Or. Neymar, similarly, left Barcelona for Paris Saint-Germain with the stated intention of escaping from Messi's shadow to improve his Ballon d'Or prospects.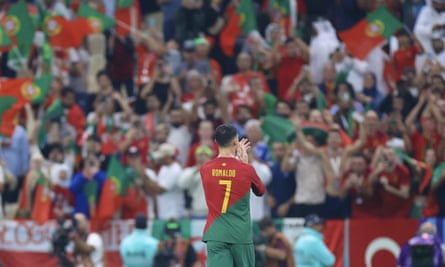 The paradox is that the game at the highest level has never been less about stars. Pep Guardiola, Jürgen Klopp and Mikel Arteta thrive because of systems, complex and rigorously devised structures of pressing and positioning. At the highest level, unless the star is prepared to subjugate his ego to the demands of the whole, he is a problem – which is why Erik ten Hag was so keen to jettison Ronaldo.
Neither Pogba nor Neymar was successful and nor were the clubs for whom they played (winning Ligue 1, for PSG, when they are so much wealthier than the rest, cannot be considered real success). But how could they be, when their way of thinking is so antithetical to the best in modern coaching?
Yet modern marketing hangs on stars. That's why PSG gathered Neymar, Messi and Kylian Mbappé in one ill-assorted forward line, why Real Madrid often seem more concerned by holding the world transfer record than La Liga, why 16 of the 25 most expensive signings for the Saudi Pro League this window have been attacking players.
That creates a tension. Football, it's often said, is part of the entertainment business, but in truth it's more complex than that: people watch to see who wins. The struggle matters more than tricks; that is the nature of sport. Or it used to be. What was so striking about Portugal v Switzerland was the sense that so many cared far less about who won than about seeing Ronaldo.
With a growing cohort of owners who care little for the traditions of the game, and value money above all else, there is a danger that the game itself, with its remarkably resilient balance between attack and defence, with its demand for coherence and balance over starriness, could be threatened.
An obvious area of change might be tweaks to the laws to foreground the individual, such as the restrictions on zonal defence in the NBA, but there are numerous ways in which that tension might manifest.
Football is changing and that is not just an issue of economic balance.