ANOTHER DAY, ANOTHER LOOK AT REFS
While you could be forgiven for thinking there are few aspects of football more mind-numbingly tedious than longwinded discussions about the excruciating minutiae of refereeing decisions, they are a thriving industry. The first port of call for lazy TV presenters and pundits, they also provide endless hours of cheap content for sports radio stations … and tea-time football emails. In the UK, Sky Sports and TNT both employ their own in-house former referees to pass their verdicts on the verdicts of their former colleagues. Occasionally interesting but largely pointless, these conversations do little more than further fuel the flames of fan paranoia that prompted some bright TV exec to air them for those sweet, sweet engagement metrics in the first place.
More often than not during such debates, vast tracts of airtime are devoted to the myriad shortcomings of VAR technology and the inadequacies or human frailties of the curtain-twitchers tasked with using it. Even Alanis Morissette could spot the irony, given that VAR was originally introduced to eliminate glaring officiating errors, not add to them. Indeed, such is its increasingly pernicious influence, that football's laws are continuously being tailored to work in sync with the technology, when it should be the other way around. One suspects the irony of sprinting defenders having to put their arms behind their backs in unnatural positions in order to avoid being penalised for having their arms in unnatural positions wouldn't be lost on the songstress either.
On Tuesday night, a new refereeing rubicon was crossed when Sky aired the first episode of their new series Match Officials: Mic'd Up, a programme in which one-time goalscoring phenomenon turned pundit Michael Owen and refs' chief Howard Webb attempt to bang the world of officiating to rights. In their quest to explain the thinking behind controversial calls, the duo use match footage and previously unreleased audio of excitable, generally northern men breathlessly shouting at each other. Two quite dull men analysing quite dull things, the show could well have been modelled on the High Performance Podcast, were it not for the fact that several of the six refereeing performances that came under their microscope were lower than a snake's belly.
The most egregious error? The frankly baffling decision made by referee Michael Oliver and his team of assistants to allow Nathan Aké's goal for Manchester City against Fulham to stand last weekend. Despite being a fine downward header from an outswinging Phil Foden corner, you'd have thought it would be painfully obvious to anyone with even a nodding acquaintance with the laws of football that the goal should have been ruled out because his teammate Manuel Akanji was standing in an offside position and clearly impeding Fulham keeper Bernd Leno's decision-making process and view of proceedings. However, in much the same way as a camel was famously described as a horse designed by a committee, even with the benefit of multiple replays, Oliver, his assistant and the Stockley Park brains trust somehow arrived at the conclusion that Akanji wasn't in the way and the goal stood.
"We think it's a clear situation of offside," intoned Webb, stating the blindingly obvious several days after the event. "Unfortunately it wasn't identified on the day and of course the learning from that will also be shared amongst all of our group. We're always looking to do better each and every week and this was an error." While Webb's words will come as scant consolation to Fulham, who were level with City and playing quite well before visibly deflating in the face of Aké's goal, they do conjure up quite the image. Oh to be a fly on the wall at PGMOL HQ, when Webb, Oliver and the nation's other referees sit themselves down for the weekly self-help group. Of course like all such meetings, they'll sit in a circle, which is a safe and solid, yet permeable shape with an inside, an outside and a focus that moves from one referee to the next. Most importantly, nobody's view of anyone else will be impeded.
MOVING THE GOALPOSTS
In the aftermath of Jorge Vilda's dismissal, Suzanne Wrack writes that this must be the beginning, not the end, of a process of meaningful change in Spanish football. If you don't already, sign up to get the full email each Wednesday.
QUOTE OF THE DAY
"It's their profession, it's their life so they have to do what's best for them. There are so many morality officers around the world nowadays that are judging people" –Brendan Rodgers defends Jordan Henderson over his explanation as to why he's trousering the Saudi riyal and shows that when it comes to spouting hot jets of nonsense, he's still got it.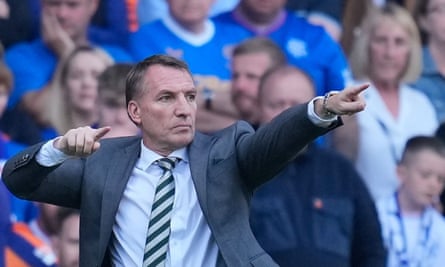 On the surface this is a cute and humorous story about a particularly creative and clever lower-division coach. But we all know how we felt about the classmate who reminded our teacher about the homework" – Harriet Osborn.
Reading Jordan Henderson's non-apology and hearing about his disastrous media interview (yesterday's Quote of the Day) put me in mind of a famous quote from Groucho Marx who, to paraphrase, said: 'I have my principles but for a million quid I could have others'" – Geoff Spinner.
Re: 'flawless' goal-line technology (yesterday's Football Daily). Until 4 September 2022 I would have agreed that it is the 14th best thing since sliced bread. However, on that date, the system involving seven cameras failed to spot that the ball had crossed the line and Huddersfield were denied a clear goal. Slightly more disturbing was that the officials on the day did not trust their own eyesight to overrule the hitherto flawless technology. And I gave up on VAR at the Championship playoff final earlier that year. I'm off to watch a North West Counties League match now where, fortunately, none of these modern aids have been introduced. And when the referee makes an unpopular decision the ultras chant: 'The referee's a Tory.' Much more fun" – Jon Pidgeon.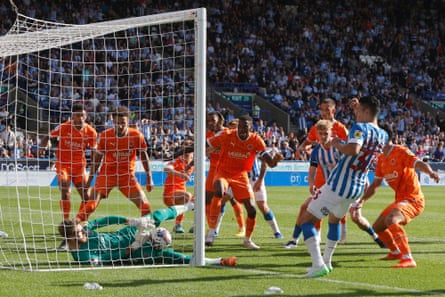 The mind boggles as to how dire Football dAIly must be, if it's getting advice on humour from Football Daily" – Martyn Shapter.
Football dAIly may be amused to learn that in the far more important endeavour of agriculture, AI stands for Artificial Insemination. I have several jokes about that, but none suitable for a family email" – Carl Zetie.
Re: football earworms (Football Daily letters passim). Back in the glorious mediocre days of Everton in the 1990s, whenever Andrei Kanchelskis got the ball I had to endure some MC Hammer time" – Jim Arrowsmith.
I'd declined to join in this thread but, as it's running further than many midfielders, please accept my contribution in homage to a well-known electronic music producer. Watching matches in which the Brazilian midfielder Fred is name-checked by the commentator, I feel compelled to say 'Again' at every touch subsequent to his first" – John Kyle.
Send your letters to [email protected]. Today's winner of our prizeless letter o' the day is … Harriet Osborn.