Key events
Rain still at Hampshire; Jones and Dickson have darned and dashed to 79 at Derby in a day haunted by rain; and Has has gone at Trent Bridge, for 60. Notts 130-2.
Imam and Bartlett inching Somerset forward – 53-2.
Nice that Glamorgan can celebrate Labuschagne's new contract, as it is doom and gloom on the field down at the Gardens. Worcestershire now 396 for 7, the eighth-wicket stand an unbroken 140 – Leach 75, Roderick 140.
Haseeb Hameed in the runs at Trent Bridge, 57 off 99 balls, though he has lost his opening partner Ben Slater for 39. Notts just slowly pulling the wings off the butterfly, the lead over Leicestershire 232.
Over to Ralf: Yorkshire wrap things up pretty swiftly here with one wicket each for Ben Coad and Jordan Thompson. Parkinson the last to go for three to an LBW decision he didn't appear to be overly pleased at (looked a tad high to me). With the rain here the outfield has really slowed up so 276 is not a bad score overall but from 180-0 yesterday Lancashire would have had their sights set on something much more in the region of 400-plus. Batting will be tough against Tom Bailey and Will Williams under grey skies here at OT but Yorkshire will hope to get off to a good start with about 70 minutes until tea.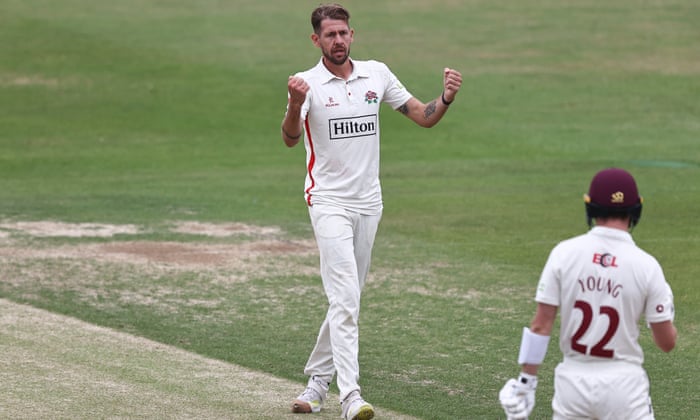 This was Yorkshire's champion wicket-taker George Hill yesterday – those in the know think he is the best of Yorkshire's current young crop.
"I haven't bowled for a while, so when Tatts chucked me the ball I was happy to be back bowling and just enjoyed it.
"When the second ball came along, it was a lot harder.
"My role usually is to try and make it as dry as possible and hit one area as consistently as I can. It was just that the odd one nibbled enough. The key for me was to run in – I felt in good rhythm – and hit the same area.
"I said to Tatts after my second or third wicket, 'Get me off and put the strike bowlers on'. But, thankfully, he kept me on.
"Looking at that wicket, we knew it would be quite flat on day one – a little bit tired and slow.
"Our main concern was keeping that run-rate below three an over and controlling the rate.
"We're very happy with the way it's happened tonight. If we can bowl them out for 320, we'll be well in the game.
"In all cricket these are my best figures, which is quite cool."
Glamorgan have just announced that Marnus Labuschagne has signed a new two-year deal to keep him at the club till 2024.
As Ralf points out, Feroze Khushi lunching just 14 short of his maiden first-class hundred. Essex 408-7.
Somerset's armoury turned out to be a bit shoddy after all, lunching at 34 for 2 with Lammonby and Abell back darning their socks.
An astute comment from Glastonian BTL
"Tom Lammonby is the perfect example of how the schedule can really sc*ew a talented young player up. He spent the first part of the season trying to make himself in to the red ball opener Somerset so desperately need. Then bingo it's Blast time and it's all ramps and reverse sweeps which set him up perfectly to sit in the Manchester dugout for the first six games. Finally he got his chance to show what he can do and to be fair he made a good fist of it. Now it's forget all that and get back to FC cricket, it may not be impossible but it is asking a lot of him."
Play due to start at OT at 12.55, the covers have gone and Lancs are drilling their way through the last few minutes. I'd just like to give a shout out to Ralf Syrett who is here on work experience for the next two days. He's a huge cricket fan, a huge Lancs fan, and I'll let him loose on the blog in a bit.
Division One
Rose Bowl: Hampshire 273-6 v Northants
Canterbury: Kent v Essex 402-7
Old Trafford: Lancashire 272-8 v Yorkshire no play yet today, start 12.55
Taunton: Somerset 24-3 v Gloucestershire 343
Division Two
Derby: Derbyshire 306 all out v Durham 69-0
Sophia Gardens: Glamorgan v Worcestershire 366-7
Trent Bridge: Nottinghamshire 201 and 100-1 v Leicestershire 93
A hundred for Gareth Roderick!
Excellent sticking power, and an unbroken eighth wicket partnership of 73 with Joe Leach. Worcs, annoying the socks off promotion-searching Glamorgan, 329-7.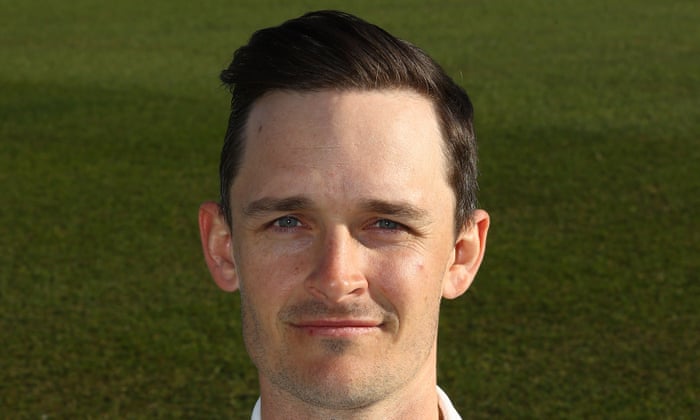 Inspection at OT at 12.15 but much more exciting things happening away from the mops.
Kent are gradually chipping through the Essex line-up, Snater caught off Podmore, Essex 383-7, Critchely didn't make it to three figures (90) but Khushi still there on 71.
Gloucestershire all out 343. Now Somerset, what's in your armoury today?
Raining now at Derby, where Durham's openers have put on 45 this morning.
Notts ploughing onward, grinding those Leicestershire dreams – 74-0.
An inspection at OT by umpires in fleeces, some of the covers coming off, the super sopper on standby.
Should your favourite CC-Live county be under water, Australia are having a spot of bother against New Zealand.
Thank you so much for this absolute gem.
Quick round-up round the grounds:
Only one Div one game in action, but the weather smiles on Division Two.
Critchley and Khushi continuing where they left off yesterday, the partnership now worth 130. Critchley 88, Khushi 59. Essex 352-4 v Kent.
At Derby, the two Durham batters are at the crease, Michael Jones has got the scoreboard moving with a boundary. Durham 4-0, trail Derbys by 302
Gareth Roderick approaching his hundred at Sophia Gardens, Worcs 309-7, while Trent Bridge is suddenly a featherbed. Notts 48-0 after 20 wickets fell yesterday. The Notts lead already 156 over Leicestershire.
Soggy ground sheets, loyal cagoules and umbrellas in the stands. Rain.
Not all of this message is endorsed by CC-Live!
Just three games chugging away, at Canterbury, Trent Bridge and The Rose Bowl where Liam Dawson has been out to the fourth ball of the day. Hants 233-6.
The county championship unfolded itself from the linen basket and sprung back into service, the start of a full-on, four-week September run, which will decide the winner and sieve out the promotion and relegation candidates (should that process happen, all still being, in classic English cricket style, up in the air).
To Old Trafford for the Roses match, where Lancashire's Keaton Jennings became the first player in the long history of the rivalry to make four centuries in successive innings, pulling away from three-in-a-row Herbert Sutcliffe and Geoff Pullar. Jennings' astonishing run – 114, 132 and 238 – was topped off by 119 against a Yorkshire attack that looked washed out on a flat pitch.
But from 231 for one, Lancashire lost seven wickets in the evening session, collapsing to 272 for eight, as 21-year-old George Hill took five for five in 41 balls (six for 26 in total) – his first five-fer for Yorkshire in his first bowl since breaking his toe in July. Ben Coad grabbed two wickets in two balls in the penultimate over and suddenly the relegation candidates were eyeing up the title chasers.
Hampshire, the only team other than Lancashire capable of catching Surrey, were thwarted by rain that reduced the day to 62 overs. Felix Organ top-scored with 71, as Liam Dawson and Aneurin Donald added a pretty, unbeaten 62. At Canterbury Kent chose to bowl under grizzly skies but Alastair Cook plugged away for 78 and after a wobble, Matthew Critchley and Feroze Khushi carried Essex through to the close.
In the relegation battle at Taunton, Marcus Harris tormented Somerset with a 159 that lasted from the first to the penultimate over when he edged Jack Brooks to slip. There were also fifties for Gloucestershire's Ben Charlesworth and Ollie Price.
In Division Two, 20 wickets fell at a capricious Trent Bridge as Nottinghamshire were dismissed for 201 by Leicestershire, only for the visitors to crash and burn for 93. Luke Fletcher grabbed four for 23 and Sam Evans carried his bat for 50, the only Leicestershire man to make double figures.
Derbyshire were dismissed for 306 by Durham, while at Sophia Gardens, Gareth Roderick and Ed Barnard gave Worcestershire's batting some welcome solidity with a partnership of 127 against Glamorgan.
The covers are very much on at Old Trafford – don't think there is much chance of play before lunch here.
Round the grounds there are also delays at Taunton (inspection 1045), and Sophia Gardens,.
Division One
Rose Bowl: Hampshire 229-5 v Northants
Canterbury: Kent v Essex 327-4
Old Trafford: Lancashire 272-8 v Yorkshire
Taunton: Somerset v Gloucestershire 320-6
Division Two
Derby: Derbyshire 306 all out v Durham
Sophia Gardens: Glamorgan v Worcestershire 285-7
Trent Bridge: Nottinghamshire 201 and 15-0 v Leicestershire 93
Good morning from a damp Manchester, where the honeysuckle berries sag and autumn is touchable. It's day two of the first September round of the County Championship, with seven games in play, weather permitting. The outlook is "unsettled".
Two things to mull over with your cornflakes, one is the leaked Andrew Strauss HPR plan in today's Telegraph, the other is today's Guardian editorial on the Hundred.
Strauss's plan in brief:
A six-team Premier Division of the Championship with two feeder leagues of six underneath.
Teams to play each other home and away, with a possible playoff to decide the winner and a playoff between the winner of the two feeder leagues to decide which is promoted. It will be one up, one down.
All counties to play at least 10 four-day games
50-over competition in April, Blast in May, Hundred in August, Championship in June, July and September.
Three slots of four-day games (not the Championship) in August – akin to festivals – so counties can still play 14 red ball games, if they make a playoff. This would run alongside the Hundred giving Test players and the rest some red-ball cricket. Potential to invite overseas teams to take part, eg Zimbabwe, Afghanistan ad Scotland.
Right, that's it for now, hopping on my bike – back shortly!