Key events
Sabalenka breaks in fifth game of first set!
First set: Gauff 2-3 Sabalenka* (*denotes next server)
Gauff sprints to 30-love behind a pair of sharp first serves, but Sabalenka rattles off three quick points for 30-40 and a break-point chance. Gauff saves it with a forehand winner at the net for deuce, but Sabalenka immediately creates a second look at a break with a forehand to force an error on the next point. Sabalenka wastes that one, too, sending a simple volley into the net on the 11th shot of a rally. But Sabalenka wins the next two points on a couple of heavy baseline rallies to break for a second time and re-take the lead in this opening set.
Gauff breaks in fourth game of first set!
First set: *Gauff 2-2 Sabalenka (*denotes next server)
Sabalenka makes a sixth unforced error to open her second service game, then double-faults for a second time today for love-30. The pro-Gauff crowd buzzes for a long time before quieting for the next point. Sabalenka hits a winner early in the rally for 15-30, but then double-faults again! Two chances for Gauff to break and get back on level terms. Sabalenka saves the first behind a big first serve, but makes yet another unforced error at the net on the next to donate Gauff the break. Sabalenka has only hit four second serves in this match and she's missed three of them.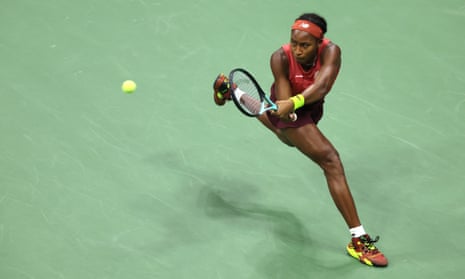 First set: Gauff 1-2 Sabalenka* (*denotes next server)
Gauff holds comfortably to get on the board, her only blip a fourth unforced error at 30-love. She pounds her first winner of the afternoon off a forehand for 40-love then finishes it off after Sabalenka misfires on a forehand.
First set: *Gauff 0-2 Sabalenka (*denotes next server)
Sabalenka backs up the convincingly. She races to 40-love with string of quick points behind a first serve in the mid-110s, mixes in her first double fault, then follows with a 105mph serve out wide to Gauff's forehand side that she can't return.
Sabalenka breaks in first game of first set!
First set: Gauff 0-1 Sabalenka* (*denotes next server)
Gauff serves to open the match and Sabalenka wastes no time targeting the American's forehand, her least favorite weapon. Gauff makes three unforced errors off the forehand side to go behind 30-40, creating a break-point chance for Sabalenka. But Gauff saves it by using her remarkable speed to chase down a ball into the corner and send it back over, where Sabalenka sends an overhand into the net. Sabalenka then stakes a second break point with a forehand winner and this time she converts it, painting the sideline with a muscular backhand then punctuating the early break with a fist pump and loud scream.
Gauff and Sabalenka have emerged from the tunnel to ear-splitting roars from a capacity crowd beneath the roof of the world's biggest tennis stadium. They meet at the net for the coin toss. Gauff calls heads. It's heads and she elects to serve.
They're going through their warm-ups right now and we'll be under way in the next three minutes.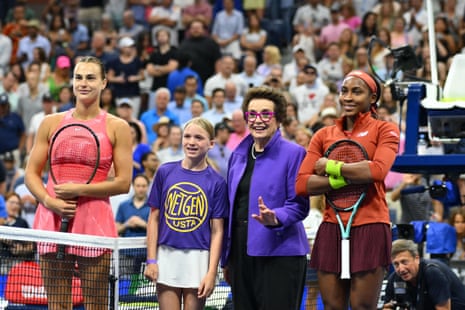 Gauff, the sixth seed, is through to the final at her home grand slam for the first time, bettering her previous best result when she reached the quarter-finals last year. She's the fifth American teenager to reach the final here after Serena Williams (1999 and 2001), Venus Williams (1997), Tracy Austin (1979 and 1981) and Pam Shriver (1978). It's her fourth final of the season and she's been a winner in each of the previous three, all on the hard surfaces of Cincinnati (the biggest trophy of her career), Washington FC and Auckland. She enters today's final on a streak of 11 straight wins, the longest of her career, and a victory woud lift her to a career-high No 3 in the world rankings.
The second-seeded Sabalenka, who captured her first career major title at this year's Australian Open, is also in the US Open final for the first time after semi-final setback to Iga Swiatek last year and Leylah Annie Fernandez the year before. This is her sixth final of the year following wins at Adelaide, Melbourne and Madrid with defeats at Indian Wells and Stuttgart. She will ascend to No 1 in the rankings on Monday regardless of today's result, ending Swiatek's 75-week run atop the table.
Hello and welcome to Arthur Ashe Stadium for today's blockbuster women's final between Coco Gauff and Aryna Sabalenka. It's the fifth meeting between these two stars of the women's tour on hard courts with their head-to-head record locked at two wins apiece, but none of those matches were bigger than today's: a best-of-three-sets showdown for the season's final grand slam title and $3m in prize money.
It's another muggy day at the Billie Jean King National Tennis Center with temperatures of 82F (28C) and 68% humidity. The roof is closed with thunder in the area, though we haven't seen a drop outside (yet).
The red carpet is out on the court for a whole slate of pre-match pomp. We should be under way in the next half hour or so.
Bryan will be here shortly. In the meantime here's Tumaini Carayol's look at Coco Gauff on the brink.
On Saturday, the teenager from Georgia will bring her new-found perspective to her biggest match on home soil. It will be brutally difficult. Not only is Aryna Sabalenka the toughest player in the world right now, the new No 1 when next week's rankings are published, but it feels as if she may have exorcised her biggest demons during this tournament.

The race for the No 1 ranking seemed to weigh heavily on the Belarusian as she failed to take multiple opportunities to catch Iga Swiatek earlier this year. She particularly struggled to compose herself in major semi-finals. She was 1-5 in her career and had lost so many comprehensive leads until Thursday night's incredible comeback win from 0-6, 3-5, 0-15 down against Madison Keys. For Gauff, who will be the underdog, the only thing there is to do is enjoy the challenge ahead.