The summer of Coco Gauff began with a dose of crushing disappointment. After arriving at Wimbledon full of hope, those positive vibes were instantly extinguished. Numerous sleepless nights followed as she tried to figure out how to take the next step forward in her career.
It is to Gauff's immense credit that she worked so hard to find a solution and is now enjoying the consequences of her toil. In a tension-filled encounter that was delayed due to a climate change protester gluing his bare feet to the Arthur Ashe Stadium concrete, Gauff's consistency won through as she defeated Karolína Muchová 6-4, 7-5 to advance to the US Open final.
This victory marks Gauff's second grand slam final after she finished runner-up to Iga Swiatek, the No 1, at the French Open last year. Since that fateful Wimbledon first-round loss to Sofia Kenin in July, Gauff has won 17 of her last 18 matches and she is on an 11-match winning streak. She is the youngest American player to reach the US Open final since Serena Williams in 1999.
Neither player's presence in the semi-final was a surprise. The foundations for both of their runs had been built throughout this summer. While Gauff tore across the North American hardcourt swing, winning her two biggest titles in Washington and Cincinnati, Muchová followed up her French Open final by meeting Gauff in that Cincinnati final.
A semi-final on Arthur Ashe Stadium at the US Open, though, is an entirely different prospect. Gauff met the moment with ease, immediately breaking serve and establishing a 3-0 lead with consistent, resourceful counterpunching that included her thwarting Muchová's attempts to approach the net with two sweet lobs.
Gauff's industriousness sharply contrasted with Muchová, who struggled under the elevated pressure. The Czech, who wore a full sleeve on her right arm, struggled to find rhythm off her groundstrokes as Gauff eased to a 5-1 lead. Although Muchová managed to pull Gauff back to 5-4, she then produced another poor service game under pressure, her 14th unforced error ending a poor set that saw just three winners from her racket.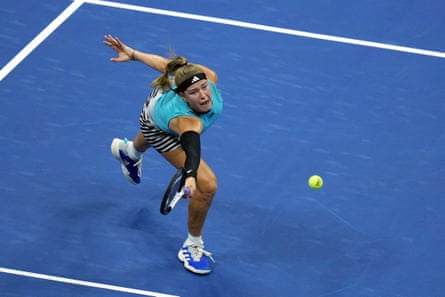 Early in the second set, with Gauff leading 1-0, three climate change protesters halted play by screaming from high up in the Arthur Ashe Stadium bleachers. After over five minutes delay, which included chants of "kick them out", two of the spectators were escorted out of the stadium.
However, a third activist glued his bare feet to the concrete floor. Both players had remained on the court for some time, with Gauff initially hitting some serves to keep warm, before both players left the court.
Forty minutes later, both players returned trying to settle down again by chasing the net. Muchová's level rose considerably as she struck the ball more freely and strung together a series of service games. Gauff's greater consistency finally elicited a break at 4-3, but after seeing match point snuffed out by Muchová sweeping to the net, she could not serve it out.
They soon found themselves tied at 5-5 in the second set and the level at its highest, Muchová flitting to the net at all costs while Gauff furiously countered her attack. But Gauff recovered, and pulled out a brilliant hold of serve at 5-5 to stem the tide.
In the end, it took everything for Gauff to hold on through a long, brutal final game as Muchová continually fended off match points with her brave and varied offensive play. On her sixth match point, after a marathon 40-stroke rally that brought the crowd to their feet, Gauff maintained her resolve and sealed the biggest win of her life.
Although Gauff is still just 19 years old, this has been some journey already. The initial breakthrough and the hype that immediately followed eventually gave way to discussions about her not living up to the timetable they had set for her career. With every year she has amassed a greater understanding for the value of moving at her own pace, in her own time. As a result, she is a grand slam finalist on home soil for the first time in her young, blossoming career.
"I grew up watching this tournament, it feels so special," she said afterwards. "But the job is not done."