Key events
Second set: *Shelton 3-6, 2-4 Djokovic (*denotes next server)
Djokovic snaffles a couple of quick points, then sends a cross-court shot wide. A galloping rally ends with Shelton sending a wild shot long, but he follows up by winning a brutal duel with grim resolve. It's not enough, unfortunately. Another unforced error decides the matter.
Second set: Shelton 3-6, 2-3 Djokovic* (*denotes next server)
Djokovic puts Shelton on the back foot, wrangling the first two points. Shelton pulls one back, but then cedes two opportunities for a break. He saves the first with a huge hit to the baseline, but fails to save the second. Djokovic has the edge in the second set.
Second set: *Shelton 3-6, 2-2 Djokovic (*denotes next server)
Having dragged Djokovic into a prolonged slugging match, Shelton again sends one long to relieve the pressure. The pair trade points before closing at the net, with Shelton coming out on top after a clever lob. Djokovic comes forward aggressively in the following rally and leaves his opponent rooted to the spot. He benefits from another overhit return to clinch the game.
Second set: Shelton 3-6, 2-1 Djokovic* (*denotes next server)
Shelton gets back to his best on serve, holding to love. The game ends with an extended rally which fizzles out when Djokovic drags an attempted winner well wide.
Second set: *Shelton 3-6, 1-1 Djokovic (*denotes next server)
Djokovic, too, starts with a double fault, then trades drop shots with Shelton in a thrilling rally which ends with a massive forehand smash from the three-time champion. That turns out to be the first of four points on the trot to secure the hold.
Second set: Shelton 3-6, 1-0 Djokovic* (*denotes next server)
The unforced errors are piling up for Shelton, especially on his forehand. Having started the game with a double fault, he slips to 30-40 before pulling it back to deuce. A stonking ace hands him advantage. He follows up with a 143mph second serve which Djokovic just about manages to return, but Shelton responds with a fizzing winner down the line.
Djokovic wins the first set 6-3!
Shelton makes another unforced error, making it 12 to Djokovic's one. His opponent then makes two in quick succession, however, before the youngster earns a break point. He fails to take it, lashing into the net at close range. At deuce, Djokovic shows his ruthless winning instincts and, while Shelton has played with dynamism and determination, the Serb has the upper hand when it comes to accuracy and focus.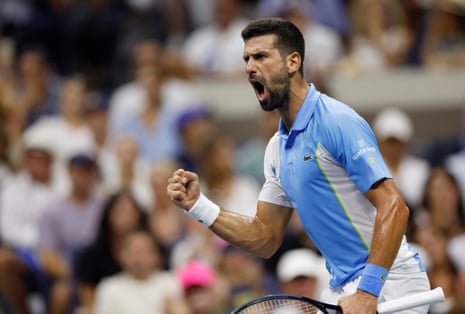 First set: Shelton 3-5 Djokovic* (*denotes next server)
The opening rally ends with Shelton attempting an audacious drop shot, but Djokovic lobs him nonchalantly. Djokovic hits a big cross-court winner, then Shelton sends another one long. The youngster defends all three set points as Djokovic nets then sends two potential clinchers narrowly wide. Djokovic earns another set point after Shelton overcooks a forehand, but his opponent denies him once more and, finally, sees out the game to loud applause.
First set: *Shelton 2-5 Djokovic (*denotes next server)
Shelton's length continues to trouble him, several shots falling beyond the baseline. Djokovic wraps things up with a thumping ace, leaving his opponent to serve to stay in the set.
First set: Shelton 2-4 Djokovic* (*denotes next server)
Shelton has his first wobble as Djokovic pushes to 30-0. The youngster responds with a big serve, but then nets to offer up two break points. Djokovic only needs one, with Shelton sending a cross-court shot wide. Advantage Djokovic.
First set: *Shelton 2-3 Djokovic (*denotes next server)
Djokovic holds to love, choosing his shots deftly and sending Shelton running to and fro in vain.
First set: Shelton 2-2 Djokovic* (*denotes next server)
Shelton delivers another self-assured service game, but drops a couple of points along the way. An attempted drop shot goes awry when Djokovic returns the ball with venom, then another shot goes long, but otherwise he's nicely poised.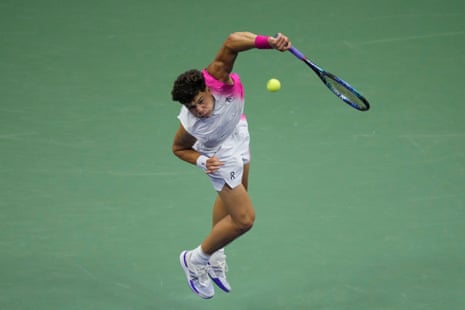 First set: *Shelton 1-2 Djokovic (*denotes next server)
Djokovic cranks up the pressure, tempting Shelton into a couple of wild shots which go long on the way to a straightforward hold.
First set: Shelton 1-1 Djokovic* (*denotes next server)
Shelton shows off his powerful serve, whistling one down the court at 136mph. He delivers a 138mph second serve to clinch the game, holding to love. He's a crowd pleaser, for sure. Djokovic looks quietly impressed.
First set: *Shelton 0-1 Djokovic (*denotes next server)
Having ceded the opening point, Shelton earns a huge cheer from the crowd after winning a rally with a smash at the net. He repeats the trick to make it 30-15, sending a jolt of electricity through the stands. Djokovic hits back, however, rattling off three points with impeccable hitting. Even so, it's a promising start for the youngster.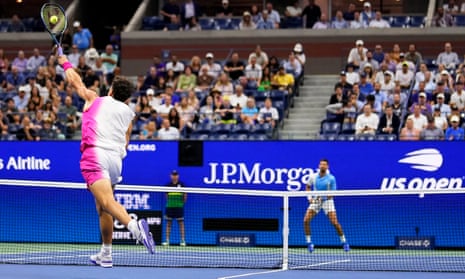 The roof has been closed at Arthur Ashe Stadium as there's a possibility of rain, though it's still hot and humid in New York. It's been a gruelling tournament for the players owing to the sweltering conditions, so let's see whether that takes the edge off.
Djokovic and Shelton are warming up, with a little under 10 minutes until the match gets under way. Will we see Shelton's cellphone celebration again today? The odds are stacked against him, but he's got youth, a powerful serve and ironclad confidence on his side.
Ram and Salisbury win third men's doubles title
In a historic achievement, Rajeev Ram and Joe Salisbury have claimed their third consecutive US Open men's doubles title with a 2-6, 6-3, 6-4 win against Matthew Ebden and Rohan Bopanna. It's their 18th straight victory at Flushing Meadows, with their last defeat coming in the semi-finals in 2020. They have become the first duo to triumph in three men's finals on the bounce since George Lott and John Doeg, whose run lasted from 1928 to 1930. All in all, an impressive feat.
Fancy some more pre-match reading? Go on, you've got time.
Includes the standout quote: "At first I used to think negative things, like: 'Why is there so much pressure? Why is this so hard? Blah, blah, blah.' I realise in a way it's pressure but it's not. I mean, there are people struggling to feed their families, people who don't know where their next meal is going to come from, people who have to pay their bills. That's real pressure, that's real hardship, that's real life."
In the absence of any head-to-head data to draw on, the US Open's social media team have shared a graphic comparing and contrasting Djokovic's career to date with Shelton's. As if the 20-year-old needed reminding, his opponent has 1,074 career wins to his 20 and 95 career titles to his none. The lad's got time on his side, at least. No pressure!
Likewise, if you haven't already, it's worth reading Bryan Armen Graham's report on Alcaraz's semi-final win against Alexander Zverev. "I'm feeling great physically, I'm feeling strong enough mentally," the defending champion said afterwards. "I think I'm ready to play a great battle against Medvedev in the semi-final."
For those who need a recap on the women's singles semi-finals, here's Tumaini Carayol on Coco Gauff's victory over Karolina Muchova and Aryna Sabalenka's comeback against Madison Keys.
We're officially at the business end of the US Open and, inevitably, Novak Djokovic is firm favourite to seal the deal and win the men's singles title for a fourth time. Steely-eyed and disconcertingly intense in his straight-sets quarter-final victory against Taylor Fritz – no change there then – the Serb will have to overcome Ben Shelton, another home favourite, to secure his place in the final.
Given that Djokovic has won his last nine sets on the bounce, Shelton, the young entertainer, has his work cut out for him, but he showed enough in his quarter-final triumph over Frances Tiafoe to suggest he's a special talent. The winner will face one of Carlos Alcaraz or Daniil Medvedev, who meet in the other semi-final later on.