A few months ago Ben Shelton appeared on a podcast called All on the Table, a brown bag session he held with Christopher Eubanks and Francis Tiafoe. For an hour, the three Americans chewed the fat about life on tour between big bites of steak. But the conversation doesn't really get interesting until Eubanks and Tiafoe, the seasoned professionals, ask Shelton what his ultimate goal is now that he's spent a year on the men's tour.
"I wanna be that dude in the draw that there's not one player who wants to see me," Shelton said.
"Who wants to see you right now?" Eubanks said. "Carlos Alcaraz does not want to see your name next to his."
"Bro," Shelton smirked, "I'm talkin' scared of me. Like, genuine, Roger [Federer] in his prime. … I wanna be one of those guys where you're scared of the type of animal they are."
Coming into the US Open he was the underdog of unknown quantity, a 20-year-old former NCAA singles champion at the University of Florida who upset fifth-ranked Casper Ruud at last year's Cincinnati Masters and buzzed through to the last eight of this year's Australian Open – his second ever grand slam. Now into the semi-finals of the US Open, Shelton faces extraordinarily long odds of toppling Novak Djokovic. But if there's reason to believe the mighty Serb could fall, it isn't just because Shelton has announced himself in this tournament as a future force to be reckoned with; it's because he's got that sense of entitlement all the greats had, too.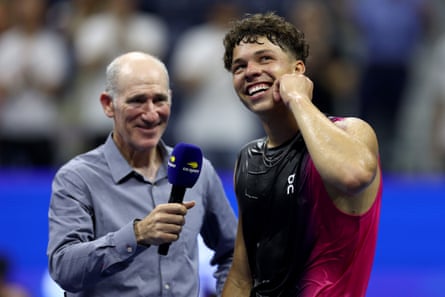 Tennis is in his bones. His mother (who is white) was a highly ranked junior, his sister is a Gator now and his uncle is Todd Witsken, an Australian Open quarterfinalist. His father, Bryan, is a former French Open mixed doubles runner-up who holds the distinction of being the only coach to win men's and women's NCAA titles. So it figures that Ben ran screaming from the tennis court and picked up football in middle school.
It only took his parents biding their time and a few too many collisions on the gridiron for Ben to see tennis' more genteel virtues. A sudden growth spurt around age 12 surely made for a more enjoyable learning experience. At 6ft4in and 195lbs now, Shelton follows in the mold of big bashing Americans like Eubanks, John Isner and Jack Sock; but Shelton not only packs a bigger wallop, he leads with his left hand. His serve alone tests the sound barrier. Twice in his fourth-round triumph over 14th-seeded compatriot Tommy Paul, Shelton clocked 149mph on the speed gun, and his 76 total aces are the most in the tournament by far.
So much of Shelton's game at this point is raw – the power, the athleticism, the ambition. In his four-set win over Tiafoe on Tuesday night, the first major quarter-final between two Black American men, Shelton smacked 14 aces against 11 double faults – two of which came late in the third-set tiebreaker. "I mean, he hit some really good shots," Tiafoe said afterward, "running forehands, some great shots on the run, came up with some good stuff. … I had a look there, at 7-6, he hit an unbelievable return from way back.
Where Shelton struggles most is with consistency. Until this US Open run, he had only won consecutive matches once since his quarter-final run in Melbourne. Having to play on clay courts during the tour's spring swing forced Shelton to clean up his game. "He learned a little bit more patience, a little bit more about how to play defense," Bryan Shelton said. "He learned, like, his offense has to be really good on that type of surface in order to execute against the best players in the world."
The more Shelton grows up on center court, the harder it is to ignore his immature strokes. In his on-court interview after the fourth-round win over Paul, Shelton gushed about feeling the love from the American crowd "playing against foreigners". He didn't have a passport until a year ago.
Before shaking Tiafoe's hand at net following their quarter-final, Shelton celebrated by pantomiming himself taking a phone call and hanging up the receiver – a gesture meant to communicate to his box that he's dialed in. But spectators slammed him for getting too cocky. ("Novak please take this kid out," tweeted one disgruntled observer.) Shelton hams it up even harder with mixed doubles partner Taylor Townsend. "I hope there's a lot of young people in the crowd that develop a passion for tennis when they watch me play," he said after the Paul win.
Overall, Shelton comes off like a kid foil in John Ritter comedy, leaving a trail of mayhem in his wake and flashing a goofy smile all the while. That he could justifiably be described as a brat, though, is the real growth.
Historically, that title has been reserved for the rich white kids who grew up at the country club – the ones who've long been able to get away with bucking convention. And yet it's Shelton – a Black son of the South managed by Federer's TEAM8 entertainment firm, the youngest American US Open finalist in 31 years – who has emerged as a super brat for the social media age, endorsed by the 1980s-era original himself. "This guy has got more upside than any other American I believe," John McEnroe, told Eurosport earlier this year. "[He's going to be the real deal." Really, the notable thing they don't appear to have in common at the moment is ego.
That much is obvious in the brown bag podcast. Throughout, Shelton is more like a gawky little brother to Eubanks and Tiafoe. They tease about his appetite, ("His nickname's The Mountain," Tiafoe tells their waitress, "so you gotta feed him"), push back against his attempt to describe himself as a "mini version" of Tiafoe and all agree that Coco Gauff – their sis – should be in this mix, too ("She would be like, 'Oh, I can tell you about all of y'all,'" Eubanks jokes). That three Black tennis players could even have a moment like this shouldn't soon be taken for granted. Surely, Arthur Ashe was smiling down.
There's an element of fate to Shelton and Djokovic meeting for the first time here in Queens. It wasn't so long ago that the Serb was the twentysomething player on the rise. One moment, he's staring up at Federer; the next, lasering eyes-closed, match-point staving winners that would leave the Swiss smarting for years after Djokovic claimed the first of his three US Open titles in 2011.
All of which is to say: Friday's semi-final is only a statement game for Shelton, one where he can finally leave no doubt about what he's been saying all along – that he's the real problem child in tennis. "I've got full belief in myself that I can win grand slams, that I can be No 1 in the world," Shelton said, finishing the thought. "And I'm not afraid to put in work. Whatever it takes to get there."