Ben Shelton powered past his fellow American, Tommy Paul, to reach the US Open quarter-finals where he will face another countryman in Frances Tiafoe.
Shelton, a big-serving 20-year-old from Atlanta, fired down a pair of 149mph serves in one game on his way to a 6-4, 6-3, 4-6, 6-4 victory at Flushing Meadows. The world No 47 also gained revenge on Paul for his win when the players met at the same stage of the Australian Open in January.
"I think it was straight adrenaline," Shelton said of his serving power. "In any other atmosphere I don't think I could get it done. I think my arm would fall off, but it's feeling good right now." The record fastest serve at the US Open is still held by Andy Roddick, who hit a 152mph thunderbolt on his way to the title in 2003.
That was the last time an American man won their home slam, but there is guaranteed to be US representation in the men's semi-finals after Frances Tiafoe rolled past the wild card Rinky Hijikata in straight sets, winning 6-4, 6-1, 6-4.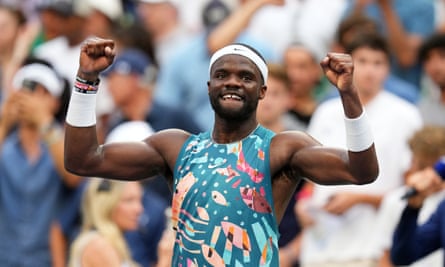 After wrapping victory in under two hours, firing 15 aces to zero from his Australian opponent, Tiafoe said he was excited by the resurgence in US men's tennis. "It's definitely a great thing we have, and I hope we just keep going for many years," the No 10 seed said. "We're young, we're stepping into [our] prime, so let's keep going."
Tiafoe reached the semi-finals last year, losing a five-set battle to the eventual winner, Carlos Alcaraz. He will be the favourite against Shelton but can take nothing for granted after the rising star proved too good for Paul, the No 14 seed in New York.
"I really learned how to be mentally tough," Shelton said after his win. "I realised how important it is to believe in myself, believe that I can go all the way, the full distance emotionally and physically and now I have that belief here."