Thursday 25 November 2021 was an infamous day in the history of Bayern Munich. The club legend and patriarch Uli Hoeness called it "the worst event that I have ever experienced at the club". A ball hadn't even been kicked.
As the clock ticked past midnight in Munich's Olympiahalle, the club president, Herbert Hainer, brought the annual general meeting to a close. All hell broke loose. Club members booed and whistled, screaming in anger through their masks. "We are Bayern. Not you," they chanted. "We are the fans that you don't want. Hainer out."
The immediate reason was that Hainer, a chief executive of Adidas before becoming Bayern president in 2019, had closed the meeting without several members having their chance to speak. It was a fitting conclusion to an evening – and indeed months of campaigns, protests and debates – during which Bayern's values and sense of democracy had been pilloried by their own fans.
At the heart of the dispute was Bayern's relationship with Qatar, starting with annual winter training camps in Doha from 2009 and then, from 2018, a shirt-sleeve sponsorship with Qatar Airways. Barely a home game went by without some form of fan protest, large or small, highlighting human rights abuses in the Gulf state and objecting to Qatar's use of the perennial German champions for what supporters perceived as sportswashing.
In January 2020, critical fans organised a panel discussion with migrant workers from Qatar and human-rights experts. Bayern were invited to send a representative. None came. A Bayern shirt was draped over an empty chair instead. For the Bayern member Michael Ott, a trainee lawyer from Stuttgart, that was the final straw. Before the 2021 AGM, he tabled a motion aimed at preventing the club from extending its deal with Qatar Airways. The motion was not admitted, controversially, but Ott spoke anyway.
"I slept badly the night before, my knees were shaking. I was a bit scared," he says of taking to the stage alongside Hainer, the then chief executive Oliver Kahn and other senior club figures. "But I quickly realised that the room was on my side." Ott's motion did not directly succeed in terminating the Qatar Airways deal that night, but the tumultuous AGM paved the way for Bayern to discontinue the partnership when the contract expired in June 2023. By then, Qatar had widened its net, with Sheikh Jassim bin Hamad al-Thani, son of a former foreign secretary and prime minister in Qatar, having submitted a bid to buy Manchester United.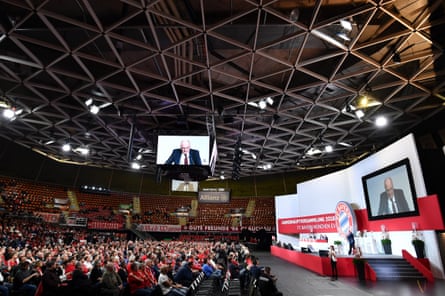 United and Bayern, Manchester and Munich: two clubs and cities inextricably linked by a shared history of triumph and failure on the pitch and tragedy and friendship off it. But they are also very different clubs in very different worlds.
In December 2022, United boasted that its club membership scheme had reached a "world record" 330,000, surpassing what a club statement called "Bayern Munich's equivalent programme". But it is not equivalent. Whereas Bayern's 300,000 members hold a 75% stake in the FC Bayern München AG – the Aktiengesellschaft or joint stock company that operates the football side of the club – Manchester United belong almost entirely to the Glazer family.
That has not stopped United supporters from protesting against the unpopular ownership in various shapes and forms and with fluctuating degrees of virility since 2005. But they ultimately have no say. "The Glazers can do whatever they want with their club and sell it to whichever dictator they want," says Alex Fischer from Club Nr. 12, the umbrella organisation that contains Bayern Munich's hardcore, active fan groups. "This is why German fans are so protective of the 50+1 rule."
Like Bayern, most German clubs have spun off their professional football operations into commercial entities, but the so-called 50+1 rule stipulates that the parent clubs retain 50% of the voting shares in those entities, plus one share. The rule gives German football fans a much more tangible feeling of collective ownership, a sense of agency and participation that can be exercised at AGMs. But it is not always straightforward, as Ott found out during the Qatar debate.
"When the professional football operations were outsourced [in 2001], Bayern intentionally chose to create a joint stock company [AG] in order to limit the influence [of the parent club] as much as possible," he says. "And they are constantly trying to put up more barriers."
Bayern's members elect the club president, who in turn chairs the supervisory board of the joint stock company, but they cannot directly influence the board nor operational decisions such as sponsorship deals. They can submit motions to amend the club constitution from a broader socio-political perspective, such as with the Qatar deal, but the board has attempted to take control over the admission of those motions.
"They're scared of too much participation," says Ott. "For the average fan, it's almost impossible to make sense of it all. And they count on the majority of members finding the whole thing too boring to bother."
That is why, for Fischer, it is sometimes better to take direct action. "Where we can exert much more direct influence is in private chats and with protests at games," he says, using the example of Monday night Bundesliga fixtures that were discontinued in 2021 after nationwide protests. "The Eintracht Frankfurt fans caused such chaos on television that the league eventually caved in. That's how you get them: the marketing."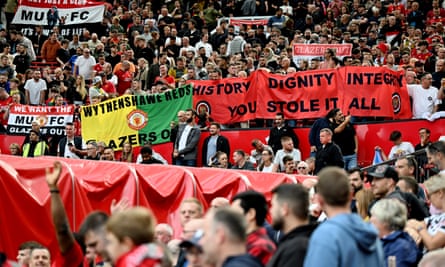 With the 50+1 rule affording a degree of legal backing, German fans can conduct such campaigns from a position of relative strength compared with their English counterparts and in Munich, the next battle could be just around the corner. Bayern's deal with Qatar Airways has been terminated, but when United visit the Allianz Arena on Wednesday a new message will flash around the advertising boards: "Visit Rwanda."