The Belgian club Union Saint-Gilloise were blocked from renewing their European Club Association (ECA) membership after signing up to a new body that represents small and medium-sized teams, the Guardian has been told.
Saint-Gilloise were informed this year that their role in the nascent Union of European Clubs (UEC) would violate statutes drawn up by the ECA, a far larger organisation that Uefa legitimises as the sole entity representing clubs' interests. In effect it meant they were thrown out. It is an example of deep faultlines developing in the continental game as teams beyond the elite call for a greater say in the sport's future direction.
In September 2022 Saint-Gilloise, a Brussels-based success story who reached last season's Europa League quarter-finals after progressing from the lower divisions, became members of the "ECA network". It is the lowest tier of membership, essentially giving them a voice in the room and access to the ECA's wider resources but no voting rights. After qualifying for this season's competition – they are in Liverpool's group – and attaining Belgium's third-highest Uefa coefficient they were invited to become "ordinary members" in the ECA's 2023-2027 cycle, affording them a vote. But upon disclosing their membership of the UEC, which launched in April, they were frozen out.
"They rang me, politely, to inform me it was not permitted and that they'd send an email rejecting us," says Alex Muzio, the London-based majority owner of Saint-Gilloise. The club refused to consider standing down from the UEC, of which Muzio is a board member.
Article 8 (a) of the ECA's statutes stipulates that member clubs are "not to be a party to, or a member of, any other association, organisation or grouping involving clubs from more than one Uefa member association, with the exception of football club associations recognised by ECA together with Fifa and/or the respective confederation". It is unclear whether, in practice, this is enforceable under European Union law.
The impasse set the scene for an ECA general assembly, held in Berlin on Wednesday and Thursday, that carries particular significance at a time when question marks surround both its ability and motivation to represent clubs below Europe's giants fairly. The UEC was created to give those sides a voice, with the ultimate goal of its own seat at Uefa's table. It is known to have signed up 121 clubs so far and expects to list its full membership later this year.
"This is not about criticising the ECA or what it has done," Muzio says. "It's about positively changing European football. We believe there is a large swathe of professional clubs in the European leagues that are not represented, and believe we can represent them in a positive way to bring about the change that those clubs would want."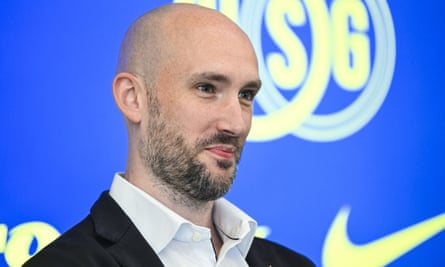 The solidarity payments handed by Uefa to clubs that do not play in European competitions have loomed especially large in the UEC's sights. Previously about 5% of the £3.2bn revenues from the Champions League, Europa League and Conference League was spread around those clubs but it amounts to the tiniest drop in the ocean when compared with the riches on offer to those competing on the highest stage. The impact on competitive balance in domestic leagues, and even pan-European tournaments, is becoming starker. There is a sense in some quarters that only a share of about 20% for those who do not qualify for Europe would afford them any chance of keeping pace.
"My personal view is that the solidarity should be distributed in a way contingent on the positive running of a club," Muzio says. "That could entail spending on infrastructure, the wages-to-turnover ratio, their commitment to women's football and the health of their academy. The money redistributed to clubs in Europe should not simply depend on their finishing position.
"Clubs need more ability to compete without necessarily requiring a huge cash injection. You run the club well, invest sensibly, get good solidarity payments from the European competitions, grow slowly and organically, and develop a path to success."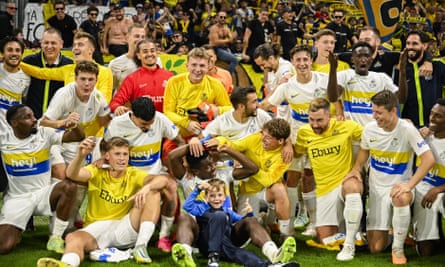 Outside the ECA there is a perception that, despite having 245 members in the previous cycle, its power is concentrated in the hands of a stratospherically wealthy few. It has just 16 permanent founder members, including Manchester United, Chelsea and Rangers, and well under half its clubs have full voting rights. The UEC proposes a one-club, one-vote model to its potential members that does not take into account a club's size.
In Berlin the ECA will showcase a set of reforms that it hopes will largely neuter the UEC. Six months ago it undertook to increase its membership significantly, offering enhanced benefits to new recruits and, it claims, a stronger voice to smaller clubs. Those new members are expected to be announced before the end of the general assembly. Discussions around redistribution led to a quick announcement from Uefa on Wednesday afternoon that solidarity payments for non-qualifiers will increase to 7%. It remains well shy of most aspirational targets but the UEC welcomed the rise in a statement, saying it "is the result of strong support for our goals and the recognition of our hard work in the last months".
One perspective might be that, in holding its line and ostracising Saint-Gilloise, the ECA inadvertently gives the UEC added credibility as a competitor. But the ECA is scrambling to assemble everyone under one tent: its stance is understood to be that the existence of multiple competing bodies would weaken the ability of clubs to be heard en masse. Their task is to persuade the hundreds beneath the elite that they are fit to represent their interests; the general assembly may define the tone of debate around the future of European football for some time.