05:49
Tsitsipas 6-7 (5), 6-4, 4-4 *Medvedev (* denotes next server)
Another booming wide serve seals the hold for the Greek player.
05:45
*Tsitsipas 6-7 (5), 6-4, 3-4 Medvedev (* denotes next server)
Guess what? Medvedev holds to love. He rounds off the game with a dismissive forehand volley. Tsitsipas just stands there. The players will take a drink, and a pat-down with a towel, and we remain with serve in the third set.
05:43
Tsitsipas 6-7 (5), 6-4, 3-3 *Medvedev (* denotes next server)
Tsitsipas fluffs a close-range volley for 0-15. He bring it back to 30-15 and then slaps down a good wide serve which sets up the point and 40-15. However, Medvedev isn't willing to give this game up without a fight, and he forces it back to deuce with some thunderous hitting from the back of the court. At deuce, Tsitsipas again has no hesitation in attacking the net, and pulls off a beautifully controlled forehand volley for the advantage.
Medvedev, though, unloads an obscenely powerful forehand on the next point, cranking his whole body into it and giving it everything … and Tsitsipas can't get it back. Tsitsipas stays cool though and a wide serve, followed by one down the middle, and eventually seals the hold. Tsitsipas nods to himself emphatically. That was a test and he came through.
Updated

05:36
*Tsitsipas 6-7 (5), 6-4, 2-3 Medvedev (* denotes next server)
A love hold for "Mr Angry", Daniil Medvedev, who is striding around the court like a bear with a sore head. A very tall bear, who is very good at playing tennis, admittedly.
It remains with serve at 2-3 in the third.
Updated

05:34
Tsitsipas 6-7 (5), 6-4, 2-2 *Medvedev (* denotes next server)
Tsitsipas cracks a sublime forehand down the line (which Tim Henman, on commentary, calls 'inside-in', which I've not heard before) … and then hammers down his fourth ace of the match, at 212km/h, to make it 2-2 and all square in the third set.
05:29
*Tsitsipas 6-7 (5), 6-4, 1-2 Medvedev (* denotes next server)
Tsitsipas musters a solitary point on his opponent's serve, but Medvedev holds nice and easily.
05:28
Tsitsipas 6-7 (5), 6-4, 1-1 *Medvedev (* denotes next server)
A booming wide serve by Tsitsipas seals his latest hold. He clenches his fist in celebration. A set all, a game all … who is going to crack in the third set? The quality of tennis may have dropped slightly but the drama has intensified.
05:24
*Tsitsipas 6-7 (5), 6-4, 0-1 Medvedev (* denotes next server)
Medvedev seems to collapse slightly in the middle of the game, and gives up a couple of break points, but he pulls himself together and holds. The crowd is against him, and he seems to think the umpire is against him. But he does the necessary and edges in front at the start of the third.
05:19
Medvedev really lost it with the umpire Jaume Campistol on that changeover, and at the end of the set, he has another go on the issue of Tsitsipas's father coaching him from the stands.
On the changeover, Medvedev's tirade included the following: "His father can talk every point! Can you answer my question please! Oh my God, you are so bad man! How can you be so bad in the semi-final of a grand slam? Look at me! I'm talking to you!"
At the end of the set, Medvedev said that if the umpire doesn't take action: "You are … how can I call it? A small cat."
Medvedev isn't the most popular player on tour, it's fair to say. And it's not hard to see why.
Updated

05:15
Tsitsipas wins the second set against Medvedev! 6-7 (5), 6-4
It's all square.
Tsitsipas is whipping the crowd up now. The crowd are responding. But Medvedev battles back from 40-15 and saves two set points. Tsitsipas then gets a warning from the umpire, I think for taking too long over his serve. At deuce, a phenomenal rally and some phenomenal defence from Medvedev ends with a clean winner from Tsitsipas! And then he seals the game, and the set!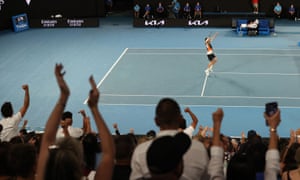 Updated

05:10
Medvedev just had a go at the umpire during the changeover, saying that Tsitsipas's father is coaching him from his seat in the stands, which is a familiar refrain from the Greek player's opponents …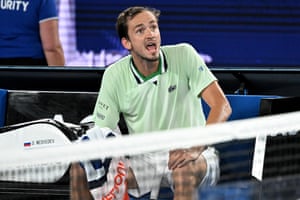 Updated

05:09
*Tsitsipas 6-7 (5), 5-4 Medvedev (* denotes next server)
Medvedev double-faults for 30-30, the first of the match from either player … he then butchers a forehand to hand his opponent a break point … and then he double-faults again to hand Tsitsipas the break! That is incredible! What's going on with Medvedev?
05:05
Tsitsipas 6-7 (5), 4-4 *Medvedev (* denotes next server)
Tsitsipas speeds through his latest service game with some power-packed hitting. A hold to love.
Updated

05:03
*Tsitsipas 6-7 (5), 3-4 Medvedev (* denotes next server)
It's pouring with rain in the darkness of Melbourne, but the roof is closed and the fans are happy. Especially with what's generally been a high-class match, even if the previous game was characterised by a succesion of unforced errors. Medvedev holds, again, and leads for the first time in the second set.
Updated

05:00
Tsitsipas 6-7 (5), 3-3 *Medvedev (* denotes next server)
At 15-15 Tsitsipas tries another drop shot. Medvedev gets there, and his attempted pass kisses the net, which makes it next to impossible for Tsitsipas to get it back … the Greek player then coughs up an unforced error and suddenly it's 15-40. Medvedev then errs, hitting long to gift his opponent a glimmer of hope at 30-40. Medvedev hits long again for deuce, after Tsitsipas shows incredible mental fortitude to carry on going for his shots despite being on the brink of losing this service game. Another unforced error from Tsitsipas and eventually, Medvedev grabs a break point, and he's back on terms with the break back in this second set. He's one won out of eight break points.
04:53
*Tsitsipas 6-7 (5), 3-2 Medvedev (* denotes next server)
The Medvedev serve is back to its best and he conjures up another hold to love. But Tsitsipas, of course, only needs to hold serve to claim this set, being a break up.
04:51
Tsitsipas 6-7 (5), 3-1 *Medvedev (* denotes next server)
Tsitsipas races to another hold of serve, including a second ace of the match. We've been going for just over an hour … if Medvedev felt he had delivered a decisive blow in that first-set tiebreak, nothing could be further from the truth.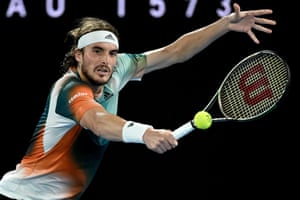 Updated

04:47
*Tsitsipas 6-7 (5), 2-1 Medvedev (* denotes next server)
Medvedev holds to love.
04:46
Tsitsipas 6-7 (5), 2-0 *Medvedev (* denotes next server)
Top-class stuff from the 23-year-old Greek. He seals the hold, to back up the break of serve, with his first ace of the match. He is on top.
Updated

04:43
*Tsitsipas 6-7 (5), 1-0 Medvedev (* denotes next server)
Tsitsipas takes his opponent's serve to 30-30 … Medvedev then shanks a horrible forehand long and wide and it's break point! Tsitsipas duly seizes his moment, working his opponent around the court relentlessly on the next rally, unafraid to take on his shots. Medvedev's defence is exemplary but Tsitsipas eventually wears him down, maybe wears him out, and breaks at the opening of the second set with an angled forehand winner that even the lightning-quick Medvedev can't run down.
Updated

04:38
Medvedev wins the first set against Tsitsipas! 6-7 (5)
Medvedev is under sustained pressure but he delivers when it really counts. Medvedev finds a wonderful down-the-line winner to edge back to parity at 4-4. Then he hits long, uncharacteristically, an unforced error which hands the lead back to his opponent. Unbowed and unflustered, Medvedev wins his next two service points, including a world-class double-handed backhand down the line for 6-5 and set point. Tsitsipas hits a fraction wide and it's the first set for the US Open champion!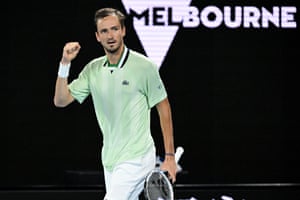 Updated

04:33
Tsitsipas 6-6 Medvedev (4-3 tiebreak)
At 4-1 Medvedev spanks two big serves, when he needs them most, and it's back to 4-3 in the tiebreak. Still advantage Tsitsipas.
Updated

04:32
Tsitsipas 6-6 Medvedev (4-1 tiebreak)
Tsitsipas, on the second point of the tiebreak, mixes things up beautifully to seize the mini-break. He opens up a 4-1 lead after Medvedev hits wide, an unforced error. Tsitsipas is growing into this match, really growing into it, and Medvedev is in grave danger of losing this first set!
Updated

04:29
First set: Tsitsipas 6-6 Medvedev
Easy as that, Medvedev holds comfortably (although Tsitsipas did win a point on his opponent's serve, finally) … and we're into a first-set tiebreak.
Updated

04:27
*Tsitsipas 6-5 Medvedev (* denotes next server)
Tsitsipas crushes a few big serves of his own, including a huge one down the middle for 40-0. Then he pulls off a sumptuous drop shot to seal the game. That's brilliant stuff. Neither player has hit an ace yet, and we are with serve in the first set, but Medvedev passed up four break points in the ninth game. Or rather, Tsitsipas saved them.
Updated

04:23
*Tsitsipas 5-5 Medvedev (* denotes next server)
The Russian holds to love again. Tsitsipas hasn't mustered a point on Medvedev's massive serve just yet. But he's certainly hanging in there.
Updated

04:20
Tsitsipas 5-4 *Medvedev (* denotes next server)
The longest, and most fascinating, game of the match arrives. A chance for the Russian comes at 0-30 after Tsitsipas comes in behind his second serve. He digs out a volley – just – but Medvedev sprints to the net and tucks away the winner. On the next point, it's an epic 34-shot rally, which Medvedev wrestles control of and eventually claims with a fine angled winner. Medvedev raises his arms to greet the roar of the crowd.
At 0-40 Medvedev goes for it – he crushes a powerful attempted forehand winner which lands a fraction out. Tsitsipas puts away a volley to save another break point, making it 30-40. He then belts a wonderful, powerful backhand which Medvedev can't get back for deuce – seriously impressive from the No 4 seed – but then hits wide, disappointingly, on the next point for break point No 4.
He saves that with a big serve down the middle … and then a wonderful piece of anticipation from both players, Medvedev running wide to his left and attempting a backhand pass which Tsitsipas volleys confidently for another advantage …
There is a bit more back-and-forth from advantage to deuce … and Tsitsipas holds! Well done! Four break points for Medvedev … but none taken.
Updated

04:10
*Tsitsipas 4-4 Medvedev (* denotes next server)
Another crushing hold to love from Medvedev. He is getting those long levers working in the rallies, too, and Tsitsipas looks helpless to win a point on his opponent's serve, let alone break him.
04:09
Tsitsipas 4-3 *Medvedev (* denotes next server)
Tsitsipas gets the better of Medvedev in another long exchange, at 15-15, and allows himself a little fist-pump. Tsitsipas is hitting the ball sweetly and the Russian eventually dumps a shot into the net from the baseline in that long rally. No worries for Tsitsipas and he holds easily.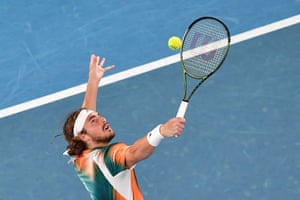 Updated

04:05
*Tsitsipas 3-3 Medvedev (* denotes next server)
Another game ticked off. Another comfy hold. To these eyes, it's Tsitsipas who is having to work harder to keep parity with his opponent. Medvedev looks ready to pounce on any inaccuracy. But Tsitsipas is certainly not letting him dictate.
Updated

04:03
Tsitsipas 3-2 *Medvedev (* denotes next server)
Again Tsitsipas opts for a drop, and he races to game point. At 40-0 Medvedev gets a slice of luck with a forehand that flicks off the net and drops in. He holds a hand up in apology. No worries for Tsitsipas, though, who tucks away a forehand with a minimum of fuss to hold again. This is moving fast. It's with serve. Who is going to blink first?
Updated

04:00
*Tsitsipas 2-2 Medvedev (* denotes next server)
Another hold to love. At 0-40, Tsitsipas tries another cute drop shot, but gets it wrong and flops it into the net. It's clearly a tactic though. Aside from that, Medvedev winds up a couple of big ground strokes and holds with authority. We're racing through this first set.
03:57
Tsitsipas 2-1 *Medvedev (* denotes next server)
A delightful drop shot from Tsitsipas for 15-0 – the Russian races to the net and gets it back but Tsitsipas easily lobs him, to the delight of the crowd. Tsitsipas then opens up the court with an angled forehand and puts the volley away crisply for 0-30. It's another comfortable hold – and there are signs that Tsitsipas is going to try and mix things up a bit, and not let Medvedev get too comfortable with his power game from the baseline.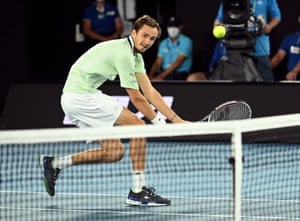 Updated

03:54
*Tsitsipas 1-1 Medvedev (* denotes next server)
A protracted baseline rally to begin the game: Medvedev climbing into that impressive double-handed backhand with enthusiasm. Tsitsipas gains some ground in a long exchange but eventually nets from the baseline and Medvedev tonks down a couple of big serves after that to hold serve, like his opponent, comfortably at the outset.
03:51
Tsitsipas 1-0 *Medvedev (* denotes next server)
A stunning drop volley on the first point of the match from Tsitsipas as he attacks the net after sending a solid forehand down the line. That sets the tone for the game, and Tsitsipas holds with a minimum of fuss. A good start.
Updated

03:44
A few minutes late, the players are out on Rod Laver Arena. The umpire asks Tsitsipas if he's OK with the red towels. The Greek player says he prefers the blue. Red towels for Medvedev it is, then.
The players are knocking up now. The roof is closed and the auditorium is packed with plenty of fans – up to the 65% capacity that is permitted, anyway.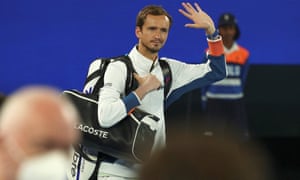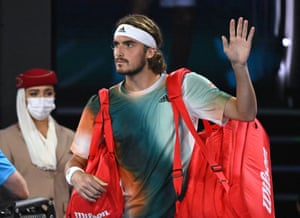 Updated

03:39
Medvedev dispatched Tsitsipas in straight sets at the same stage of this tournament last year. Can he make short work of him again? Tsitsipas looks buoyant since having surgery on his elbow late last year. He has spoken in the last few days about how it feels to play pain-free after a long time struggling with that injury. So perhaps he's a different proposition this year.
03:31
Over on Eurosport, they're playing a few snippets of Medvedev's progress to this stage.
Following his last-eight win against Felix Auger Aliassime, Medvedev explained this devastatingly simple game plan: "I'm going to win one set … maybe two … maybe three … and it worked out."
03:29

Emma Kemp
Is this the future of tennis? "It has to be," said Nick Kyrgios. When Kyrgios says something there is usually no turning back. Actually, sometimes there is, because we know he is prone to the odd backflip, or flip-out, or flippancy in general.
03:17

Emma Kemp
He said he would live if he did not win, and live Dylan Alcott shall. Without an eighth consecutive Australian Open title but with his nation behind him.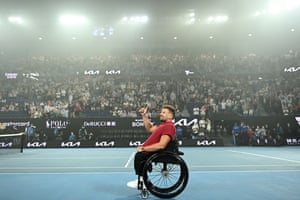 Updated

03:12
Ash Barty will face Danielle Collins in Saturday's women's singles final. Tumaini Carayol reports:
03:02
Rafael Nadal is into the men's singles final. Can he make it grand slam number 21 against Medvedev or Tsitsipas? Here's our semi-final report:
Updated

03:00
Preamble
A men's singles semi-final at the Australian Open. They don't come any bigger than this, do they? OK, yes they do, namely in the final, but this is still a very, very big day.
The 25-year-old Russian, Daniil Medvedev, is the man who defeated Novak Djokovic in straight sets to claim last year's US Open, his first grand slam title. The world No 1 Djokovic, as you may have heard, was sent home in controversial circumstances last week, which helped to create a remarkably open men's singles draw in the first grand slam tournament of the year.
At 23, the Athens-born Stefanos Tsitsipas is – relatively speaking – the young pretender, without a grand slam title to date, but it is surely only a matter of time. Could this be his moment? Rafael Nadal defeated Matteo Berrettini in four sets to reach his sixth Australian Open final earlier today. Over the next few hours, we will discover who is going to face him in that final. Let's get it on.
The match is scheduled to start at 8.30am UK / 7.30pm Melbourne time.