Key events
Group C, then. Here's Will Unwin's take on the first half of Tunisia v France …
Tunisia have been the better team by a mile, while France have played some ludicrously low-quality and disjointed stuff. If there is any justice, Tunisia will win this match.
… and a reminder that, should Tunisia beat the French B team, Australia will need to win to pip them. A draw no good in that scenario. Denmark would also need to win – they have to, regardless – and register a better goal difference than the Tunisians. This is how the table looks as things stand.
HALF TIME: Australia 0-0 Denmark
It's goalless at half-time in the other match, too, so as things stand, Australia are going through to the last 16 and Denmark are going home.
45 min +1: The first of two added minutes. Skov Olsen handles the ball, then slides through the back of Duke. He's extremely fortunate not to go into the book for that saucy one-two.
45 min: Degenek with another long throw from the right. Leckie battles for the ball on the right-hand corner of the six-yard box and loops high into the middle. Schmeichel wants to claim but is forced to punch clear.
44 min: Degenek flings a long throw into the mixer. Denmark deal with it. Australia have grown into this game, though, and after a slow start are now showing in attack.
42 min: Lindstrom earns a couple of yards down the left and looks low for Braithwaite in the middle. His cross is too close to Ryan, who claims ahead of the Danish striker. A more measured pass and Braithwaite was poking home.
41 min: Duke strides confidently down the inside-left channel and tries to beat Schmeichel from long range. Nope. An easy gather.
39 min: Maehle attempts to clear but only succeeds in blootering the ball straight into McGree's startled grid. The ball rebounds down the right wing, allowing McGree to chase after it and tear clear. Denmark and Maehle are very fortunate that McGree's cross can't beat first man Christensen. That could have been a goal for the slapstick scrapbook.
38 min: Another free kick for Denmark in Australian territory, another chance for Eriksen to wave his wand. He curls long into the Aussie box. Irvine deals with it easily and clears. For all Denmark's dominance, they haven't forced Ryan into too much work since those early shots.
36 min: Leckie and Christensen tangle and fall over. Leckie gets up first and prepares to run off with the ball down the inside-right channel. He'd be clear, but the referee blows up, judging him the guilty party in the aforementioned knot of limbs. It's a harsh call. Lucky Christensen, lucky Denmark.
34 min: Leckie looks long for Duke, who once again displays a poor touch. Maehle comes across to cover and clear.
32 min: McGree nearly releases Duke into the Danish box down the inside-right channel. Christensen is out of position but Duke can't control. Australia go again, Irvine flicking a long-range header straight at Schmeichel. Not sure that was an effort on goal, but more a ball intended for his strikers.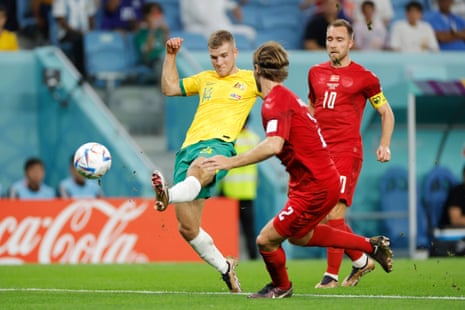 31 min: The pace drops a little, which will suit Australia, who haven't been given the runaround exactly, but have been forced to do quite a bit of chasing.
29 min: Lindstrom dribbles down the left at pace and looks for Jensen in the middle. The ball breaks back to Eriksen, who pulls his shot from the edge of the box well wide left.
27 min: Denmark have enjoyed 62 percent possession so far. Australia are on 27 percent, with the increasingly sinister Inigo Nigel Contest on 11.
25 min: Denmark come again, Jensen slipping Skov Olsen into a little bit of space down the inside-right channel. Skov Olsen doesn't have much time and scuffs a shot into the arms of Ryan. The Danes certainly look the more likely right now.
24 min: Maehle and Lindstrom combine nicely down the left. It looks like Maehle is about to work some space to shoot in the box when Mooy comes across to blooter clear.
22 min: Ryan is bollocked for wasting time over a goal kick, the referee performing the internationally recognised watch-tapping mime for impatience. Australia then demonstrate they're not just about running the clock down, Duke glancing the ball on for McGree, who smacks a looping shot straight at Schmeichel.
21 min: St Eriksen creams a delightful diagonal ball towards Kristensen on the right wing. Kristensen earns a corner that comes to nothing, but you'll not see many better passes than that this month.
19 min: Maehle dances his way down the left wing and whips a low cross-cum-shot into the six-yard box. Ryan kicks it away in the ice-hockey style with Braithwaite lurking. Denmark are giving the Australian door a long hard rap with the old knuckles.
18 min: A free kick for Denmark out on the left. The beatific Eriksen floats it to the far post, where Christensen heads wide and is caught offside in any case.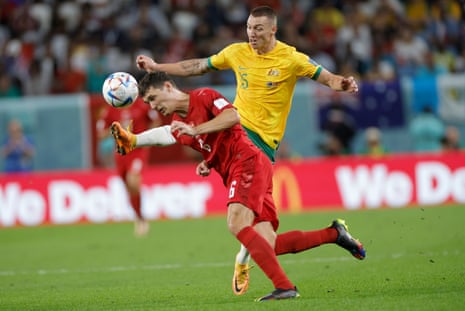 16 min: Denmark are much the livelier side. They're hogging possession and pressing Australia back. "I see from your photo that Christian Eriksen is now wearing a halo while playing, such is his popularity," notes Justin Kavanagh of our 40-sec snap. Ha! Indeed he is. "Bad form for a Red Devil, though."
14 min: Braithwaite has a chance to shoot from a central position, on the edge of the D, but opts to lay off right to Skov Olsen instead. Skov Olsen isn't in such a good position, and whistles a shot high and wide. "Was going to watch Australia v Denmark and follow Tunisia on the MBM, but not sure I can bear a full match of BBC commentator Jonathan Pearce, so might have to switch and stay with you." Richard Hirst there, with a compliment of sorts.
12 min: Eriksen's near-post delivery is headed clear by Leckie. Denmark need a win and it looks like they don't intend to depart wondering.
11 min: Skov Olsen reaches the byline down the right and pulls back for Lindstrom. For a nanosecond, it looks like a fine opportunity to slam home from six yards, but Rowles throws himself in front of the Dane and blocks brilliantly. Denmark aren't taking no for an answer, though, and another phase sees Jensen rush after a cute flick down the inside-right channel. He sends a fine rising shot towards the top right. Ryan parries around the post marvellously. Corner.
9 min: Denmark hit another long ball but Lindstrom is penalised for a push on Degenek. Quite a few long passes already. They look like a tactic all right.
7 min: Lindstrom slides Maehle into space down the left. Maehle whips a fierce low cross towards Braithwaite at the near post, but Ryan is off his line quickly to claim confidently. That's good football all round.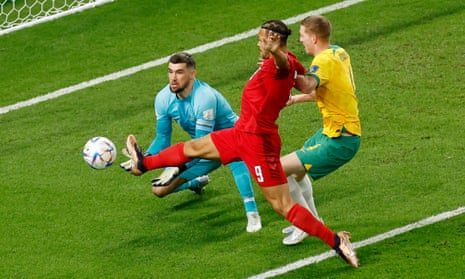 5 min: A low cross into the Australian box from the right by Kristensen. Jensen gets on the end of it, on the right-hand corner of the six-yard box, but can only flick the ball out for a goal kick.
4 min: Behich picks up the first yellow of the match. An early one. He deserved it, though, for a cynical tug on the in-flight Skov Olsen.
3 min: The first shot in anger is taken by McGree, who pearls one from distance. Blocked.
2 min: In the stadium today: Gianni Infantino, in suit and new white trainers. On his side table: a carafe of Brazil nuts? Might be seeing things. The trainers are real.
40 sec: Eriksen is nearly sent free down the middle but Degenek gets across in time to blast clear. What a start that could have been.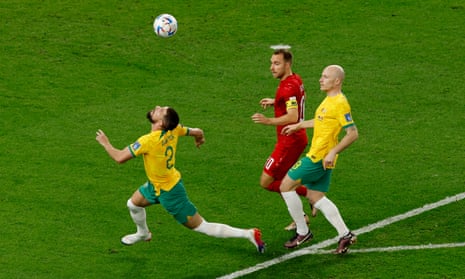 Denmark get the ball rolling. A lively atmosphere even if the Al Janoub Stadium doesn't look 100 percent full.
The teams are out! Australia in gold, Denmark in their low-key Hummel-not-Hummel red. We'll be off once the anthems are sung.
Pre-match reading. The Australian perspective …
… and something to give the Danes succour.
The other game in Group D is Tunisia v France. Will Unwin is all over it. That will only have any bearing on this game should Tunisia spring a surprise … and the odds on that have shortened considerably as Didier Deschamps has made nine changes, with Kylian Mbappé given the chance to pop up the pieds on the nearest chaise longue. You'd still back France, but Qatar 22 has already delivered bigger shocks, so no assumptions. This could yet be an afternoon for two screens.
Australia make one change. Milos Degenec replaces Fran Karacic.
Denmark make three changes. Martin Braithwaite, Andreas Skov Olsen and Mattias Jensen come in for Andreas Cornelius, Mikkel Damsgaard and Victor Nelsson. Braithwaite becomes the third striker to lead the line for Denmark in three games. The Danes scored 30 times in qualifying, but their only goal so far is from defender Andreas Christensen who scored in their 2-1 defeat by France.
Australia: Ryan, Degenek, Souttar, Rowles, Behich, Leckie, Irvine, Mooy, Goodwin, Duke, McGree.
Subs: Atkinson, Karacic, Tilio, Wright, Maclaren, Hrustic, Mabil, Redmayne, Devlin, Vukovic, Deng, Kuol, King, Cummings, Baccus.
Denmark: Schmeichel, Kristensen, Andersen, Andreas Christensen, Maehle, Hojbjerg, Jensen, Skov Olsen, Eriksen, Lindstrom, Braithwaite.
Subs: Nelsson, Kjaer, Dolberg, Damsgaard, Norgaard, Oliver Christensen, Stryger Larsen, Wass, Wind, Poulsen, Cornelius, Ronnow, Skov, Bah.
Referee: Mustapha Ghorbal (Algeria).
A win for Australia and they're through. A draw should be enough, unless Tunisia shock France. A win for Denmark will put them through, unless Tunisia do for the champions, in which case their goal difference better be in good nick. A draw no good for the Danes. That, dear reader, is all ye know and all ye need to know. Kick off is at 3pm GMT, 6pm at the Al Janoub Stadium, Al Wakrah. انه يحدث! It's on!