Key events
The best goal of the game so far has to be by Villa debutant Rachel Daly. The celebration was great too, have a look:
Half-time: Aston Villa 2-1 Manchester City
Well City will be happy to pull a goal back there after being completely dominated by Villa. Lehmann and Daly saw the game 2-0 up but Coombs got City back into the match. An interesting second 45 to come.
GOAL! Aston Villa 2-1 Manchester City (Coombs, 45)
Hampton got a hand to that but she can't control the strike and it goes in!
44 min: City are yet to get a real foothold in this match, Villa have been great in defence and attack so far. Lehmann fouls though and City have a free kick. They are using it to play out from the back.
42 min: Villa come forward again, this is an impressive performance by the hosts. City win it back though and they look to play out from their own half. Villa wrestle it back int he midfield but Daly's pass has too much on it.
40 min: It is still all Villa and they are hunting for their third of the afternoon. Lehmann puts in a slick pass to Mayling who wins a corner. The ball is drilled in and Patten gets a head to it but it goes wide.
38 min: City win a free kick after Pacheco fouls Hemp. Kelly takes the kick with a good delivery but Villa head away. The ball comes back in but Hampton again collects, the goalkeeper sends Villa back on their way. Daly is dispossessed outside the area and City look to find their way onto the scoreboard.
36 min: City are playing loose in the midfield and it isn't paying off. They are losing possession here, there and everywhere – so unlike City.
34 min: Daly was happy with that! If Villa can win today it will be the first time they have ever beaten City in the WSL. City need to do something and soon. Kelly looks to do just that with a cracking shot from outside the box but Hampton collects.
GOAL! Aston Villa 2-0 Manchester City (Daly, 32)
Villa come forward again and Hanson, who is on loan from Man United, wins a corner for the hosts. City look as though they had cleared it but Villa recover it well, it finds Daly who spins and scores! Debut goal for her.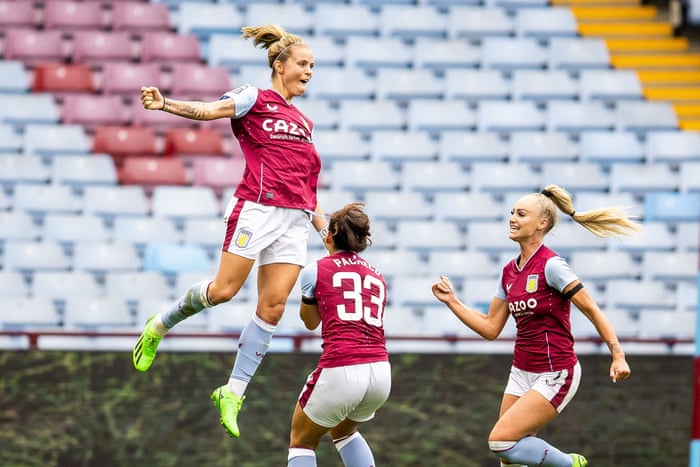 30 min: City are going through the motions but it is the last touches that are letting them down. Shaw gets the ball in a good position, she gets a header away but Hampton collects.
28 min: Roebuck has a sloppy kick out which is almost closed down once again by Villa. Carla Ward's side's high press is proving the difference so far. Coombs puts in a pass to Kelly but she is offside. Jill Scott is present here and she is sharing her Euro 2022 medal with the children sat by her.
26 min: City are coming to life a bit here, they need to be the next to score. But they give the ball away again in the midfield, missing that defensive streak from Keira Walsh. Hemp came steaming forward but she is judged offside.
24 min: Roebuck will be disappointed with that, she didn't even get a fingertip to Lehmann's deft touch. Daly was instrumental in that goal, nabbing the ball in a fantastic position. Hanson is now coming forward, it comes back out for Daly whose shot sails over the bar.
GOAL! Aston Villa 1-0 Manchester City (Lehmann, 22)
Well, well, well! Daly nabs the ball and Lehmann has a great strike to beat Roebuck!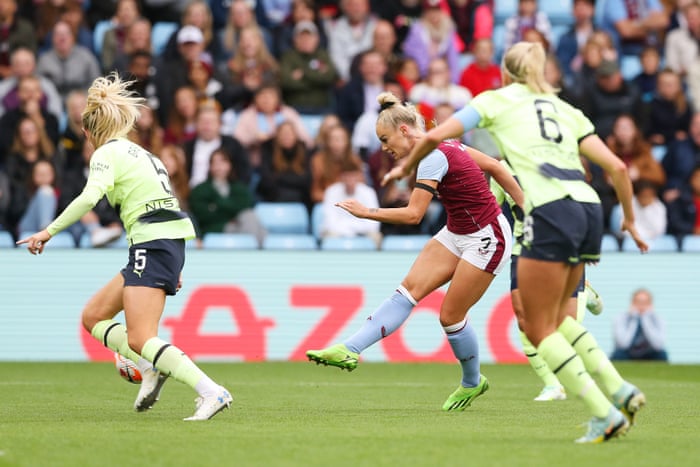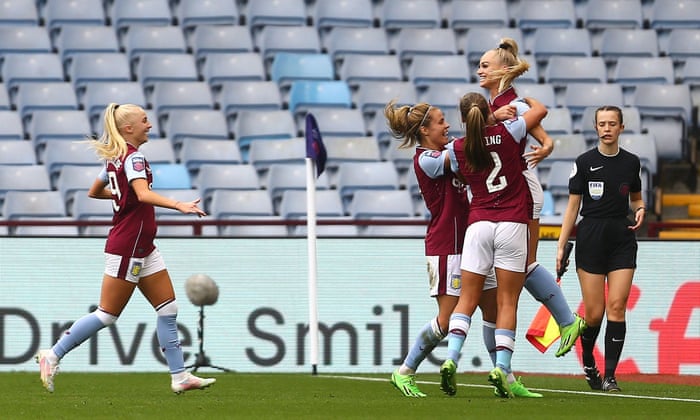 20 min: Shaw should have had the opener there! Hemp does what Hemp does and creates a great cross but it skims across her toes. So close! City come forward again but Turner defends well and she chests the ball to Hampton.
18 min: Kelly storms forward but she puts a bit too much on the ball and Villa come away with it. Again City come forward but new signing Dali nabs it away.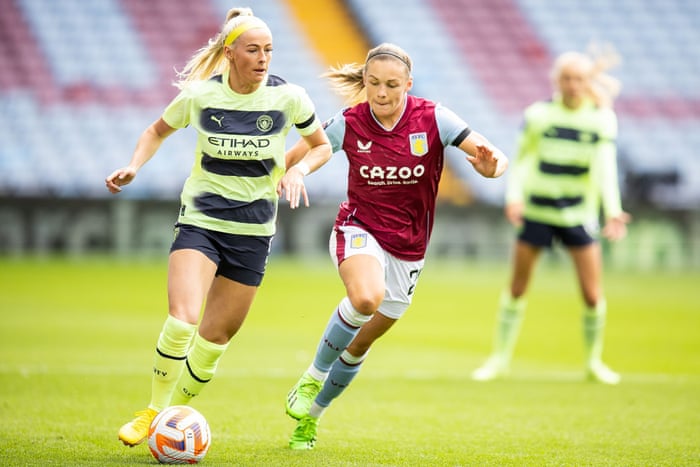 16 min: Villa steal the ball in a great position through Daly but Lehmann loses it. Villa are starting to grow into this, City still have the majority of possession but Villa are clinical in defence.
14 min: Throw ins exchange hands, the game has slowed down in the last few minutes but Villa will be happy they have kept City out so far. Villa cross into the box but it only finds a City boot.
12 min: City are keeping the ball to take the buzz out of the hosts' momentum but Pacheco wins another goal kick.
10 min: Kelly took the kick but again Villa close it down. Morgan passed back to Roebuck which doesn't connect and City concede an sloppy corner. City deal with it well but that was uncharacteristic of City to concede a corner like that.
8 min: Villa have had their first sustained period of possession to steady the ship and halt some City momentum. But it's not long until City are back in control with Lehmann conceding a corner from Hemp.
6 min: Turner makes a good challenge and wins a goal kick, Villa are stepping up to the defensive challenge so far.
4 min: Greenwood takes the kick but Villa clear it well. City win a free kick, Greenwood takes it but Villa again deal well and they launch a counter. Angeldal defends well but Villa get it back and Dali gets the first chance but it's off target.
2 min: City have had the majority of the early possession but Villa put them under pressure in their box – but the visitors dealt with it well. Kelly looked to cross but it was blocked by Pacheco for the first corner.
Kick-off! Aston Villa 0-0 Manchester City
There was a period of silence followed by the national anthem for the late monarch. We are now underway at Villa Park.
We are just moments from kick-off but first there will be a tribute to The Queen.
Taylor has described Keira Walsh's departure as a "big loss" on the BBC just now. Walsh left late in the window and it came after City had rejected an offer from Barcelona which meant the Spanish giants spent a record fee on the midfielder. It is intriguing to see how they play without, arguably, the best player in the world right now.
Jon has got in touch on Twitter and said: "Looking forward to more WSL games today, Villa showing desire to progress with some good signings namely Rachel Daly. I'd imagine Man City will be looking for a better season than last but it's concerning that they have lost a few good players over the summer!" It will be so interesting to see how all the new signings impact today's match.
Man City's manager Gareth Taylor has asked for fans patience as they club has seen a huge turnover in players this summer.
Numerous stars have left or retired and Taylor says it will take time for the new squad to get in the flow. "I would ask them to be patient because we've really invested in the future with these [new] players," he said. "There's going to naturally be a fair-sized turnover at some point when you look at the nature of the group that left. They had given us really good service and three of the players had retired. With that, we had to be on the front foot with our recruitment and we were." Read the full piece:
Ahead of the WSL season we wrote some previews on each team, including analysis of their transfer windows and what they are doing to increase ticket sales.
Have a read of Villa and City's here:
Manchester United and Arsenal are joint top of the table after both recording 4-0 wins in round one but there are four matches in the league today so the clubs could be knocked off top spot.
Villa and City will both be aiming you do so but it will be a tough feat, they will have to win by five goals!
I'd love to hear your thoughts on this afternoon's match, the return of the WSL or even what you are up to today!
You can reach me on Twitter, @rendellx, or via email.
Apologies for the delay on team updates, my laptop had a meltdown! Here they are:
Villa: Hampton, Mayling, Patten, Turner, Pacheco, Dali, Corsie (c), Blindkilde, Lehmann, Daly, Hanson
Manchester City: Roebuck, Morgan, Houghton c), Greenwood, Stokes, Aleixandri, Angeldahl, Coombs, Kelly, Shaw, Hemp
Good morning and welcome back to the first round of the 2022/23 Women's Super League season. So far this weekend fans have seen two 4-0 results with Arsenal routing Brighton and Manchester United demolishing Reading.
We now turn to Aston Villa v Manchester City in what is set to be an interesting match. It will be a chance for supporters to see how City function without a multitude of stars who left during the transfer window. The likes of Caroline Weir, Georgia Stanway, Keira Walsh and Lucy Bronze departed with Ellen White and Jill Scott retiring.
City have done some shrewd work in the window bringing in players such as Laia Aleixandri and Leila Ouahabi. But how they line-up and how they perform will be an interesting watch this afternoon.
For Villa they get to test themselves against one of the 'Big Three' which will be a good challenge provided they are targeting a higher table position this season. Carla Ward's side claimed ninth last campaign and their star signing of England's Rachel Daly this summer should help them climb a few spots.
The team news will be out shortly so stay tuned for all updates ahead of kick-off at 12.30