Key events
4 min: Arsenal win a free kick after Mead is fouled, it is in a great position too. Catley takes the kick and Beattie's header is collected by Romero.
2 min: Zurich have been in possession and there's an early chance! Marckese spills the ball but Maritz manages to clear. Arsenal with the ball now to try and settle in.
Kick-off! Arsenal 0-0 Zurich
Here we go! Can Arsenal continue their unbeaten run? They have not been defeated in 11 matches.
Becky has got in touch via email and she has said: "I'm at the Emirates tonight, looking forward to watching the women play and hoping the men bounce back on Sunday, as I'm coming to the game against Nottingham Forest too. Regarding Starbursts, I'm now confused – are you suggesting there are people who don't think purple is the best and green the worst???" I know right! I am yet to meet someone who thinks green are the best, is there anyone out there who does?
It will be interesting to see how many people attend tonight's match, the Women's Super League's attendance record was broken at the Emirates last month!
Players are warming up at the Emirates! Just over 10 minutes to kick-off: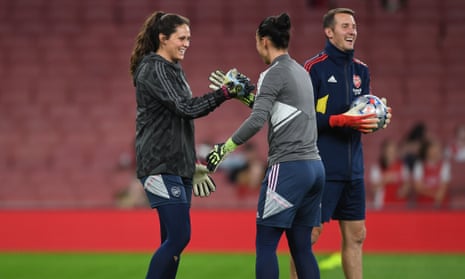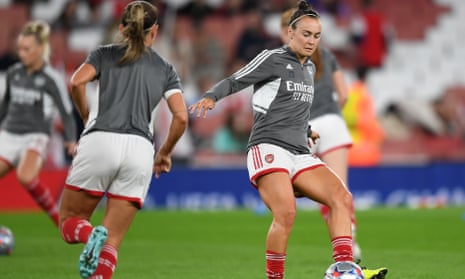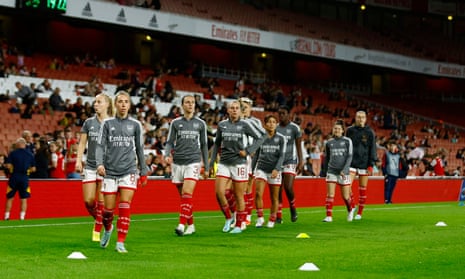 Barcelona's match ended 4-1 against Rosengard with Lyon and Juventus finishing up 1-1. As well as Arsenal's clash against Zurich, Benfica v Bayern Munich will also kick-off this evening.
Jonas Eidevall is hoping to produce the same result they came up with against Lyon. He said: "We go game by game on how to apply ourselves as well as possible for every game to make things really simple. What potential and what ceilings do we have? We will have to find out. But if we do 100% in both preparation and execution, then we don't have to regret anything. I think if you do that, then nights like that can happen in Lyon. It's not a guarantee but it can happen."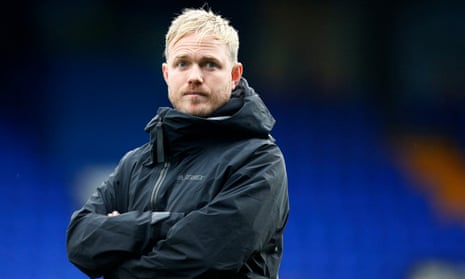 Chelsea continued their unbeaten run in the Women's Champions League last night and they crushed Vllaznia 8-0. Sam Kerr became the first player in the tournament to score four goals in the group stage. To catch up on all the action, read here:
Arsenal player Frida Maanum, who starts from the bench this evening, says the club are up for the challenge against Zurich: "Every game now is important and we know what we did in Lyon. Then we have to build from there and it's a completely different game tomorrow against Zurich and yeah, we just have to go out there and play our game. We know what we're meeting tomorrow."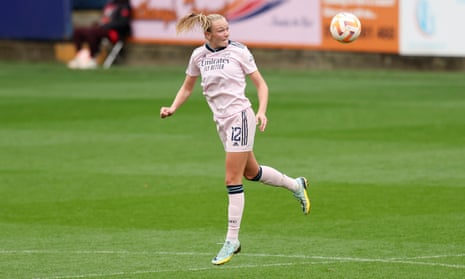 So last night we discussed Jaffa Cakes and tonight I am digging into Starbursts. Which are your favourites? Purple are mine and the green ones are the absolute worst. Let me know via Twitter and email!
Two other matches kicked off earlier today in the tournament with Barcelona leading 2-1 against Rosengard thanks to two goals from Aitana Bonmati. Meanwhile in the other game in Arsenal's group Lyon are drawing 1-1 Juventus, Lindsey Horan scored for Lyon and Melvine Malard's own goal saw the Italian club equalise. Both are into the second half.
The team news is out! Star goalkeeper Manuela Zinsberger is benched in favour of Kaylan Marckese, who makes her debut, and Vivianne Miedema gets her first start since Arsenal played Reading in the WSL.
Arsenal staring XI: Marckese, Maritz, Wubben-Moy, Beattie, Catley, Nobbs, Little, Iwabuchi, Mead, Miedema, Hurtig.
Zurich have also revealed their starting squad.
Zurich starting XI: Romero, Riesen, Stierli, Vetterlein, Megroz, Dubs, Piubel, Bemauer, Pinther, Markou, Humm.
Welcome back to our Women's Champions League coverage and tonight we have Arsenal hosting Zurich!
The Gunners will look to continue their perfect record in the tournament as Arsenal demolished Lyon 5-1 last week! Arsenal will also become the second club ever to reach 100 appearances in the Women's Champions League this evening.
Zurich, meanwhile, lost 2-0 to Juventus and so they will be seeking to cause an upset at the Emirates. There should be a big crowd with over 20,000 tickets sold for the fixture and team news will be out shortly.
Stay tuned for the updates with kick-off coming at 8pm.