JUST ANOTHER CALM ONE
It was a match that could have gone either way and while the Football Daily jury remains deadlocked over whether or not Sunday's set-to between Arsenal and Manchester United was particularly good in terms of quality, it was extremely entertaining and ticked no end of boxes. For a kick-off, conspiracy theorists from both sides got to feel hard done by, with a certain tinfoil hat-wearing Dutchman foremost among them. "I thought we played a very good game but everything went against us," moaned Erik ten Hag in his post-match interview. "It was not offside; it was the wrong angle. It was a penalty on [Rasmus] Højlund, then we concede a goal that's a foul on Jonny Evans – clear and obvious." While Ten Hag might have had some semblance of a point regarding the fouls on his players, we're guessing he'd have been whistling a different tune if they had perpetrated the same offences in identical situations. He also did himself a disservice by failing to mention the most egregious decision of the afternoon; a VAR consultation that led to a penalty against his team being overturned, despite there being not so much as a shred of evidence to suggest the original decision to award it had been a clear and obvious error.
Elsewhere, the celebration police also got to stick their nebs in, embarking on plenty of po-faced tut-tutting as Arsenal's players enjoyed a completely wild finale in which they'd snatched victory from halfway down the digestive tract of defeat against their bitter rivals. While early signs suggest it is the players and staff of Manchester City who will be pogoing in triumph when the Premier League champions are officially crowned in May, Gooners can be forgiven for getting a massive kick out of this white-knuckle ride. And no, they don't need some bedroom-dwelling buzz-kill on the internet to point out they did the exact same thing following their last-gasp win over Bournemouth back in March and look what happened after that.
So it's Arsenal who go into the international break surfing a wave of confidence, so much so that it is alleged one young man apparently tried to stick the nut on Roy Keane in a stadium corridor after the game. Video footage of the incident shows the alleged assailant being pinned to a door by Keane's burly fellow pundit Micah Richards, who according to the duo's employers Sky Sports was trying "to defuse a situation". While Richards was sweating over whether to cut the red wire or the blue one, the police were called and a 42-year-old man has now been arrested. Mercifully, Keane appeared to suffer no serious physical harm, although the hammer-blow to his ego at being bailed out by a colleague 17 years his junior is a wound that could take some time to heal.
In other post-match fallout that could have long-term repercussions, United's Jadon Sancho was quick to pipe up when his manager told reporters he had not included the winger in his matchday squad because his "performance in training" was not up to scratch. In a remarkable Social Media Abomination TwiXer post we're guessing wasn't run by those in charge of the club's fan sentiment graphs, Sancho said he believes "there are other reasons for this matter that I won't go into", adding that he has been "a scapegoat for a long time". A more private exchange of views between player and manager is now expected in the coming days, when Sancho will presumably be invited to clear either the air or his training-ground locker.
QUOTE OF THE DAY
"I was very happy for the year he had, but at the same time very sad, because he lived both sides of the coin, he went to heaven with the Argentina team, won everything in recent years, and with Paris he lived hell. We lived through hell, both he and I. We get upset, because we're not there for nothing, we're there to do our best, be champions, try to make history … unfortunately, we didn't make it" – Neymar admits that maybe his £200m move to PSG wasn't the best career choice for him and Lionel Messi after all.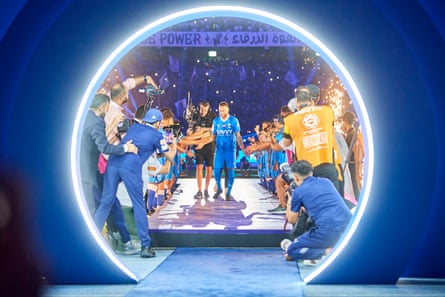 Brighton fans excited by the unexpected signing on loan of Barcelona wunderkind Ansu Fati must be hoping that his rearranged name does not indeed become a Faustian bargain, given the high ethical standards of the club" – Graham Stevens.
Never mind footballer's names triggering songs (Football Daily letters passim). Everton's James Tarkowski always reminds me of the homophone-named Russian director whose films are known for their slow pace and long takes. Football supporters would certainly be able to identify with the title of one of his films, 'Nostalgia'" – Gill Newman.
Oh dear, I knew as I was pressing 'send' that the Lancashire/Yorkshire divide regarding the Brigadoon-like qualities of Todmorden would be raised (Friday's Football Daily letters). As I remember, the club in question was in Cornholme, one of the suburbs in Tod's vast metropolis. Definitely Lancashire back then. The River Calder that runs under Burnley Road was the border, with the cricket field in Lancashire and the rest of the town in Yorkshire. Parky would have emphasised the importance of knowing on which side of the river you were born. A long time ago the border was moved to accommodate John Myles and his outraged entourage. And we had to make our minds up whether t'was to be Old Trafford or Turf Moor. And to Nick Shimmin, let's have a Denis Law-themed get together at my local Blackheath café 'Hounslow', so named because that's what the village was originally called. Now, with a cry of 'enough', I shall disappear into the Scottish mist" – Bruce Ellis (and others).
Send your letters to [email protected]. Today's winner of our prizeless letter o' the day is … Graham Stevens.