Vivianne Miedema has been outspoken about the Ballon d'Or awards in the run up to Arsenal's match against Lyon. "I didn't feel appreciated as a woman footballer there," she told the BBC's Behind the Goals podcast. "If they want to have women involved, they have to do it in a different way. They had five or six different awards for the men's game while the women only have one. If they want to make it equal, they have to give the same awards to men's and women's football."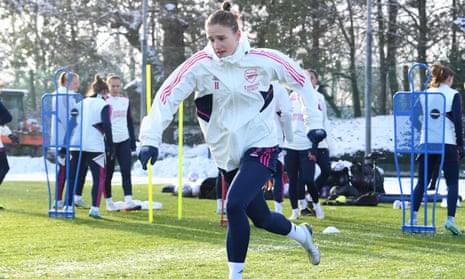 Jonas Eidevall isn't shying away from how Arsenal need to perform this evening. He said: "Lyon have been the pioneers for the women's game and have set the standards for all others to chase. They are the reigning European champions and we have utmost respect for their history and their team. We know it will take an incredible performance to get us the result we would like."
Just a point for Arsenal tonight will be enough to seal their place in the Champions League quarter-final. The club remain the only English side to win the trophy and they are keen to get their hands back on the silverware.
Arsenal have named their starting XI for their match this evening. They have made two changes from their WSL win over Aston Villa on Sunday with Wienroither and Williamson in.
Arseanl starting XI: Zinsberger, Wienroither, Williamson, Wubben-Moy, Catley, Walti, Maanum, Miedema, McCabe, Foord, Blackstenius
Lyon have also revealed who is playing for them this evening. They have made no changes from their 1-0 league loss to Paris Saint-Germain.
Lyon starting XI: Endler, Morroni, Renard, Gilles, Sombath, Damaris, Horan, Van de Donk, Cascarino, Malard, Bacha.
Hello and welcome back to our coverage of the Women's Champions League and tonight we have Arsenal v Lyon. The Gunners are still top of the group and are yet to lose a match in the competition. However, Lyon are just three points behind them. A 5-0 loss to the French club this evening, although unlikely, would see the defending champions top the table.
The last time the two clubs faced was in the opening round of the competition and Arsenal inflicted Lyon's heaviest defeat in the tournament. Losing 5-1 it lay down a firm marker of Arsenal's intent this season.
We know this time around they will have to defeat Lyon without the likes of Beth Mead and Kim Little due to injury but Vivianne Miedema is back to her best after a break from football.
So who will be lining up this evening? The team news is here so stay tuned ahead of the 8pm GMT kick-off.