Key events
RED CARD! Orel Mangala of Forest is sent-off for two bookable offences!
The second one is for a possible ball-winning but definitely scissoring challenge on Richarlison as he tried to counter. Can Forest hang on?
GOAL! Arsenal 1-3 Brighton (Lamptey 71)
And it looks like Brighton are through too! The exceedingly likeable Tariq Lamptey has, we're told, defended really well tonight, and now he advances from right-back, no one unloads him, and he buries a finish under Hein and towards the far corner.
GOAL! Man City 2-0 Chelsea (Alvarez 58)
You could see Julian Alvarez was settling – it was so obvious even I wrote it – and he's finished this tie. He spreads a terrific pass out to Mahrez, from left to right, then follows it in. So when Mendy shoves out his mate's shot, he's on-hand to bury the rebound. Game over.
"Love a player only ever referred to by both names," tweets Robert Wilson-Fry. "Ruel Fox is the OG."
And an absolute lock for my Headless Chicken XI.
GOAL! Man City 1-0 Chelsea (Mahrez 53)
Oh, it's Mahrez it's Mahrez! He curls inside the near post though, on the far edge of the wall, Koulibaly is its only member who doesn't jump, and the ball passes over his shoulder. He'll be hearing about that behaviour, I shouldn't wonder.
Chalobah has just scythed through Mahrez and City have another free-kick just outside the box. Will it be Mahrez, will be be Grealish, we'll have to wait and see.
At Anfield, Derby are knocking at the door while, at the Etihad, Mendy has had to make a couple more saves. He's playing well.
City send on Phillips and Bernardo for Gundogan and Rodri.
OK, I've not seen the Brighton goal and it's a nice one, one and two-touch passing that takes the ball from the right touchline to the left of the box, whereupon Mitoma opens his body and pastes a finish into the far corner. Great stuff.
GOAL! Arsenal 1-2 Brighton (Mitoma 58)
I've not seen this one yet as SSN are on a break, but it's been scored.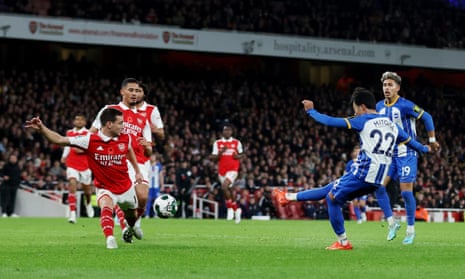 We're back under way in our two 8pm games…
Conte makes three changes, bringing on Kulusevski – it's good to see him back – Gil and Richarlison. Kane – though his team need goals – goes off, along with Perisic and Skipp.
GOAL! Nottingham Forest 2-0 Tottenham Hotspur (Lingard 57)
I didn't get to print Yash Gupta's email about Serge Aurier having the game of his life, but his team counter, Aurier crosses to the back post, the ball's headed back and Lingard heads in for his first Forest goal. Oh, Antonio!
At Newcastle, Saint-Maximin has just stuck a cross on Burn's head, but a weak effort into the ground was easily saved. That should've been 1-0.
"Forest have played better tonight than I have seen them play all season," says Kári Tulinius, "and deserve the lead. The defence had already started to gel, but now the attackers are getting the ball in dangerous areas, with space to create. Considering where they were like in the early weeks of the season, Steve Cooper has worked a miracle."
I guess we'll have to see how it goes over the next bit, but yup, I'd not write off their survival prospects.
At Forest, Sam Surridge has just had a shot blocked while, at Arsenal, Nketiah has just hit the post. These games seem to have both been pretty good.
"I absolutely agree with you about Crouching Tiger, Hero, and Kill Bill." says William Preston, another who knows how to get his email printed. "Shallower than New Brighton's beach when the tide is in. And even shallower than that? Shawshank Redemption. Hours of saccharine, two dimensional, cliche-ridden rubbish that seemingly is rewatched and adored by fans in their droves. I'd rather go back in time and rewatch my student housemate's video of Middlesbrough's 1996-1997 season, which they described as 'their greatest' every Christmas day for the next twenty years than sit through it again. Wednesday are doing OK, tonight, which is nice."
I only recently saw Shawshank. It was a funny one, a cinematic failure but massive video-store hit, and I didn't hate it, but I was surprised it wasn't better given how much people loved it. Other hand, if people loved it, it did plenty right.
LOVELY GOAL! Nottingham Forest 1-0 Tottenham Hotspur (Lodi 50)
Conte sent on Bentancur for Hojbjerg at half-time but Forest are still by far the better team and Lodi breaks forward, steps inside onto his right foot, and unfurls a beautifully geometric curler into the far side-netting!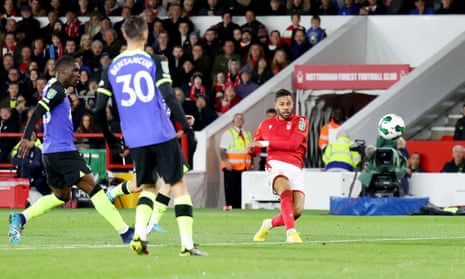 We're back underway in our 7.45pm games, and on course for penalties in all six of them – likewise our two later ones.
Half-times in our 8pm kick-offs
Liverpool 0-0 Derby County
Man City 0-0 Chelsea
Aaaarggggh! Lewis Hall finds himself on the left of the box, does beautifully to send Lewis out for a barmcake and actually picks a clever finish, sliding inside the near post … but Mendy stretches out a leg, and blocks. Had he lifted it, it was a goal.
"To some Spurs fans who're wondering what this team is all about," says Yash Gupta. "Well here's what I do – I totally ignore whatever happens in the first half. It is as if that half has been deleted from existence because that for the past month brings out worst football memories of Poch, Jose and Nuno. That certainly helps and I then watch second half with full emotions. So yeah act like a zombie in first half, human in second."
I should say, if any matches are level at full-time, we go to penalties. I'd say we've a decent chance of at least one set.
Wolves 0-0 Leeds
Southampton 1-1 Sheffield Wednesday
West Ham 1-1 Blackburn
Arsenal 1-1 Brighton
Newcastle 0-0 Crystal Palace
GOAL! Southampton 1-1 Sheffield Wednesday (Ward-Prowse pen 45+2)
I didn't see what this was given for, but I did see Ward-Prowse drill confidently down the middle as the keeper dived out of the way.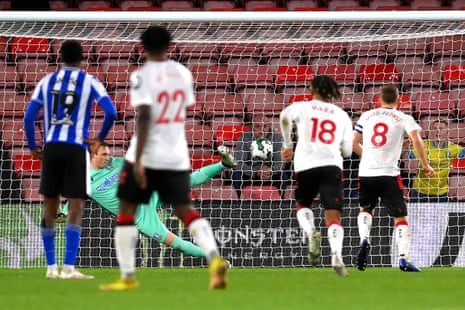 Half-time: Nottingham Forest 0-0 Tottenham Hotspur
Spurs have, by all accounts, been useless, and when I wasn't watching, Jesse Lingard hit the post for Forest.
"You're quite right, I think, about Eddie Nketiah," returns Charles Antaki, who himself has a good sense of how to get his emails published. "Perhaps the fact that he runs about so much works against him; he can look more willing than efficient. And his demeanour doesn't help either: close-ups sometimes do him no favours in making him look eager and a bit bewildered. But a useful comparison is with the unlamented Alexis Sanchez – with him the running about was largely for show (especially when on defensive duty), and if he looked mean and single-minded, it was all in the service of, well, Alexis Sanchez."
Heh, that's quite a drive-by. I'd never have though to compare those two.
Alvarez has just passed past the post when handily placed – he should've scored there – while, at St Mary's, Barry Bannon is apparently dominating the game. He's one of those players I really liked the look of when he came through, a proper old-skool schemer, but I guess not quite a good enough one for the top level. However, he's still got plenty of ability.
Chelsea are threatening on the counter, and Ortega has just saved from Pulisic. You're never going to dominate against City, but Chelsea do need to find a way of getting on the ball more.
GOAL! West Ham 1-1 Blackburn (Fornals 38)
That came about because of the best of Michail Antonio. First, he barged a defender off the ball, then a twinkletoed flick behind his own leg allowed him to pull back. He didn't actually picks out a teammate, but a different defender helpfully knocked it to Fornals, who slammed home.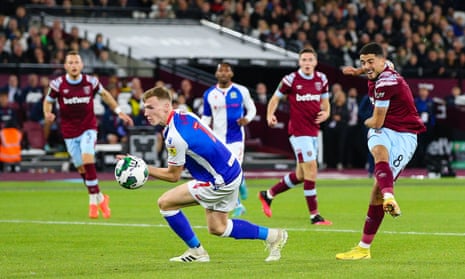 A City goal looks a matter of time. They're finding so much space, er, "in and around" the Chelsea defence, and I'm not surprised. 3-4-3 against them is asking for trouble, because you'll be outnumbered in the middle and out wide, so how are you getting on the ball?
Grealish wins a free-kick on the edge, left edge of the D, and Koulibaly is booked; Gundogan doesn't get quite enough dip on his effort, flighting just over the top.
"In the absence of any way to actually watch the Arsenal v Brighton game, " emails Charles Antaki, "can we give thanks to your photo editor for the image currently at the top of the screen? It shows the Arsenal players practising their Crouching Tiger stance while somebody from Brighton has a go at heading the ball into the net. The keeper seems a bit more alert to the situation, though, and is on a different page from his defenders, taking up the Kangaroo Boxing position, if at some distance from the actual ball. Apparently the ball went out of play, fortunately."
I did not get on with that film at all, nor Hero – nor Kill Bill. There's only so much of that stuff I can be mithered with without wondering where the plot and gags are at.
Chelsea have a chance at the Etihad, but a key touch from Rico Lewis – who I reckon will become one of those Delealli players who's always referred to by his first and surname – means Pulisic's shot dribbles wide.
GOAL! Arsenal 1-1 Brighton (Welbeck pen 27)
Hein dives to his right and Welbeck passes to his left.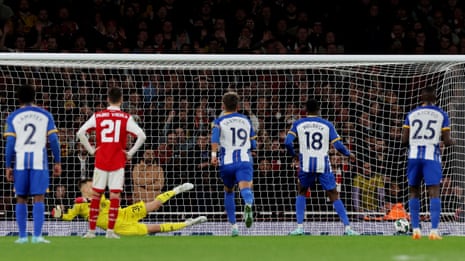 Poor old Hein. March puts him through and Welbeck's touch isn't the best, so Hein comes, Welbeck shifts it, and Hein takes him out.
GOAL! Southampton 0-1 Sheffield Wednesday (Windass 24)
This is a really good finish. Windass is stuck in and, alone on the right of the box, he rams an instafinish inside the near post. Wednesday deserve it too, apparently.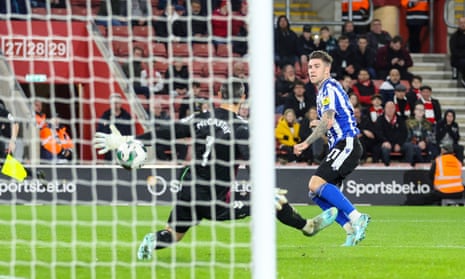 At the Etihad, City have Chelsea under pressure – two sots have been blocked, and now Grealish has walloped one just wide of the near post from 20 yards.
I've seen Nketiah enduring the wrath of the internet recently, but I don't get it. He's not good enough to start, no, but he's a goalscorer, and such things are hard to find. If' he's prepared to sit on the bench and contribute to a team on the up, that's a result for Arsenal.
GOAL! Arsenal 1-0 Brighton (Nketiah 20)
"It's gone to Arsenal, to be fair," insights Clinton Morrison, and it's a beauty. Reiss Nelson breaks forward unmolested from inside his own half, knocks it wide to Nketiah, and he opens his body to flight a gorgeous finish from not off the corner of the box, inside the far side-netting.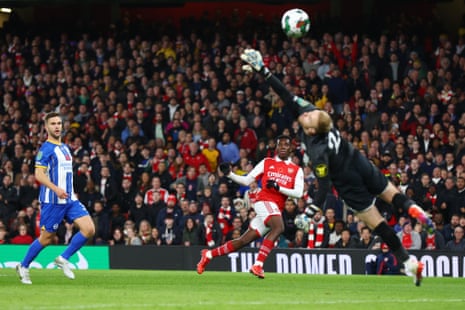 I'm semi-watching the Forest v Spurs game, as it goes, and there's not been loads going on. Both sides have a few set-pieces, but there's been very little else.
"As a life long Spurs supporter," tweets Alasdair Phillips, "I've been struggling with Spurs this season. Watching this game I suddenly had a horrible flashback to Hodgson's England team. Quite fancy Forest to be Iceland tonight."
Yes, I keep saying this, but it's hard to see what Conte's plan is because I just don't think he's bought players good enough to lift them up a level, and wonder if the game has passed him by. Reactive football can still succeed – Mourinho's Chelsea would have a shot at the title – but they had better players and a genius manager at the peak of his powers. Spurs have Kane, Son, and a decent but not exceptional support cast. In particular, the midfield is sorely lacking.
We're under way at Anfield and at the Etihad.
Also on the Wales squad, here's Matt Dony: "Gutted for Rhys Norrington-Davies, but I'm pretty happy with that Wales squad. I'd personally make a few changes, but Rob Page probably has a better handle on football players than I do. (Bet I'm better with Excel, though!) Solid, with a sprinkling of stardust. Very much the modus operandi these days. More than the sum of their parts. It's going to be interesting."
Yes, I agree – gobbing off about the failings of football managers is part of my job, so I'm forever reminding myself that I'd not be taking notes from them so I should endeavour to show some humility when giving them mine. I think Wales have a shot at escaping the group – USA haven't been great lately – but they don't look to have enough, and the opposition is strong enough, such that I don't hold out much hope of them shocking any of us.