One week since a positive showing in the first week of the US Open, Great Britain and its increasingly deep pool of top men's tennis players have convened again. This time they are gathered in Manchester for the Davis Cup with the shared goal of correcting last year's disappointment and taking their first positive step to competing for the title.
Their long-time Davis Cup captain, Leon Smith, has drawn upon the top four singles players Cameron Norrie, Dan Evans, Andy Murray and Jack Draper alongside Neal Skupski, the Wimbledon men's doubles champion.
"I love being part of this team," Murray said. "We've got a great staff as well, everyone gets on extremely well. And as a team I think all of us probably believe that we have an opportunity to win as well which is exciting for everyone. Pumped to be a part of it."
In order to advance to the "final eight", the quarter-final knockout stages that will be contested in Malaga during the final week of the season in November, the GB team must finish the week in the top two of their four-team round robin group.
The home team face Australia on Wednesday, Switzerland on Friday and France on Sunday in ties decided over the best of three rubbers, with doubles being the third decisive runner. The other groups are being contested this week across Europe in Bologna, Italy, Valencia, Spain, and Split, Croatia.
For so long, Murray was the only elite singles player on the British team, with the second competitor decided among a low-ranked group of players. Such is the strength in depth of the men's team, Smith faces an interesting challenge of making the right personnel choices, which is further clouded by form.
Despite being the lowest-ranked singles player of the group due to struggling with injury throughout this season, Draper enjoyed the best US Open among the group by reaching the fourth round for the first time in his second tour level event back from injury. Although he has established himself as the best player in Great Britain over the past two years, Norrie has been healthy but in poor form this summer.
After their performances in New York, Murray actually seemed to be the player most in doubt as he indicated that he might opt out of the team and conceded that Draper, who was added to the team after New York, would be ahead of him in the pecking order. On Monday, Murray said his comments were fuelled partly by the frustration of defeat. "I said [to Smith], if I'm not needed, I completely get that. But, for whatever reason, he asked me to come and I said I would come," Murray said.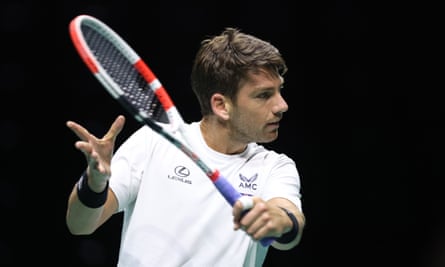 What is clear is that the group will have to perform far better than last year when they were also fortunate to contest the group stages at home in Glasgow. Not only did they lose, but their failure to advance was confirmed after the second match, meaning they had to endure the excruciating experience of returning two days later to contest an entire dead tie versus Kazakhstan.
Last year, despite having two of the top doubles players in Skupski and Joe Salisbury, Great Britain took their two losses on a decisive third rubber. If all players remain healthy, it would seem that Murray stands his best chance of being called upon for the doubles.
They will also compete at a time when the future of the Davis Cup is once again uncertain. Despite facing significant criticism, the competition shifted from its historic home and away format for the 2019 season in a move that was driven by the International Tennis Federation's partnership with Kosmos, the investment company founded by footballer Gerard Piqué, an agreement that was worth $3bn over 25 years.
In January this year, the ITF announced that it had terminated its contract with Kosmos.They have since filed a multimillion dollar lawsuit against Kosmos, with the company allegedly not meeting the agreed payment schedule.
Manchester's AO arena boasts a 21,000 capacity crowd. It remains to be seen how much of a warm week this one will be for the other three teams should the event struggle to attract sufficient crowds once again.