Andy Murray said that he may need to accept that the deep runs he believes he is still capable of may not actually happen after he suffered one of his most disappointing defeats of the year, losing 6-3, 6-4, 6-1 in the second round of the US Open to Grigor Dimitrov, the 19th seed, at Arthur Ashe Stadium.
"Maybe I need to accept that [at] these events, the deep runs and everything that I felt like I'm capable of, they might not be there, as well," he said.
"I'm aware what I'm doing, it's unbelievably challenging to play at the highest level as I am now. And some days it's harder than others," he added.
Despite pushing some top 10 opponents to the limit and compiling a 3-3 record against players ranked between 11 and 20 this year, the Scot has not been able to reach the later stages at any Masters 1000 or grand slam tournaments.
Murray performed immensely in Australia, defeating Matteo Berrettini en route to the third round of the Australian Open and then he forced Stefanos Tsitsipas, the fifth seed, to an excellent five-set battle in their second-round match at Wimbledon. But Murray is yet to reach the fourth round of a major since his hip problems began in 2017.
"Today is obviously a really disappointing defeat and probably the manner of it as well," he said. "I mean, I fought hard enough but just didn't play well enough. Ultimately these are the events that you want to play your best tennis in, and create more great moments, and [I] didn't do that this year."
Despite the congeniality between Murray and Dimitrov, it was a match that came with some added spice. Dimitrov now works with two of Murray's former coaches: Dani Vallverdú, Murray's old friend, and Jamie Delgado, who Murray worked with until 2021. Before the match, a smile flickered across Murray's face as he noted that it probably was an advantage for Dimitrov to have them in his corner, but the match would be won on the court.
In the early stages of a ballistic first set, the contest had all the ingredients of a brutal, physical battle.
After trailing 2-0, Murray broke back after an astonishing 15-minute game that included dazzling all-court rallies and six deuces. After 47 minutes, only five games had been played.
But those tight early games eventually made way for a more one-sided contest. Throughout the match, Murray struggled to impose his game and hit through the conditions along with Dimitrov's excellent backhand slice and defence.
Dimitrov took the decisive break of the first set after a dire service game from Murray, which included two double faults and two service games, and he was soon up a set and a break after another poor game on serve from Murray to open the second set. A potential turning point came for Murray as Dimitrov served with the break at 4-3 in the second set, the Bulgarian double faulting twice to offer Murray a break point.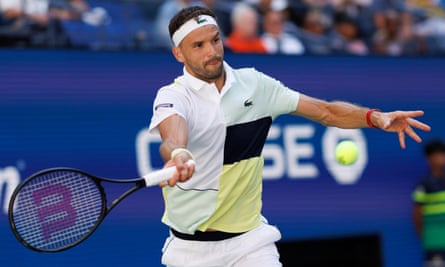 The long 33-stroke rally that followed on break point illustrated Murray's problems as he dictated most of the action but simply could not hit through the court and conditions.
Dimitrov survived the service game, he served out the set and went from strength to strength as he sealed the lengthy, physical match in three sets.
Murray said he simply did not play well enough: "I think I got broken at the beginning of every set so could never sort of get any scoreboard pressure, really. Then the times when I did sort of get back into sets or sort of break back, I just didn't play well enough. Didn't serve well enough."
Asked what keeps him motivated after not making as much progress as he hoped to make, the 36-year-old said that he has continued to feel like he is still making progress. It is a feeling backed up by his ranking, which is currently No 37 and continues to gradually rise.
Murray also noted his positive matches in Australia and how he felt he was close to having a good run at Wimbledon.
"I still enjoy everything that goes into playing at a high level," he said. "I enjoy the work. The training and trying to improve and trying to get better, I do still enjoy that. And that's what keeps me going. If things change and I stop enjoying that or my results, my ranking and everything; like, if I start to go backwards in that respect [and] in a few months' time I was ranked 60 in the world or whatever instead of moving up, things might change."
Elsewhere, the 38-year-old former US No 1 John Isner ended his singles career on Thursday as he was unable to close out a two set-lead, eventually losing 3-6, 4-6, 7-6 (3), 6-4, 7-6 (7) to fellow American wildcard Michael Mmoh.