The early days of Novak Djokovic's summer left him with some adversity to overcome. He was not merely outplayed by Carlos Alcaraz in the Wimbledon final, he was also outfought and outlasted. At the age of 36, after dominating for so much of the past 12 years, a new threat had emerged.
But Djokovic's greatness has been defined by his ability to rise from difficulty stronger than before. On Sunday evening in the final of the US Open, his response was predictable and decisive as he held on through countless exhausting rallies to defeat Daniil Medvedev 6-3, 7-6 (5), 6-3 and win a men's record-extending 24th grand slam title.
By virtue of winning his first round match at this tournament, Djokovic also ensured that he will regain his place as world No 1 and extend his all-time record to 390 weeks at the top of the ATP rankings. He will return to the top with a bullet. Djokovic is the oldest US Open champion in the Open era, and he has now won the tournament four times. The Serb is also the first man to have won three grand slam titles in a season on four separate occasions.
Since his five-set loss in the Wimbledon final, Djokovic has now won 12 consecutive matches. He finishes the grand slam year as the best player in the world by a considerable distance. Despite his sparse schedule and their budding rivalry when they meet, Djokovic leads Alcaraz by 800 points in the ATP race.
"I would definitely sign right away the paper if somebody would tell me I would win three out of four and play Wimbledon finals," Djokovic said.
"There is a little regret that I didn't win that Wimbledon finals. But, look, in the end of the day, I have so much more to be happier and content with than actually to regret something."
While a rematch with the Spaniard in the final seemed the likely outcome for much of this tournament, revenge against Medvedev was sweet. In 2021, the last time Djokovic competed in New York, he came to the US Open needing the title to capture a calendar grand slam. Instead, he was dismantled in straight sets by Medvedev in the final. Djokovic's refusal to take a Covid vaccine meant that he was barred from travelling to the US for last year's edition.
"I really did my best in the last 48 hours not to allow the importance of the moment and what's on the line get to my head, because two years ago that's what happened, and I underperformed and I wasn't able to be at my best and I was outplayed," he said.
"So I learned my lesson. My team, my family knew that the last 24 hours, don't touch me, don't speak to me about the history of what's on the line."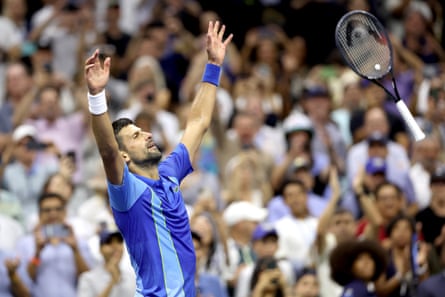 In order to reach the final, Medvedev had to produce one of the best performances of his career to topple Alcaraz, the world No 1 and defending US Open champion. The biggest question on Sunday was whether the Russian could bring himself up to that level again against Djokovic.
The answer came swiftly. While Medvedev started off stone cold, errors flowing from his racket in his opening service game, Djokovic began the match determined to take the ball early and dominate the baseline with his forehand. He broke Medvedev's serve and then endured the predictably long, attritional exchanges as he eased through his service games to take the set.
Halfway through the second set, the complexion of the match suddenly changed. As the long rallies began to weigh heavily on both players' legs, Djokovic struggled to keep up. For the remainder of the set, Medvedev put significant pressure on Djokovic's serve but each time they reached a decisive point, Djokovic either serve and volleyed or found another way to move forward, producing some spectacular volleys. Medvedev's biggest opportunity came at 6- and set point as Djokovic attempted to serve and volley. Instead of threading his backhand passing shot down-the-line into open court, he steered it straight at Djokovic, who dispatched his volley and then smiled at his fortune.
"Regrets, for sure," Medvedev said. "Should have won it. Should have won it, but sometimes tennis is not that easy. Passing for sure down the line, not cross, but I have two choices and I chose the wrong one."
At the beginning of the subsequent tiebreak, Medvedev held the upper hand. He remained ahead at 5-4 after ending an astonishing 23-stroke rally with a brilliant drop shot. But Djokovic is inevitable. He erased Medvedev's lead with brilliant serving before Medvedev netted a routine backhand on set point. Somehow, impossibly, Djokovic finished the marathon 104-minute set with a two-set lead. He then thoroughly outplayed Medvedev in the final set.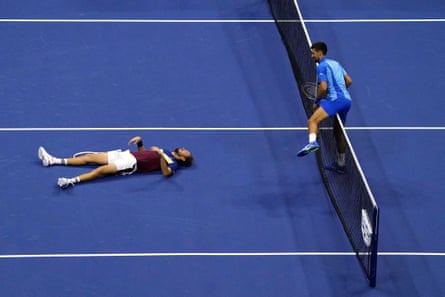 As Djokovic celebrated his victory, he paid tribute to Kobe Bryant by wearing a "Mamba Forever" shirt bearing the NBA legend's famous No 24. Bryant, who died in 2020, was a good friend of Djokovic. He then embraced his daughter, Tara, who sat courtside during the match.
"These are the moments and these are the kind of emotions that I motivate myself with every single day when I'm not playing a tournament," Djokovic said. "Occasionally asking myself: 'Why do I need this still at this stage after all I have done, you know? How long do I want to keep going?' I do have these questions in my head, of course.
"But knowing that I play at such a high level still and I win the biggest tournaments in this sport … I don't want to leave this sport if I'm still at the top, if I'm still playing the way I'm playing."
Djokovic's performance to win his 24th major served as a reminder of the dimensions he has methodically added to his game in order to extend his dominance. Djokovic still defends with incredible speed and agility, but at this point in his career he is not always as tolerant of the endless, excruciating rallies he used to live for.
No matter, Djokovic has built a complete game, he has so many options and he knows exactly how to use them. In this case, Djokovic attempted to serve and volley 22 times, winning 20 points, and he won 37 of 44 total net points. So many decisive points were won by Djokovic at the net.
Fifteen years on from his first grand slam title at the 2008 Australian Open, and 12 since his dominance truly began, Djokovic continues to rack up grand slam titles. Earlier this week, he noted that he would only stop once he begins to get his "ass kicked by young guys" regularly. Even now, those days still seem so far away.