That cliche about a year being a long time in football? You don't need to tell that to the Aaronson brothers. This time last year the younger of the two, Paxten, told NBC that it was "a surreal experience" watching his big brother, Brenden, starring for Leeds United in the Premier League matches he'd been watching on TV for years. You could sense not just the pride in his voice and demeanour, but genuine awe.
It had all been about Brenden, the elder by almost three years. Since building his reputation in MLS with Philadelphia Union, his ascent had been dizzying. His transfer to Red Bull Salzburg, signed off in October 2020 for a fee with the potential to rise to $9m, was a record for a homegrown Union player. Paxten made his professional debut, also for the Union, around six months later. By then, Aaronson senior was in another constellation.
Once he arrived in Austria, Brenden thrived in the youth development focused environment in Salzburg, first under Jesse Marsch and then in tandem with Marsch's successor as head coach, the highly rated Matthias Jaissle. The Medford Messi (a reference to the New Jersey town 40 minutes west of Philly where the brothers grew up, it was a nickname used more and more after his winning goal in a friendly against Barcelona in summer 2021) was a runaway train.
Until last season. After a lightning start at Leeds – including his memorable opening goal in the 3-0 demolition of Chelsea at Elland Road, where he charged down Edouard Mendy's clearance and walked the ball into the net – autumn and winter bit hard. His mentor Marsch, by this time at the helm in West Yorkshire, was sacked and the now-ex-coach's signings (including his fellow US international midfielder and good friend Weston McKennie) were on the end of considerable backlash from the fans as Leeds' season faded, ending in relegation to the Championship.
While Brenden was putting up with a tough 2023, Paxten was charging up on the outside. When he had been sold to Eintracht Frankfurt in November 2022 for an initial $4m, few expected an immediate impact. It had the feel of a stash pick. He had made fewer than 10 MLS starts before leaving for the Bundesliga. He looked like one for the future. A loan to a second-tier club in Germany, to smooth over the transition, was mooted.
Instead his humility and determination quickly made him liked and respected at the club's ProfiCamp base. A handful of substitute appearances in the Bundesliga, as Eintracht chased European and DfB Pokal glory, in that first half-season were his reward.
"From where I was, as a 19-year-old kid, with no experience of Europe, and where I am now, in the space of five months, I'm really happy with myself," he told ESPN's Sebastian Salazar in the run-up to May's DfB Pokal final – against RB Leipzig – with no little hint of pride.
The now-20-year-old has had to grow up fast, and has relished the process, on and off the field. "Living alone, being more independent, [doing] things as simple as learning how to cook and stuff like that," have been vital to his quick adaptation. So has his keenness to lean into the experience of his new teammates and absorb everything he can from them. "Of course there are veterans in MLS," says Paxten, "but here … Makoto Hasebe's been playing at this level for 20-plus years. It was my main goal to take stuff from these guys, learn and adapt."
Sometimes a touch of tough love has been needed. Paxten still recalls the moment in his first preparation game against RB Leipzig in a mid-season training camp in Dubai. He received a pass for the first time and, as he worked out what he wanted to do with it, was clattered from behind and left in a heap. His midfield running mate Djibril Sow, now of Sevilla, told him in no uncertain terms that dwelling on the ball simply wouldn't fly in his new environment.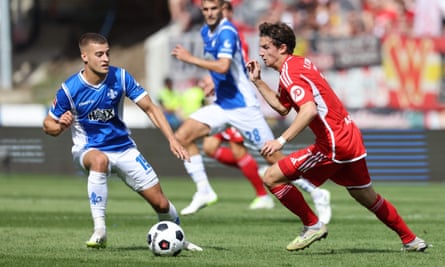 A few months on, it's clear how far the younger Aaronson has come. In the last game before the international break, he was thrown on with 10 minutes to go, with Eintracht chasing an equaliser against a well-drilled Köln. The clock was ticking down as Paxten received the ball in the D of the penalty area and, swarmed by a cluster of defenders, didn't panic, looked up, got the ball out his feet and played in Niels Nkounkou to rifle in a late equaliser. It was unfussy, unselfish and decisive.
The departure of Oliver Glasner, the head coach who guided the club to the Uefa Europa League title in May 2022 and who played "a huge role in my development," clearly stung a little. Yet Glasner's successor Dino Toppmöller, who worked well under Julian Nagelsmann at Leipzig and Bayern, is a big fan. "We want him to take a big step forward this year," he said, hinting at the young American's potential to eventually replace Jesper Lindstrøm, recently transferred to Napoli. Toppmöller had added that after the sale of Randal Kolo Muani to Paris Saint-Germain, he expects Aaronson and Mario Götze to be among those contributing extra goals to make up for the potential shortfall.
While Paxten climbs the lower rungs of the ladder, Brenden is really starting all over again. After the way things ended at Leeds he is understandably relieved to have fallen upwards to a degree. Union Berlin are not one of Europe's established behemoths (or even one of Germany's, unlike Eintracht) but they have been on a serious upwards surge in recent years, and will compete in the Champions League this season in front of crowds of 75,000 at the city's Olympiastadion, in a group containing Real Madrid and Napoli.
His start in the Bundesliga has not been easy. He was red-carded (harshly) early in his second game for Union at Darmstadt and thus finds himself in a situation like that of Romelu Lukaku at Roma. In other words, his club have been looking to his country to get him into something closer to match shape for the resumption of the season. Having the second half of USA's 4-0 win against Oman and his "lucky" free-kick goal (his words) will be a boost.
Union and their street-smart sporting director Oliver Ruhnert knew what they were getting with Brenden, a player of insatiable appetite with an excellent range of passing, who proved his potential as a midfield lockpicker as he performed more than creditably in the 2021-22 Champions League for Salzburg, before the move to England. Union specialise in salvage operations, taking on big talents who have lost their way – Germany's Max Kruse is one example – and repurposing them with good coaching from Urs Fischer and the right support. Brenden is initially on loan at Berlin but it could be a good fit for parties.
Back in July, when Eintracht hammered FSV Braunfels 15-1 in a pre-season friendly and Paxten scored four times, the Bundesliga's international department were quick to package the clip and send it out to journalists all over the world. The Bundesliga is ready for another dynamic, US star after the success of Christian Pulisic and Gio Reyna. The only question is which Aaronson brother gets there first.