Maine Road, 14 March 1981: Alex Williams has just enjoyed a triumphant man‑of-the‑match debut as Manchester City's goalkeeper in a 2-1 win over West Brom when he experiences a shock.
Walking into the players' lounge the 19-year-old sees his parents, Vie and Cliff, who, until this spring day, have never before watched him play football. "The first time I knew they were at the game was then," he says. "When they arrived, they couldn't get in because obviously I didn't know they were coming, so I didn't leave tickets. They basically knocked on the front door and said: 'We're Alex Williams's parents. Can we come in?'
"Somebody got a message back to Joe Corrigan who wasn't playing because I was, and Joe got them in."
Corrigan, injured that day, was City's first-choice keeper. Williams was living the classic tale of the local lad who dreamed of playing for his boyhood club, an achievement even more impressive due to modest beginnings.
Williams's first home was a single room rented in a house behind Maine Road's North Stand, shared with his parents, his twin sister, Geraldine, and younger sibling, Jenny. "I was actually born in Moss Side," says Williams. "We lived on Parkfield Street, which is still there, literally a stone's throw away from the stadium. We moved when I was about five to Levenshulme."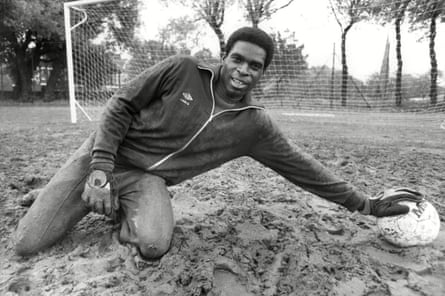 His parents were Jamaican and came to the UK as part of the Windrush generation. Cliff – nicknamed "Bigga" due to his size – arrived by boat in 1959, Vie by plane the next year, 12 months before Alex's birth.
He says: "When my parents came over my mom could read and write OK, but my dad wasn't great at it. He had very little education in Jamaica. Most jobs then were manual labour, so his wages were always poor. He realised we had to try to get a place of our own, so we moved to Levenshulme.
"He worked at a meat factory in Middleton. My parents couldn't afford a car and he didn't drive anyway. If he was on the early shift, he'd have to leave about four o'clock in the morning to get a bus from Levenshulme to Manchester, and then Manchester out to Middleton.
His father's relentless work pattern meant no gaps in the schedule to watch his son rise through City's ranks. "He didn't have time for anything," says Alex. "He'd come home, sleep, and then be off again. He also didn't have transport, and football wasn't a focus for him. He didn't understand the gravitas of where I was."
Williams is speaking at the City Football Academy, the £200m state-of-the-art facility built by the club's billionaire owner, Sheikh Mansour, which is a universe away from the club's former, more rustic training ground, Platt Lane.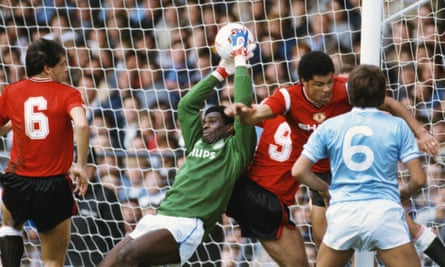 Now 61, Williams exudes a warmth that was key in his role as head of City in the Community, the club charity from which, after 33 years, he has just stepped away.
Williams's background, along with having suffered detestable racism during his career, allows an empathy with those also facing challenges. While discrimination still remains in society, Williams's experiences as the first black goalkeeper at elite level in the 1980s feel unthinkable now.
Some are chronicled in his book, You Saw Me Standing Alone. During the second leg of the 1979 FA Youth Cup final at Millwall, Williams was abused with "black bastard" and the N-word. The Manchester Evening News report of his senior debut described him as "coloured", and at an Everton game a home fan burned a cross fashioned from newspaper in the manner of the Ku Klux Klan.
Then there were vile comments from Bernard Manning, the comedian and City supporter, during a media event for a commercial deal with Saab, attended by first-team players. Williams writes that Manning said to him and teammate Clive Wilson: "If you win the league this year you're all going to get a Saab each. I think we might be a couple short so you two [N-words] won't get one."
Williams adds: "I looked at Clive and we were open-mouthed … To make things worse the other lads were in stitches. I suppose it was a sign of the times."
Now Williams says: "Probably at the time, the club were as shocked as we were. It's strange really because I always found when I received racial abuse, there was the real deep-rooted racial hatred anger you could feel, and some of it was almost mickey-taking. They're both wrong, first and foremost. Bernard was the first person – when I retired from football because of my back injury – who put on an event to raise money for me.
"He got his kicks [from his abuse], and his profession was based around the way he spoke about different cultures, but when it came down to it, somewhere within [himself], he realised: 'Actually, hang on …'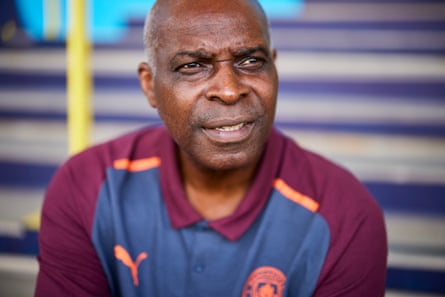 "I wouldn't say [he was] sorry. He was appreciative of the fact I was a Manchester City footballer who needed support, and he was the first to do that [fund raise]. He had to make a living. The big question is, how far he went – did he overstep the mark? Now, I'm not saying he did or he didn't. I won't want to comment on the Manning family because I think some are still around. The question I have in the book was: where's the line?"
This is more than generous of Williams, whose last City appearance came in 1986, aged 25, against Manchester United, an undiagnosed slipped disc ending his playing days the following year after a loan spell at Queen of the South and a transfer to Port Vale.
He says: "I knew prior to my operation [on his back] I would probably never play football again because it was that bad. I remember going into my local shop and parking on the opposite side of the road. I got halfway across and a car was coming – I tried to jog and just couldn't do it. In life, I say to young people, have a plan B and have a think where you want to be next, and that was the same for me."
Williams is as proud of his community work as his football career. Each is tied up with the bond with his beloved team. "Manchester City's been a massive part of my life. It was a dream come true to play for the club that I supported as a child, but in turn the brilliant work the club does led by City in the Community – it's been an honour to do that, too.
"We could tell 100,000 stories of the people's lives we've impacted and improved throughout the years, and that's the biggest buzz that I get. Even our own current head of the foundation came here 20 years ago as a volunteer football coach."